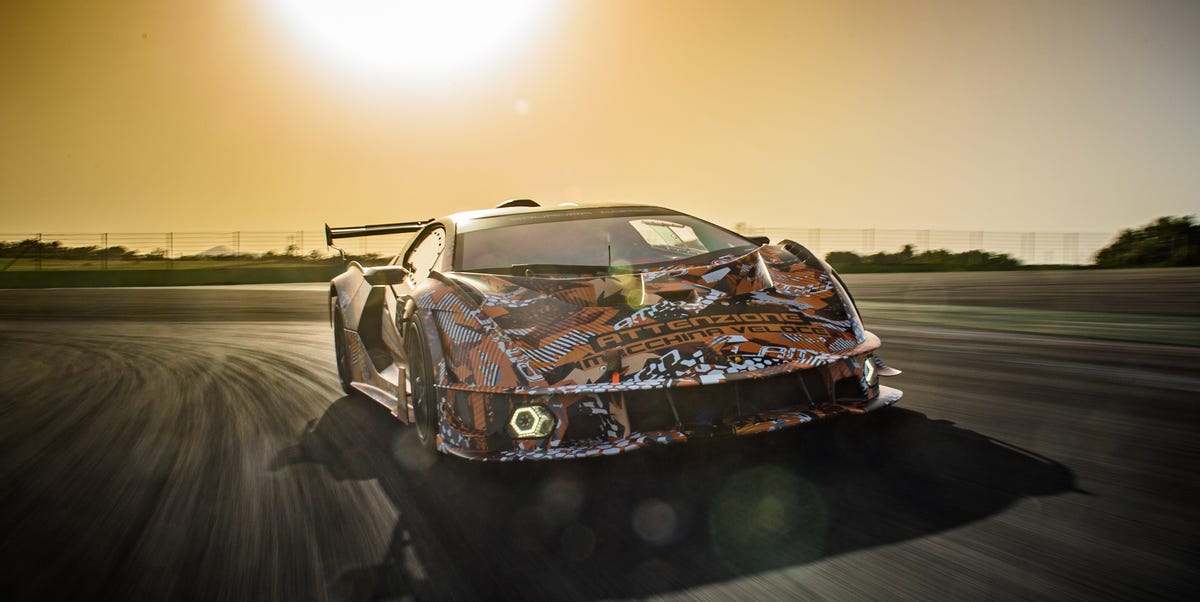 The Essenza SCV12 is the fastest Lamborghini model so far, a track-only special faster than the company's GT3 racer.
1 of 12
No more than 40 of the Essenza will be built, with a base price of about $2.6 million.
2 of 12
Lamborghini will run Essenza-only track days at elite circuits around the world, including Spa and the Nürburgring in Europe. Buyers will also be able to use their cars at other events, but not on the road.
3 of 12
Power comes from an 819-hp version of Lamborghini's 6.5-liter V-12, powering the rear wheels through a six-speed Xtrac sequential racing gearbox.
4 of 12
Unlike most GT3 racers, the Essenza doesn't have a clutch pedal, and getting a smooth launch with the automated clutch isn't easy.
5 of 12
Lamborghini says the Essenza is between two and five seconds quicker per lap on most tracks than the Huracán GT3 car.
6 of 12
Other motorsport details include integrated air jacks to lift the car, adjustable brake bias, and a traffic-monitoring rear-vision system similar to the ones used by modern GT racers.
7 of 12
The brake pedal is very heavy and requires huge effort to create optimum pressure. Buyers can choose between Brembo steel brakes or carbon-ceramics.
8 of 12
Slick tires give huge grip, but also a relatively abrupt transition to slip in slower corners. At higher speeds the bodywork delivers up to 2650 pounds of aerodynamic downforce.
9 of 12
Developed with input from Emanuele Pirro, a five-time Le Mans winner, the Essenza shares much of its technology with Lamborghini's other race cars, including variable levels of traction control and ABS.
10 of 12
Lamborghini Essenza SCV12
11 of 12
Lamborghini Essenza SCV12
12 of 12
Lamborghini Essenza SCV12
Advertisement – Continue Reading Below
This content is created and maintained by a third party, and imported onto this page to help users provide their email addresses. You may be able to find more information about this and similar content at piano.io
Source link