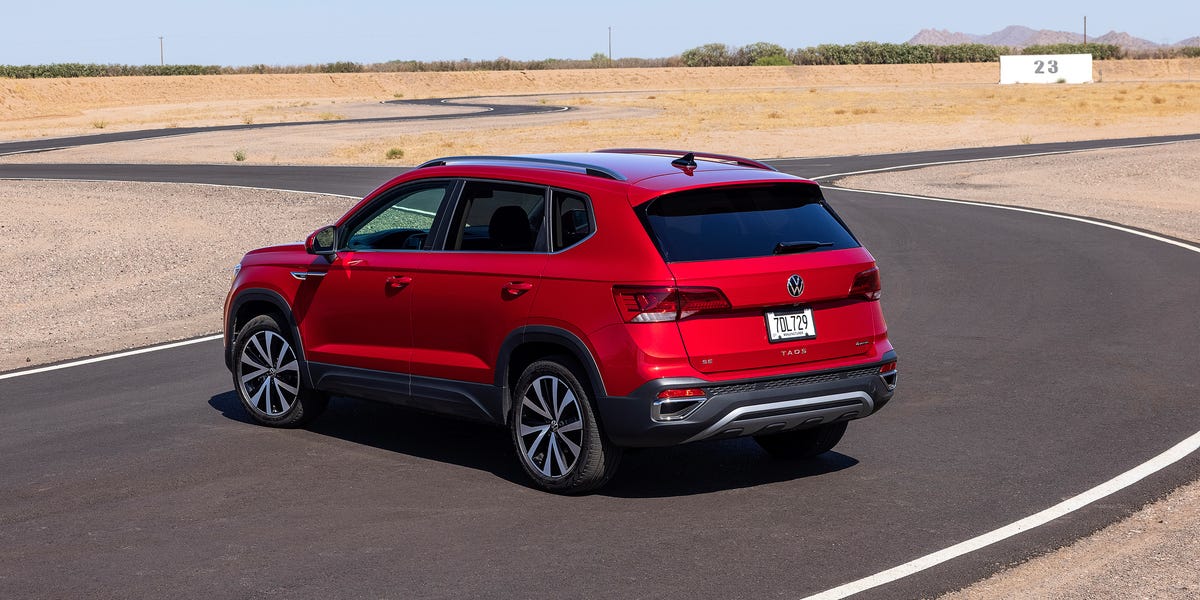 With a large footprint, a spacious interior, and respectable road manners, the new VW Taos is an attractive entry among subcompact SUVs, even though it approaches the one-size-up VW Tiguan in terms of size and price.
1 of 65
Base prices for the Volkswagen Taos range from a competitive $24,190 for a starter S model to the top SEL trim's rather substantial $32,685.
2 of 65
All Taos models are powered by VW's new turbocharged 1.5-liter inline-four that develops 158 horsepower and 184 pound-feet of torque—a perfectly adequate but less-than-spirited amount of grunt.
3 of 65
Front-wheel drive is standard on the Taos, with all-wheel drive a $1450 to $2045 option, depending on the trim.
4 of 65
Front-drive models feature an unobtrusive eight-speed automatic transmission with a conventional torque converter. Opt for all-wheel drive and you'll get a seven-speed dual-clutch automatic, which works almost as well but is not quite as smooth at lower speeds around town.
5 of 65
Front-drivers also feature a torsion-beam rear axle versus the more sophisticated multilink arrangement in all-wheel-drive models. Though heavier, we prefer the all-wheel-drive setup for its greater composure and more refined handling.
6 of 65
The Taos earns an EPA combined estimate of 31 mpg in front-drive form and 28 mpg with all-wheel drive.
7 of 65
The Taos can easily be mistaken for a (slightly) larger VW Tiguan on the road, so look for its key design cues: a broad LED lightbar that connects the standard LED headlights plus chrome TAOS lettering on the rear liftgate.
8 of 65
The Taos's interior layout is spacious and straightforward. Depending on the model, the instrument cluster displays range from 8.0 to 10.3 inches, while the center touchscreen spans either 6.5 or 8.0 inches. VW's familiar infotainment system is easier to use than the newer version found in its electric ID.4 crossover.
9 of 65
Thanks in part to its relatively long wheelbase, the Taos has a huge back seat for a subcompact SUV.
10 of 65
The base-level Taos is priced the same as the starter 2021 Golf hatchback that it essentially replaces in VW's United States lineup.
Advertisement – Continue Reading Below
This content is created and maintained by a third party, and imported onto this page to help users provide their email addresses. You may be able to find more information about this and similar content at piano.io
Source link