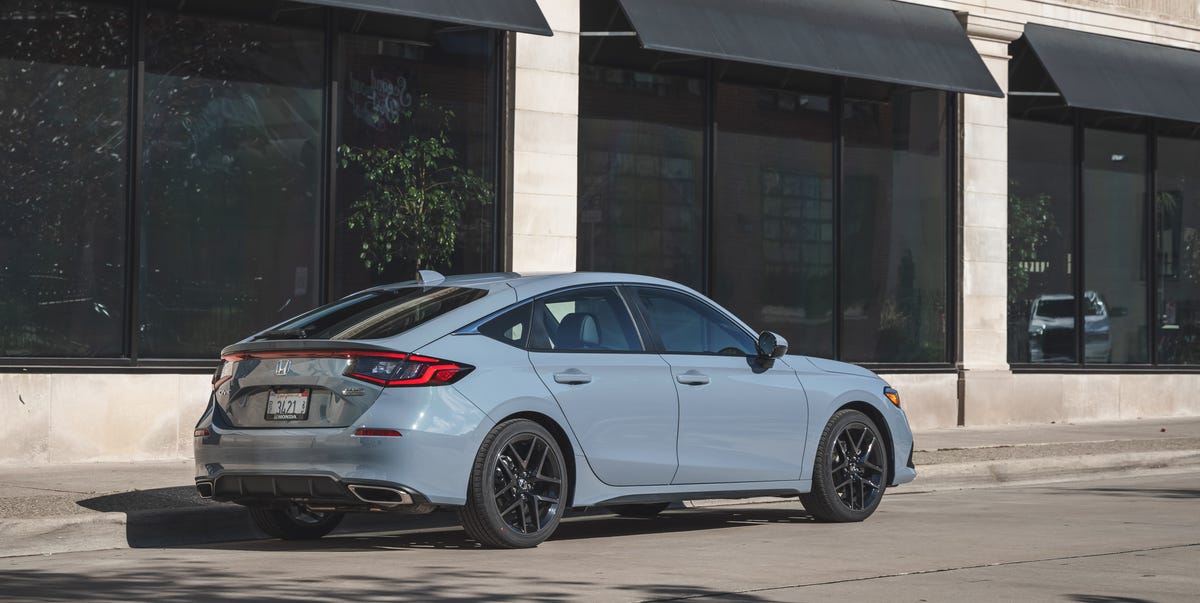 Michael SimariCar and Driver
The 2022 Honda Civic has already proven itself a winner in a recent C/D comparison test thanks to a combination of room, refinement, performance, and poise. The new hatchback version arrives with equally mature styling, more practicality thanks to its hatchback and large cargo hold—plus two of the four trims offer a manual transmission, something the sedan lacks.
1 of 34
The Civic sedan arrived for 2022 with more refined, upscale styling, and the new hatchback follows in that direction, trading its previously polarizing looks for a profile that's almost indistinguishable from the sedan's.
2 of 34
Civic hatchbacks are available in four trim levels: base LX, Sport, EX-L, and top-spec Sport Touring.
3 of 34
The Civic hatchback lineup offers the same two engines as the Civic sedan. LX and Sport trims come with the base 158-hp 2.0-liter inline-four; EX-L and Sport Touring models are equipped with the turbocharged 180-hp, 1.5-liter four.
4 of 34
Until the racy Si arrives, if you want a stick shift in your Civic, you'll have to opt for the hatchback. A six-speed manual gearbox is available in both the Sport and Sport Touring models. The LX and EX-L come only with Honda's CVT automatic.
5 of 34
Equipped with the six-speed manual, the Sport Touring delivers peppy performance that feels quicker than the numbers indicate. In our testing, it reached 60 mph in 7.3 seconds and covered the quarter-mile in 15.5 seconds at 91 mph.
6 of 34
The Civic hatchback's exterior design so closely follows that of the sedan that in profile it's difficult to tell the two apart.
7 of 34
Like the Accord, the Sport Touring's interior is conservatively designed and ergonomically solid. It also has the same feel of quality, with a plenty of soft-touch surfaces and handsome trim.
8 of 34
Cargo capacity is one of the hatchback's pluses relative to the Civic sedan: Its cargo hold can handle 25 cubic feet of luggage, groceries, or mulch (but please, put down a tarp first); the Civic sedan's trunk holds 14 cubic feet.
9 of 34
The hatchback's over-the-road behavior is much like that of the Accord Sport, comfortable enough to fool you into thinking it's almost a plush cruiser, but send it down a two-lane road aggressively and it remains impressively poised.
10 of 34
The hatchback's turbocharged 1.5-liter, 180-hp inline-four is a case study in refinement. Silky and almost silent in normal driving, it adds to the car's upscale feel.
11 of 34
2022 Honda Civic Sport Touring Hatchback
12 of 34
2022 Honda Civic Sport Touring Hatchback
13 of 34
2022 Honda Civic Sport Touring Hatchback
14 of 34
2022 Honda Civic Sport Touring Hatchback
15 of 34
2022 Honda Civic Sport Touring Hatchback
16 of 34
2022 Honda Civic Sport Touring Hatchback
17 of 34
2022 Honda Civic Sport Touring Hatchback
18 of 34
2022 Honda Civic Sport Touring Hatchback
19 of 34
2022 Honda Civic Sport Touring Hatchback
20 of 34
2022 Honda Civic Sport Touring Hatchback
21 of 34
2022 Honda Civic Sport Touring Hatchback
22 of 34
2022 Honda Civic Sport Touring Hatchback
23 of 34
2022 Honda Civic Sport Touring Hatchback
24 of 34
2022 Honda Civic Sport Touring Hatchback
25 of 34
2022 Honda Civic Sport Touring Hatchback
26 of 34
2022 Honda Civic Sport Touring Hatchback
27 of 34
2022 Honda Civic Sport Touring Hatchback
28 of 34
2022 Honda Civic Sport Touring Hatchback
29 of 34
2022 Honda Civic Sport Touring Hatchback
30 of 34
2022 Honda Civic Sport Touring Hatchback
Advertisement – Continue Reading Below
This content is created and maintained by a third party, and imported onto this page to help users provide their email addresses. You may be able to find more information about this and similar content at piano.io
Source link