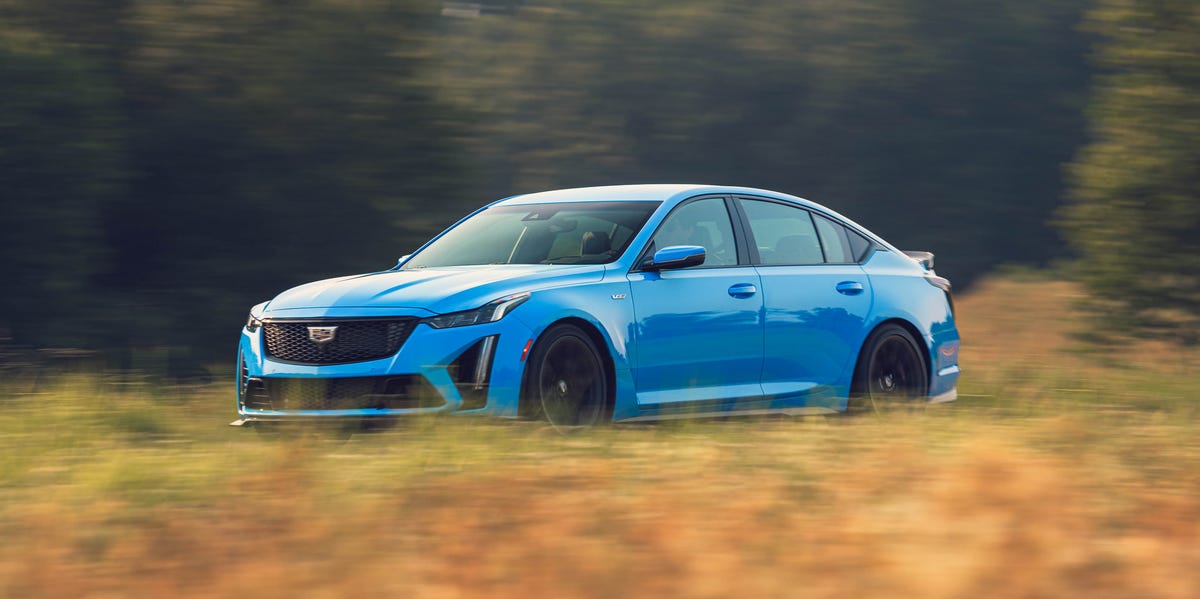 With a declared shift to electric performance for Caddy's V subbrand, the CT5-V Blackwing will be the last of its kind, and there may never be a better example of the species from any automaker, not just Cadillac.
1 of 31
Want power? The CT5-V Blackwing has 668 horses underfoot from a supercharged 6.2-liter V-8.
2 of 31
Want comfort? There is plenty of room for four adults, and the ride is dreamy thanks to the newest magnetorheological dampers capable of reading and reacting to numerous inputs 1000 times per second.
3 of 31
Want speed? The optional carbon-fiber exterior packages, there are two that together run $9330, are functional, reducing lift by 85 percent. Top speed is estimated at 205 mph.
4 of 31
Want more speed? Zero to 60 mph should take about 3.5 seconds. The automatic option will be quicker, but the manual is much more rewarding to drive.
5 of 31
Want a clutch pedal? Yup, the car comes standard with a six-speed transmission with a great shifter. The 10-speed auto is a $2275 option, but it is effectively $1875 because the auto carries a gas-guzzler tax of $1700, which is $400 less than the manual.
6 of 31
Compared to a CT5-V, the Blackwing's body has wider front fenders with vents aft of the front wheels. Those vents serve the same purpose (reducing high pressure, improving cooling) as the reverse vents on the previous CTS-V's hood.
7 of 31
Despite the different name, the CT5-V Blackwing is the fourth in a line of big V sedans that started with the 2004 CTS-V, then the 2010 CTS-V sedan (and the later coupe and wagon variants), and the 2018 CTS-V.
8 of 31
Carbon-ceramic rotors, a $9000 option, are slightly larger than the standard iron units. Both brake systems utilize six-piston calipers in front and four-pot binders in the rear, but the carbon-ceramic setup saves 65 pounds of rotating mass and 54 pounds in total.
9 of 31
CT5-V Blackwing-specific Michelin Pilot Sport 4S tires, 275/35R-19 in front and 305/30R-19 in back, are a big part of the car's performance.
10 of 31
This probably is the last chance to purchase a non-electrified V-8 with a manual transmission in a sedan. If you buy enough, maybe Cadillac will rescind its promise. We can all hope.
11 of 31
2022 Cadillac CT5-V Blackwing
12 of 31
2022 Cadillac CT5-V Blackwing
13 of 31
2022 Cadillac CT5-V Blackwing
14 of 31
2022 Cadillac CT5-V Blackwing
15 of 31
2022 Cadillac CT5-V Blackwing
16 of 31
2022 Cadillac CT5-V Blackwing
17 of 31
2022 Cadillac CT5-V Blackwing
18 of 31
2022 Cadillac CT5-V Blackwing
19 of 31
2022 Cadillac CT5-V Blackwing
20 of 31
2022 Cadillac CT5-V Blackwing
21 of 31
2022 Cadillac CT5-V Blackwing
22 of 31
2022 Cadillac CT5-V Blackwing
23 of 31
2022 Cadillac CT5-V Blackwing
24 of 31
2022 Cadillac CT5-V Blackwing
25 of 31
2022 Cadillac CT5-V Blackwing
26 of 31
2022 Cadillac CT5-V Blackwing
27 of 31
2022 Cadillac CT5-V Blackwing
2022 Cadillac CT5-V Blackwing
28 of 31
2022 Cadillac CT5-V Blackwing
29 of 31
2022 Cadillac CT5-V Blackwing
30 of 31
2022 Cadillac CT5-V Blackwing
Advertisement – Continue Reading Below
This content is created and maintained by a third party, and imported onto this page to help users provide their email addresses. You may be able to find more information about this and similar content at piano.io
Source link