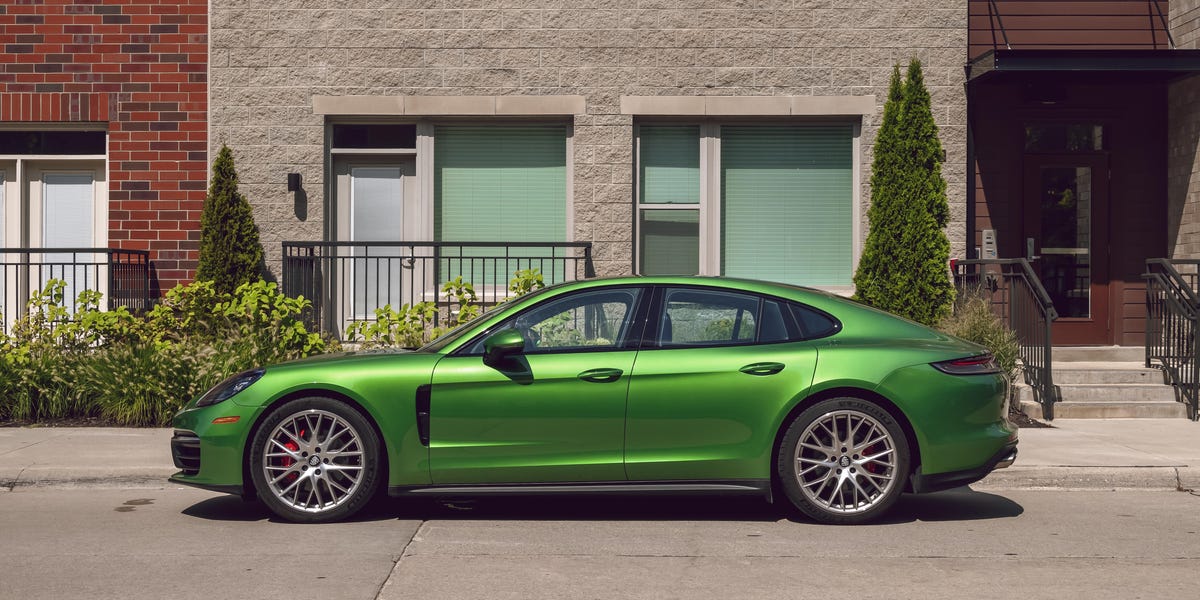 Michael SimariCar and Driver
The 2021 Porsche Panamera 4S benefits from a slight horsepower boost, chassis enhancements, new standard features, and subtle styling tweaks that give it a sportier look. On and off the track, the 443-hp 4S showcased performance stats and driving traits that defy its considerable mass.
1 of 40
Every 2021 Porsche Panamera now wears a more aggressive lower front fascia, and its rump is restyled with a full-width LED strip that runs from taillight to taillight.
2 of 40
The 2021 Panamera 4S is motivated by a familiar twin-turbocharged 2.9-liter V-6 that has been retuned to now make 443 horsepower (up three) and the same 405 lb-ft of torque. The engine still pairs with an eight-speed dual-clutch automatic transmission and all-wheel drive.
3 of 40
The 2021 Panamera 4S we tested ran to 60 mph in 3.6 seconds and cleared the quarter-mile in 12.1 seconds at 113 mph. Both results were a tenth slower than a 2017 Panamera 4S we tested.
4 of 40
Riding on a set of optional 21-inch rims shod with Michelin Pilot Sport 4S summer tires, the 2021 Panamera 4S posted 1.02 g's on our 300-foot skidpad and stopped from 70 mph in a scant 153 feet.
5 of 40
The Panamera is a heavy and large car, with our 4S weighing 4543 pounds and being 76.3 inches wide. However, thanks in part to the optional rear-axle-steering system, it changes direction with unbelievable ease and isn't a hassle to maneuver in tight spaces.
6 of 40
Every 2021 Panamera has improved infotainment features that include a higher-resolution touchscreen, enhanced voice commands, and newly added wireless Apple CarPlay, which was effortless to operate every time we hopped into the car.
7 of 40
Porsche isn't known for flashy interior designs, but its cabins can be outfitted with an assortment of rich materials and unique upholstery options. Unfortunately, our test car's flamboyant Mamba Green Metallic paint was paired with a comparatively boring black leather interior.
8 of 40
Our biggest complaints about the Panamera's cabin are how much unsightly debris collects on the shiny black surfaces as well as the annoying fact that the center air vent can be adjusted only through the touchscreen.
9 of 40
Among the great joys of driving the Panamera are its low-slung driving position and the peerless level of feeling that comes through its perfectly crafted steering wheel.
10 of 40
The 2021 Panamera 4S starts at $106,350, but our example was fitted with $21,690 worth of performance and luxury options. That pushed its as-tested price to a lofty $128,040.
Advertisement – Continue Reading Below
This content is created and maintained by a third party, and imported onto this page to help users provide their email addresses. You may be able to find more information about this and similar content at piano.io
Source link