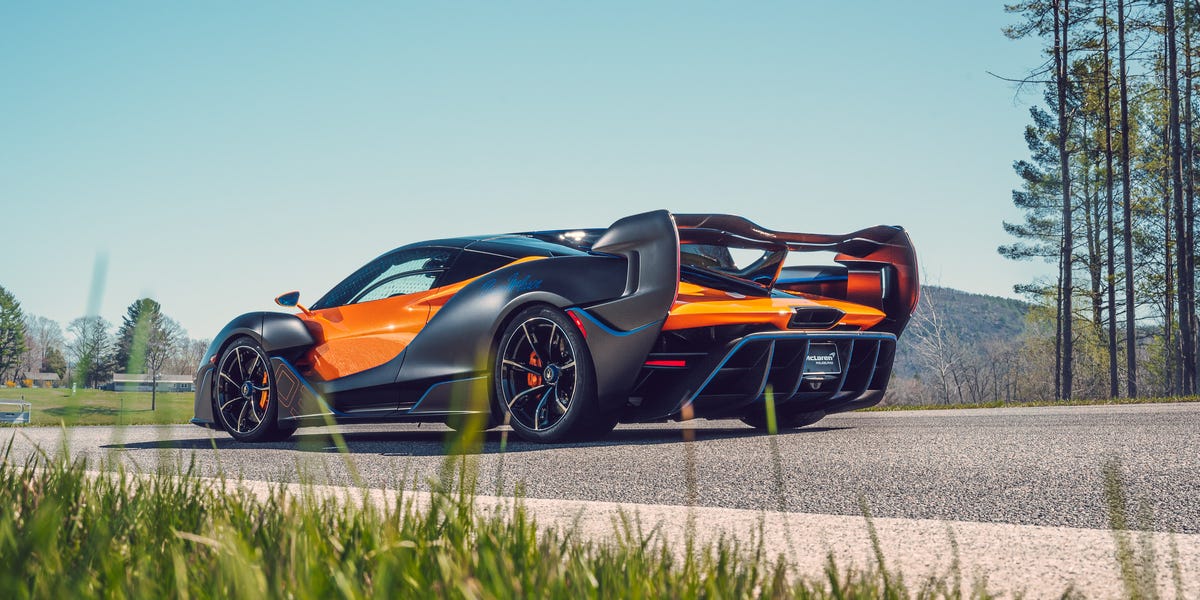 The Sabre is related to the Senna, but designed more for the street than the track. Nonetheless, we drove it at Lime Rock Park's 1.5-mile road course, where its 824 horsepower could be turned loose.
1 of 29
The Sabre uses the Senna's canopy structure, but 70 percent of its parts are new.
2 of 29
The U.S. production run is 15 cars at about $4 million each.
3 of 29
Sabre owners enjoy an extreme level of personalization for their cars. This one was shipped to the Turkish Grand Prix so the McLaren F1 team could sign it.
4 of 29
With about one-third the downforce of the Senna and 35 extra horsepower, the Sabre hits 218 mph.
5 of 29
The Sabre's top speed makes it the fastest two-seat McLaren ever. But overall bragging rights still go to the three-seat F1.
6 of 29
Lime Rock's straight is short, but the Sabre still hit 155 mph.
7 of 29
The Sabre's bodywork recalls an LMP car, the panels looking shrink-wrapped over the mechanical components.
8 of 29
This Sabre has cupholders capable of accommodating a Venti from Starbucks. Practical.
9 of 29
Suspension tuning is softer than in the Senna, a nod to the Sabre's street intentions.
Advertisement – Continue Reading Below
This content is created and maintained by a third party, and imported onto this page to help users provide their email addresses. You may be able to find more information about this and similar content at piano.io
Source link