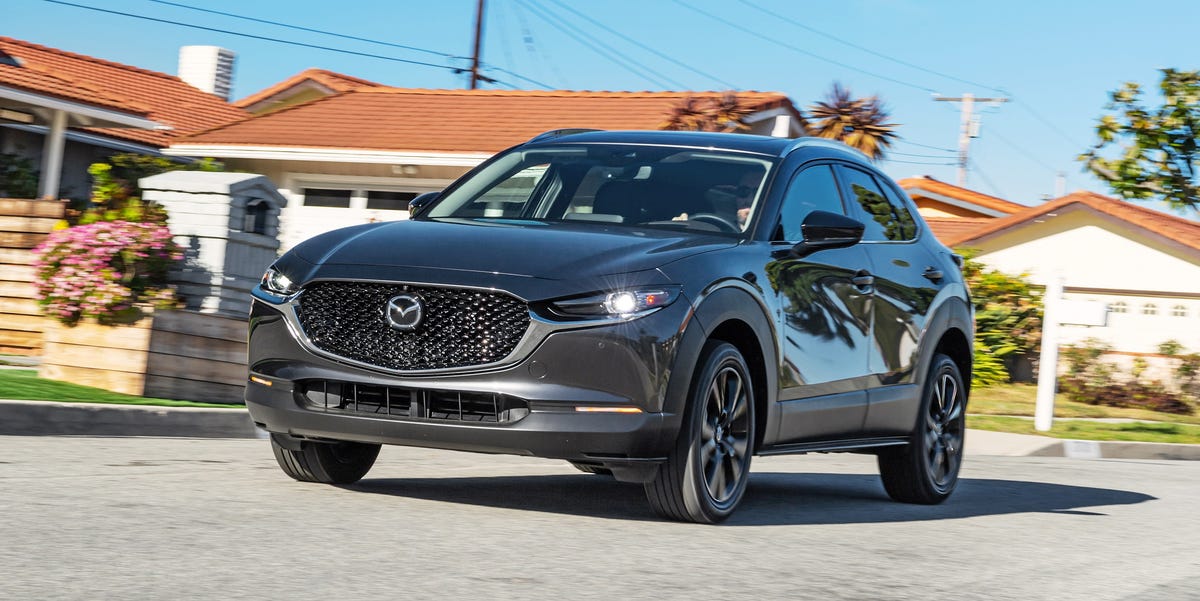 Jessica Lynn WalkerCar and Driver
The Mazda CX-30, now in its sophomore model year, has shown to be an impressive subcompact-crossover alternative to the brand's Mazda 3 hatchback. But its upscale feel could benefit from more than the 186 horsepower that its standard 2.5-liter inline-four delivers, an issue Mazda has addressed with a new-for-2021 2.5 Turbo model.
Read the full review
1 of 44
The Mazda CX-30's new 2.5 Turbo model features the brand's familiar turbocharged 2.5-liter inline-four, which develops 250 horsepower and 320 pound-feet of torque on premium fuel. Output drops to 227 horses and 310 pound-feet on regular gas.
2 of 44
The turbocharged CX-30 comes standard with a smooth-shifting six-speed automatic transmission and all-wheel drive.
3 of 44
The CX-30 2.5 Turbo's engine and drivetrain can now be had in most new Mazda vehicles, including the Mazda 3 sedan and hatchback on which the CX-30 is based. Compared to those models, a notable difference for CX models is the addition of an off-road mode for stability-control and all-wheel-drive programming.
4 of 44
Along with black 18-inch wheels and exterior mirrors, the CX-30 Turbo can be identified by its larger tailpipes, brushed aluminum roof rails, and a Turbo badge on its rear liftgate.
5 of 44
The turbocharged engine adds about 120 pounds to the curb weight of a regular all-wheel-drive CX-30 and trims 1 mpg from its 26-mpg EPA combined estimate.
6 of 44
In 2.5 Turbo trim, we expect the CX-30 to hit 60 mph in about six seconds, down from the regular all-wheel-drive model's 7.6-second effort.
7 of 44
In order to maintain the CX-30's handling character with the heavier turbo powertrain, Mazda revised the tuning of the CX-30's strut front and torsion-beam rear suspension.
8 of 44
Pricing for the CX-30 2.5 Turbo starts at $31,225, but the optional Premium Plus package and a few small extras pushed the price of the car we drove to $35,895.
9 of 44
Little has changed in the CX-30's cabin with the turbo-engine upgrade. Standard features include leatherette upholstery, a heated steering wheel and front seats, and Mazda's latest 8.8-inch infotainment system.
10 of 44
Rear-seat passengers get slightly more headroom in the back of the CX-30 than they would in a Mazda 3 hatchback, but overall space is similar and both models offer the same 20 cubic feet of cargo room.
11 of 44
2021 Mazda CX-30 2.5 Turbo
12 of 44
2021 Mazda CX-30 2.5 Turbo
13 of 44
2021 Mazda CX-30 2.5 Turbo
14 of 44
2021 Mazda CX-30 2.5 Turbo
15 of 44
2021 Mazda CX-30 2.5 Turbo
16 of 44
2021 Mazda CX-30 2.5 Turbo
17 of 44
2021 Mazda CX-30 2.5 Turbo
18 of 44
2021 Mazda CX-30 2.5 Turbo
19 of 44
2021 Mazda CX-30 2.5 Turbo
20 of 44
2021 Mazda CX-30 2.5 Turbo
21 of 44
2021 Mazda CX-30 2.5 Turbo
22 of 44
2021 Mazda CX-30 2.5 Turbo
23 of 44
2021 Mazda CX-30 2.5 Turbo
24 of 44
2021 Mazda CX-30 2.5 Turbo
25 of 44
2021 Mazda CX-30 2.5 Turbo
26 of 44
2021 Mazda CX-30 2.5 Turbo
27 of 44
2021 Mazda CX-30 2.5 Turbo
28 of 44
2021 Mazda CX-30 2.5 Turbo
29 of 44
2021 Mazda CX-30 2.5 Turbo
30 of 44
2021 Mazda CX-30 2.5 Turbo
Advertisement – Continue Reading Below
This content is created and maintained by a third party, and imported onto this page to help users provide their email addresses. You may be able to find more information about this and similar content at piano.io
Source link