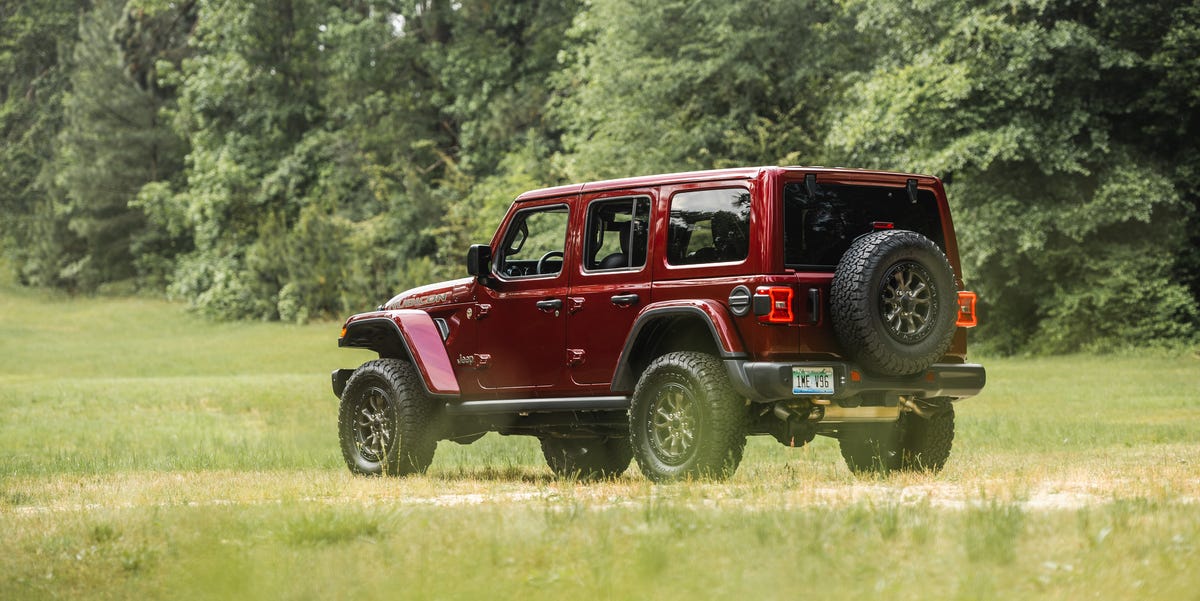 Brian RozarCar and Driver
Jeep used to offer V-8 engines in the Wrangler's distant ancestor, the CJ, and tuners have been stuffing Hemis in Wranglers for years. But it took the market pressure of Ford reviving its Bronco nameplate for Jeep to build a production Wrangler with a 470-hp 6.4-liter V-8. The end result, the 2021 Wrangler Rubicon 392, is as wild as you'd expect.
1 of 54
The Wrangler Rubicon 392 is mostly about its engine, a burly 6.4-liter V-8 that makes 470 horsepower and 470 pound-feet of torque.
2 of 54
Jeep claims the 392 can reach 60 mph in 4.5 seconds. It feels quicker than that, which is terrifying.
3 of 54
The 392's active exhaust features quad tailpipes and can be set in "loud all the time" mode via a button on the dash.
4 of 54
This is one Wrangler without a two-wheel-drive mode. Which is just as well, since it can do four-wheel-drive burnouts on even mildly damp pavement.
5 of 54
Compared to lesser Wranglers, the 392 receives a strengthened frame, a two-inch suspension lift, Fox dampers, and upgraded rear brakes.
6 of 54
Off-road Plus mode allows you to lock the 392's rear differential at high speeds. You know, in case you need to do that.
7 of 54
The 392's 17-inch wheels are capable of mating to beadlock rings that will firmly pinch the tire to the rim.
8 of 54
The 392's hood scoop is functional, but even if it somehow gets clogged, a secondary channel can flow enough air to allow the Rubicon 392 to still reach its claimed 99-mph top speed.
9 of 54
The V-8's main exterior giveaway—besides the bellowing sounds it makes—is rather subtle 392 badging on the hood.
10 of 54
The Wrangler Rubicon 392 Launch Edition starts at $74,995. That's a lot for a Wrangler, but this is one Jeep without much in the way of competition.
11 of 54
2021 Jeep Wrangler Rubicon 392
12 of 54
2021 Jeep Wrangler Rubicon 392
13 of 54
2021 Jeep Wrangler Rubicon 392
14 of 54
2021 Jeep Wrangler Rubicon 392
15 of 54
2021 Jeep Wrangler Rubicon 392
16 of 54
2021 Jeep Wrangler Rubicon 392
17 of 54
2021 Jeep Wrangler Rubicon 392
18 of 54
2021 Jeep Wrangler Rubicon 392
19 of 54
2021 Jeep Wrangler Rubicon 392
20 of 54
2021 Jeep Wrangler Rubicon 392
21 of 54
2021 Jeep Wrangler Rubicon 392
22 of 54
2021 Jeep Wrangler Rubicon 392
23 of 54
2021 Jeep Wrangler Rubicon 392
24 of 54
2021 Jeep Wrangler Rubicon 392
25 of 54
2021 Jeep Wrangler Rubicon 392
26 of 54
2021 Jeep Wrangler Rubicon 392
27 of 54
2021 Jeep Wrangler Rubicon 392
28 of 54
2021 Jeep Wrangler Rubicon 392
29 of 54
2021 Jeep Wrangler Rubicon 392
30 of 54
2021 Jeep Wrangler Rubicon 392
Advertisement – Continue Reading Below
This content is created and maintained by a third party, and imported onto this page to help users provide their email addresses. You may be able to find more information about this and similar content at piano.io
Source link