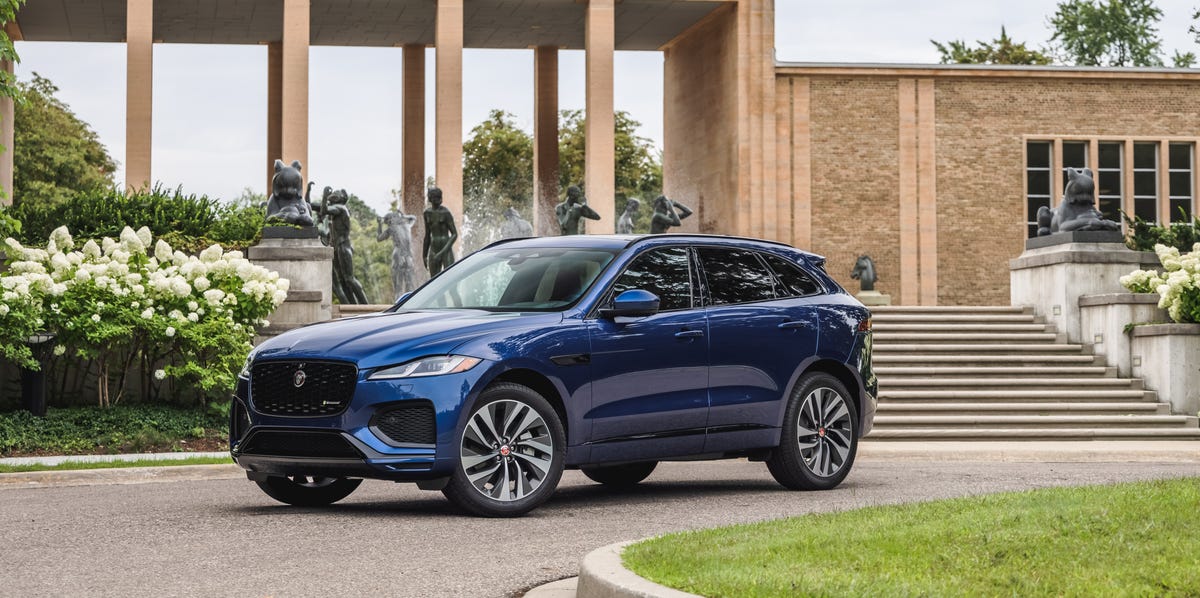 Michael SimariCar and Driver
The Jaguar F-Pace is somewhat of a bit player in the sprawling luxury SUV segment. Yet it remains an attractive proposition that has gained a number of refinements for the 2021 model year, including a new optional, high-tech inline-six engine. While our P400 test car was a bit slower than the last six-cylinder version we evaluated, it was more fuel efficient and enjoyable to live with.
1 of 41
The Jaguar F-Pace SUV has been updated for the 2021 model year with a few important visual and mechanical tweaks.
2 of 41
The F-Pace's exterior receives new headlights and taillights, along with a reshaped grille.
3 of 41
Under the hood is a new optional 3.0-liter inline-six engine with a turbocharger, an electric supercharger, and a 48-volt hybrid system.
4 of 41
The new engine is available in two trim levels: the 335-hp P340 model and the 395-hp P400.
5 of 41
We tested the P400 version, which starts at $66,550, but a heavy load of options inflated its as-tested price to a steep $82,245.
6 of 41
Our test car posted a solid 27 mpg on our 75-mph highway fuel-economy test, beating its EPA estimate by 1 mpg.
7 of 41
Our test car wore optional 21-inch wheels and was covered in a sharp coat of Bluefire blue paint.
8 of 41
Inside, our test car featured supple Siena tan leather upholstery plus optional and nicely supportive performance seats.
9 of 41
Jaguar's Pivi Pro infotainment system with an 11.4-inch touchscreen is a new addition for the 2021 F-Pace.
10 of 41
The F-Pace is also available in an entry-level four-cylinder P250 configuration, as well as a high-performance SVR model with a supercharged V-8.
11 of 41
2021 Jaguar F-Pace P400 AWD
12 of 41
2021 Jaguar F-Pace P400 AWD
13 of 41
2021 Jaguar F-Pace P400 AWD
14 of 41
2021 Jaguar F-Pace P400 AWD
15 of 41
2021 Jaguar F-Pace P400 AWD
16 of 41
2021 Jaguar F-Pace P400 AWD
17 of 41
2021 Jaguar F-Pace P400 AWD
18 of 41
2021 Jaguar F-Pace P400 AWD
19 of 41
2021 Jaguar F-Pace P400 AWD
20 of 41
2021 Jaguar F-Pace P400 AWD
21 of 41
2021 Jaguar F-Pace P400 AWD
22 of 41
2021 Jaguar F-Pace P400 AWD
23 of 41
2021 Jaguar F-Pace P400 AWD
24 of 41
2021 Jaguar F-Pace P400 AWD
25 of 41
2021 Jaguar F-Pace P400 AWD
26 of 41
2021 Jaguar F-Pace P400 AWD
27 of 41
2021 Jaguar F-Pace P400 AWD
28 of 41
2021 Jaguar F-Pace P400 AWD
29 of 41
2021 Jaguar F-Pace P400 AWD
30 of 41
2021 Jaguar F-Pace P400 AWD
Advertisement – Continue Reading Below
This content is created and maintained by a third party, and imported onto this page to help users provide their email addresses. You may be able to find more information about this and similar content at piano.io
Source link