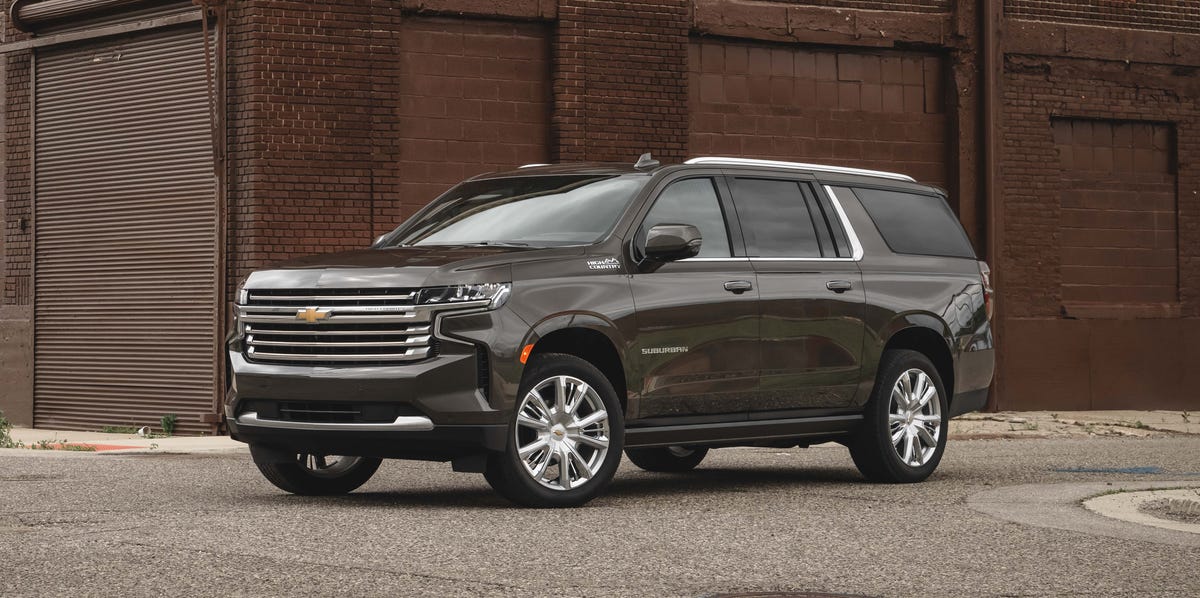 Michael SimariCar and Driver
The 2021 Chevrolet Suburban comes standard with either a 355-hp, 5.3-liter V-8 or a 420-hp 6.2-liter V-8. But its optional 3.0-liter diesel is the engine that's most in sync with the Suburban's relaxed demeanor.
1 of 37
GM's 3.0-liter diesel is an inline design, lending natural balance and smoothness.
2 of 37
The diesel six's 277 horsepower falls short of the output of the gas engines, but its 460 pound-feet of torque matches that of the 6.2-liter V-8.
3 of 37
Hitting its torque peak at only 1500 rpm, the Duramax imbues the Suburban with a feeling of nonchalant muscularity.
4 of 37
Paired with a 10-speed automatic, the diesel Suburban ran to 60 mph in a respectable 8.4 seconds.
5 of 37
In the tested 4WD model, the diesel's EPA city estimate is better than the best highway estimate for the gas engines. It's rated at 20 mpg city, 26 mph highway.
6 of 37
We didn't get to conduct our 75-mph highway fuel-economy test, but on back roads the Suburban's trip computer claimed better than 32-mpg efficiency, and after 300 miles of mixed driving there was still more than a half-tank of fuel.
7 of 37
The Suburban offers a capless fuel filler, which somewhat mitigates the unpleasantness of dealing with scuzzy diesel pumps.
8 of 37
With a maximum 8000-pound tow rating and a standard exhaust brake, the diesel Suburban is happy to hook up a trailer.
9 of 37
If 277 horsepower doesn't sound like a lot, it feels like plenty in a vehicle that only generated 0.53 g of lateral acceleration on our skidpad (thwarted by an extremely invasive stability control system).
10 of 37
The Duramax pricing in most trims is a $1045 upcharge. In the High Country, like our test vehicle, it actually costs $1450 less than the standard 6.2-liter gas V-8.
11 of 37
2021 Chevrolet Suburban Duramax
12 of 37
2021 Chevrolet Suburban Duramax
13 of 37
2021 Chevrolet Suburban Duramax
14 of 37
2021 Chevrolet Suburban Duramax
15 of 37
2021 Chevrolet Suburban Duramax
16 of 37
2021 Chevrolet Suburban Duramax
17 of 37
2021 Chevrolet Suburban Duramax
18 of 37
2021 Chevrolet Suburban Duramax
19 of 37
2021 Chevrolet Suburban Duramax
20 of 37
2021 Chevrolet Suburban Duramax
21 of 37
2021 Chevrolet Suburban Duramax
22 of 37
2021 Chevrolet Suburban Duramax
23 of 37
2021 Chevrolet Suburban Duramax
24 of 37
2021 Chevrolet Suburban Duramax
25 of 37
2021 Chevrolet Suburban Duramax
26 of 37
2021 Chevrolet Suburban Duramax
27 of 37
2021 Chevrolet Suburban Duramax
28 of 37
2021 Chevrolet Suburban Duramax
29 of 37
2021 Chevrolet Suburban Duramax
30 of 37
2021 Chevrolet Suburban Duramax
Advertisement – Continue Reading Below
This content is created and maintained by a third party, and imported onto this page to help users provide their email addresses. You may be able to find more information about this and similar content at piano.io
Source link