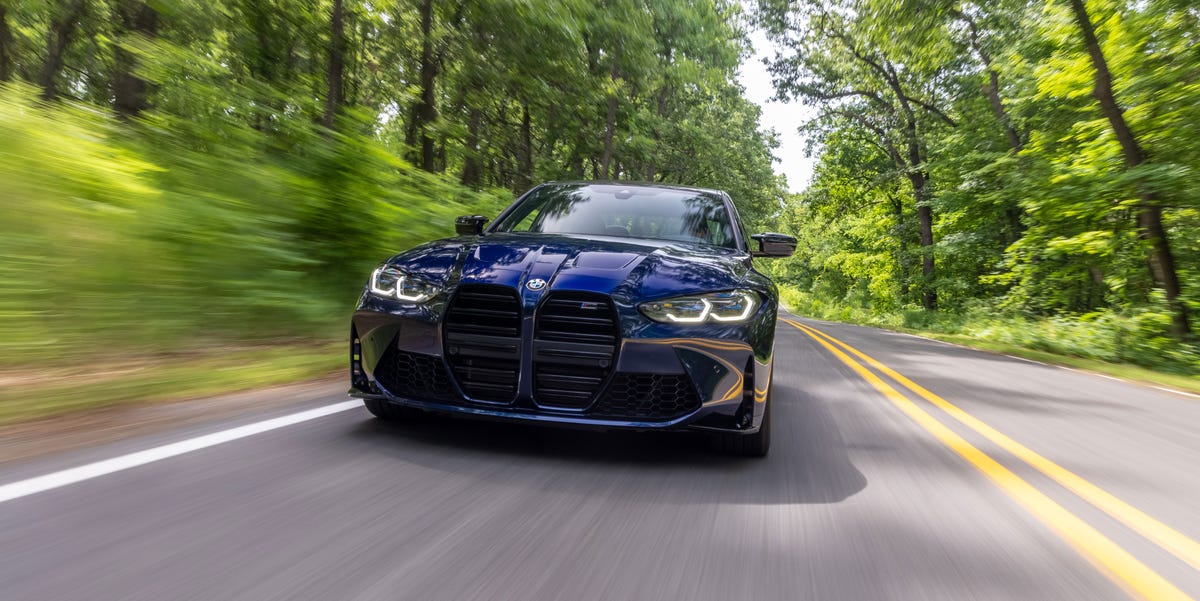 Andi HedrickCar and Driver
The new 2021 BMW M3 is an awesome performance sedan with enough bandwidth to satisfy nearly any enthusiast. The top Competition model brings quicker acceleration from a 30-hp boost over the standard 473-hp model, but with the caveat of a mandatory automatic transmission.
1 of 44
BMW's latest G80 M3 sports sedan starts at $70,895 but can be upgraded to Competition spec for an additional $2900.
2 of 44
All new M3s feature a wonderfully smooth twin-turbo 3.0-liter inline-six engine. Standard cars produce 473 horsepower and 406 pound-feet of torque; Competition models add more turbo boost to produce 503 horses and 479 pound-feet.
3 of 44
The M3 Competition necessitates an upgrade from the standard six-speed manual transmission to an eight-speed automatic.
4 of 44
Although we have yet to test a new manual-transmission M3, a mechanically identical M4 coupe with a stick shift got to 60 mph in 3.8 seconds. Our M3 Competition test car beat that time by 0.3 second and should be quicker still with the all-wheel-drive option that will be available for the 2022 model year.
5 of 44
Our test car also posted an impressive 32 mpg on our 75-mph highway fuel-economy test, beating its EPA estimate by 9 mpg.
6 of 44
The M3 Competition can cling to the skidpad with 1.03 g of grip and stop from 70 mph in 150 feet.
7 of 44
The Competition model's ZF-sourced eight-speed automatic is excellently tuned and highly flexible in character, yet it never will be as entertaining to operate as a manual transmission.
8 of 44
The latest M3 is by far the most comfortable and accommodating M3 we've driven, being larger than ever and featuring a reasonably comfortable ride for a hardcore sports sedan.
9 of 44
As with all new BMWs, the new M3 features a confusing number of drive-mode settings, including two adjustments for brake-pedal feel and an optional 10-stage traction-control system.
10 of 44
The M3's standard front sport seats are highly adjustable and supportive, but you can upgrade them to racier, carbon-fiber-shelled thrones for an additional $3800.
Advertisement – Continue Reading Below
This content is created and maintained by a third party, and imported onto this page to help users provide their email addresses. You may be able to find more information about this and similar content at piano.io
Source link