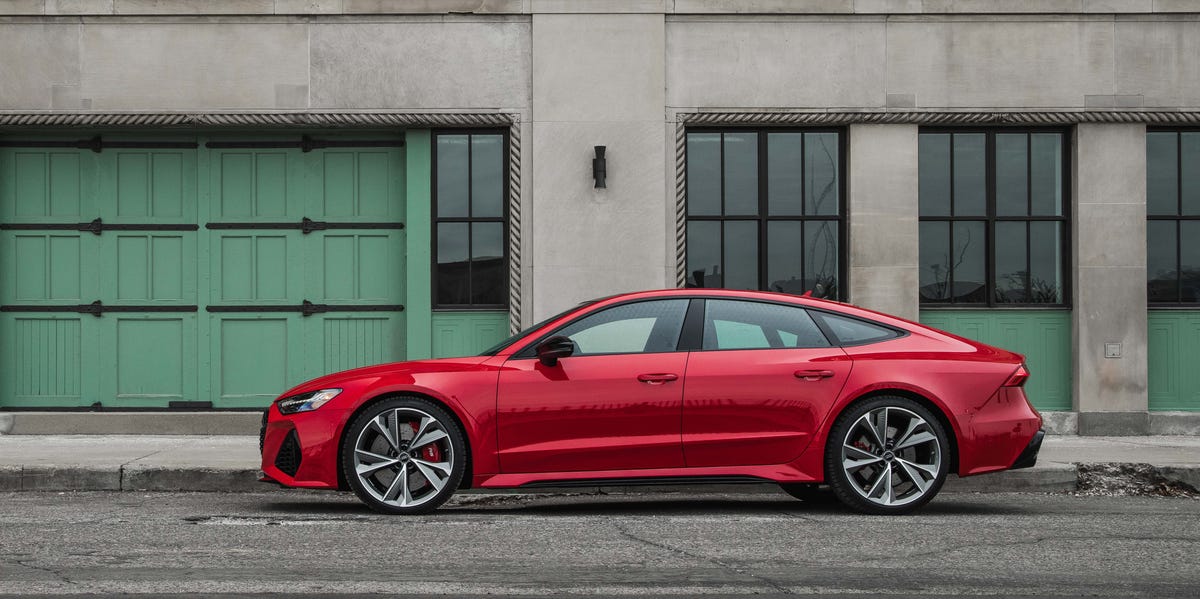 Michael SimariCar and Driver
With 591 horsepower, the new 2021 Audi RS7 Sportback delivers both awesome performance and impressive refinement. But at $115,045 to start, we'd be hesitant to pay its $5K premium over the mechanically identical RS6 Avant wagon.
Read the full review
1 of 50
With flared fenders that sit 1.7 inches wider than the lesser S7, the RS7 has stunning curb appeal.
2 of 50
The RS7's twin-turbo 4.0-liter V-8 is tuned at 591 horsepower and 590 pound-feet of torque.
3 of 50
With launch control activated, the RS7 blasts to 60 mph in 3.0 seconds and covers the quarter-mile in 11.3 seconds at 122 mph.
4 of 50
The RS7's interior is tastefully simplistic and highlighted by 10.1-inch upper and 8.6-inch lower touchscreens.
5 of 50
The RS7 comes standard with air springs and rear-axle steering. On the skidpad, the RS7 stuck at 0.95 g.
6 of 50
Despite rolling on optional 22-inch wheels wrapped in 30-series Pirelli P Zero PZ4 summer tires, the RS7's ride quality is shockingly compliant.
7 of 50
Massive 16.5-inch iron front rotors clamped by 10-piston calipers help stop the RS7 from 70 mph in just 151 feet.
8 of 50
At $115,045 to start, the RS7 is $5000 more expensive than the more practical and almost-as-quick RS6 Avant wagon.
9 of 50
Opting for the RS7's optional carbon-ceramic brake rotors costs an additional $8500 but raises its governed top speed from 155 mph to a claimed 190.
Advertisement – Continue Reading Below
This content is created and maintained by a third party, and imported onto this page to help users provide their email addresses. You may be able to find more information about this and similar content at piano.io
Source link