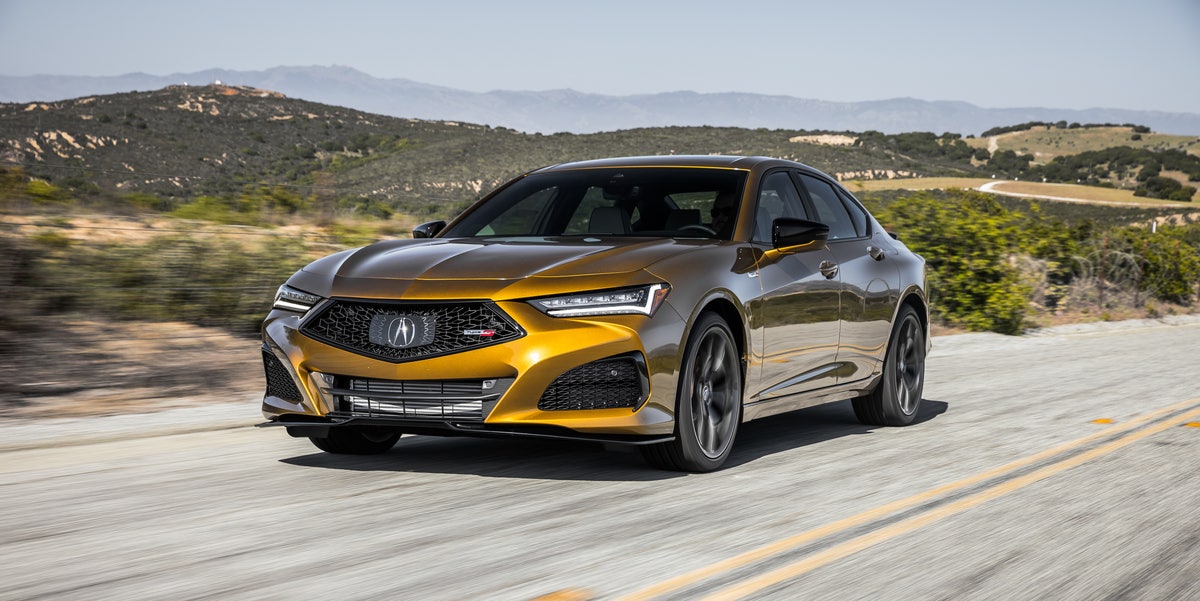 The Type S performance version of Acura's latest TLX sedan features a 355-hp turbocharged V-6, an all-wheel-drive system with a torque-vectoring rear differential, and a man-machine connection that has been missing from most of the brand's vehicles for years.
1 of 77
TLX Type S spotters can differentiate it from the regular model by its red brake calipers, quad exhaust pipes, black rear spoiler, and 20-inch wheels.
3 of 77
A 113.0-inch wheelbase and a long dash-to-axle ratio (the distance from the windshield to the front-wheel centerline) give the TLX Type S rear-drive proportions despite its transverse-engine layout.
4 of 77
A twin-scroll turbocharger feeds 15.1 psi of boost into a new DOHC 3.0-liter V-6 that makes 355 horsepower and 354 pound-feet of torque.
5 of 77
Ultrasuede and leather seats with 16-way adjustment are up to handling the g-forces that the Type S can dial up in corners.
6 of 77
Acura's current infotainment system controller is a rather annoying and unpredictable touchpad setup.
7 of 77
Large 14.3-inch front brake rotors clamped by four-piston Brembo calipers are standard on the Type S.
8 of 77
The Type S's $800 summer-tire option brings gummy Pirelli P Zeros and lighter wheels inspired by the NSX.
9 of 77
The TLX Type S's all-wheel-drive system can send up to 70 percent of the engine's torque to the rear axle, and the torque-vectoring rear differential can shuffle it from left to right.
10 of 77
The Type S's strengthened and reinforced structure is more rigid than the standard TLX's.
11 of 77
The TLX Type S comes in six colors. Tiger Eye Pearl is one of them.
Advertisement – Continue Reading Below
This content is created and maintained by a third party, and imported onto this page to help users provide their email addresses. You may be able to find more information about this and similar content at piano.io
Source link