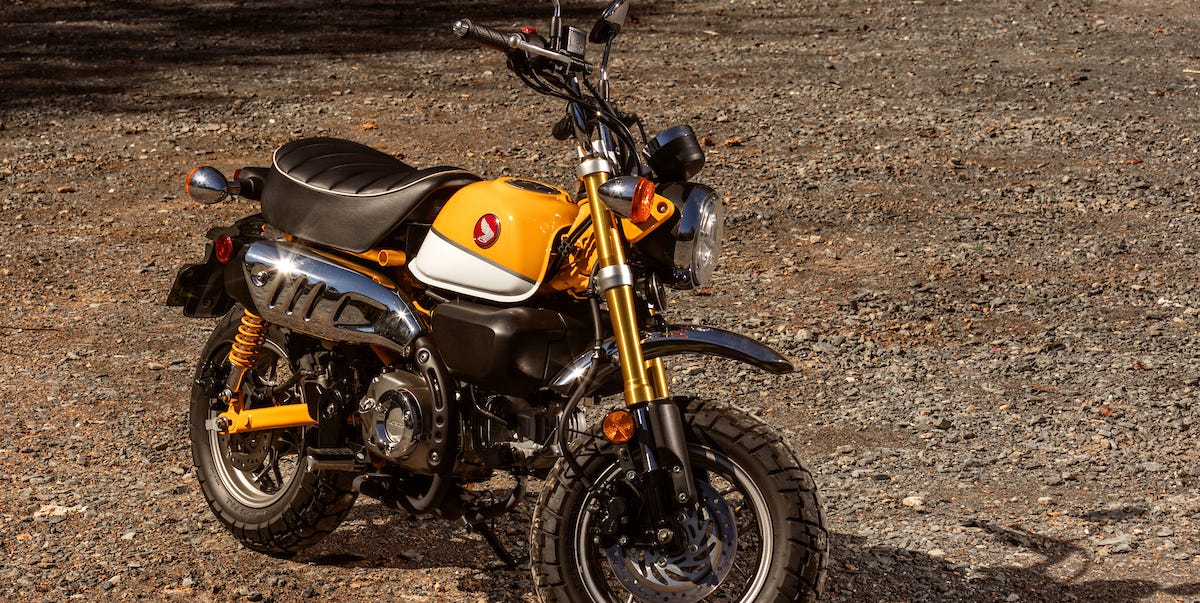 Jeremy M. LangeCar and Driver
While the Honda Monkey might look like the minibike you had when you were 12 years old, it's a full-fledged motorcycle with a four-speed manual transmission, fuel injection, and an inverted front fork. And it's street legal, which makes it feel like you're getting away with something every time you ride it.
1 of 23
Upon its debut, the Honda Monkey shared its 125-cc single-cylinder engine with the Grom, but the Grom got a more powerful engine and a five-speed transmission for 2022. We expect that setup will make its way to the Monkey at some point.
2 of 23
With a seat height of 30.6 inches, the Monkey is low-slung and agile.
3 of 23
Dual rear coil-over dampers lend to the Monkey's retro aesthetics, but the front end uses a modern inverted fork.
4 of 23
Suspension travel measures 3.9 inches up front and 4.1 inches at the rear.
5 of 23
The Monkey's single-overhead-cam engine features fuel injection and electric start.
6 of 23
The Monkey's exhaust has one of the tiniest catalytic converters you'll find on the road.
7 of 23
With 12-inch tires, you'll want to keep an eye out for potholes when riding the Monkey.
8 of 23
The bike's simple LED gauge display blinks out a monkey face when you start it up.
9 of 23
The Monkey is available in red or blue, with or without ABS. All ABS models are red.
10 of 23
Going downhill on the Monkey, you might hit the most exciting 60 mph of your life.
Advertisement – Continue Reading Below
This content is created and maintained by a third party, and imported onto this page to help users provide their email addresses. You may be able to find more information about this and similar content at piano.io
Source link