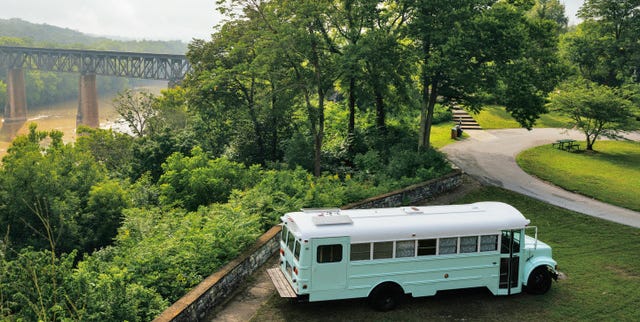 In 2009, Missy Miller's husband, Jeff, gave her a 1998 Blue Bird school bus for Mother's Day. At no point had she expressed a desire for an old bus, but Jeff had seen school buses converted into tiny homes and knew—even if Missy didn't at the time—that turning their bus into a lifestyle was something their family would enjoy. A few months later, they hit the road, with all seven of their kids, and traveled the country for the next two years.
The Millers were ahead of #vanlife and at the forefront of the "skoolie" trend. After their family adventures in their own bus, they started building skoolies for others. Since 2016, Skoolie Homes has repurposed dozens of old school buses, growing so fast that by 2018, the business needed a warehouse and a full-time staff. The Millers aren't alone.
The instagram following for the National Skoolie Association almost tripled in the past year, from 15,000 in July 2020 to more than 46,000 as of this writing.
The appeal is clear. A family-friendly RV can cost more than $200,000. Skoolies are a more economical way to do the same job, says Miller. While fully converted school buses can range in price as dramatically as they do in design, Miller says most of her company's conversions come in at around $55,000. Skoolie Homes's most expensive conversion was $110,000. That was a 37-foot bus that included three sources of power (generator, solar and shore power), extra exterior storage, and extra water storage. "You can design them exactly to meet your specifications," Miller says.
People aren't just building skoolies as tiny homes, she adds. "We have seen an influx of businesses using skoolies, which I am so excited about." She's helped dozens of entrepreneurs design skoolies to be used as classrooms, pet grooming companies, yoga studios, and food trucks.
Sarah Marcella, 31, a photographer who lives in Alexandria, Virginia, is launching a mobile boudoir photography business out of her skoolie. She'll be living on the road and plans to supplement her photography business by teaming up with wineries and selling transportation packages for bachelorette parties.
Ceil and Mike Knipp of Waterloo, Iowa, built their mobile coffee shop after pricing out a way-too-expensive brick-and-mortar business. Ceil found the Tin Cup Bus Stop online for $16,000, already converted and outfitted with espresso machines. They have come to love the mobility—and the attention they get. "People's heads turn when they see that thing going down the street. They love it . . . and when they see the inside of it they're like, 'Oh man, this thing is cute!'" says Mike. "Small towns love us because all they have is gas station coffee," says Ceil, who adds that their mobile coffee house can reel in about $1000 a day at a small-town event, such as a vintage market or fair. "We're not going to get fat on this deal," says Mike, "but we're enjoying the heck out it."
"It's a testament to how people are really looking for alternative options and want to do something different," says Will Sutherland, whose book Skoolie!: How to Convert a School Bus or Van into a Tiny Home or Recreational Vehicle came out in 2019. While Sutherland, 31, and his fiancé are in the middle of their fifth conversion, he doesn't consider himself to be in the conversion business. "I want to enjoy our buses and travel around and live the lifestyle that we built."
J.J. Catlett, a snowboarding rep who converts school buses at his home in Carolina Beach, North Carolina, in his off months, says he's gone from two or three inquiries a month to at least 10 a month in the past year with "pretty crazy inquiries [including] asking if I would fly out to their house and build them one in one or two months."
As a result of their popularity, it's become harder to find school buses on go-to sites such as Craigslist, Facebook Marketplace, and Public Surplus. Even if you can find a bus, the prices haven't just doubled, they're sometimes 10 times their previous cost. As recently as a year ago, retired school buses could be found for $500 to $1000. Check prices now and you'll see non-converted buses averaging $5000 to $7000 with more than a few as high as $20,000.
So You Wanna Build A Skoolie?
There's overwhelming agreement in the skoolie world that the hardest part of any conversion is pulling out the seats. Since a 40-foot bus holds 72 to 86 passengers, that means ripping out about 40 double seats. Even beyond seat extrication, skoolie conversions can also be "extremely frustrating because nothing in these buses are square or linear, everything is curved and everything is a different height," says Catlett.
Over the years, Miller says, they found that many first-time DIYers hit roadblocks, especially with plumbing and electrical. Because of that, Skoolie Homes recently began offering "piecemeal skoolie services," helping customers with specific areas of their builds, as well as providing consulting services for those who still want to do it on their own but need advice.
There are message boards such as skoolie.net, a forum for enthusiasts and newbies alike where Q&As abound about bus sizes ("count the windows not the seats," some suggest) and the kinds of tools you need. Other conversations are about how to be creative with limited space: Add a microwave but not an oven (or vice versa), a toilet but not a shower. Catlett says there are a number of ways to do showers, including gravity-fed or solar. For those wanting a shower but not the humidity issues or space crunch that an indoor shower causes, outdoor hookups are an option. Others opt for no shower at all, committing to campground visits where showers are available.
How much time will a conversion take? For those doing it themselves, it's about know-how and grit since it can take a month just to pull the seats out of a bus. For those hiring a company to do the conversion for them, Skoolie Homes is now quoting new customers a year—due to parts shortages and the spike in interest in #skoolielife.
Is it worth the wait? Skoolie fans think so. Catlett says he's seeing more casual skoolie "weekenders" going all in. "[They] have a new dream: 'Let's sell everything we own and travel the U.S., do it for one year or the rest of their lives.' It's a great movement."
This content is created and maintained by a third party, and imported onto this page to help users provide their email addresses. You may be able to find more information about this and similar content at piano.io
Source link