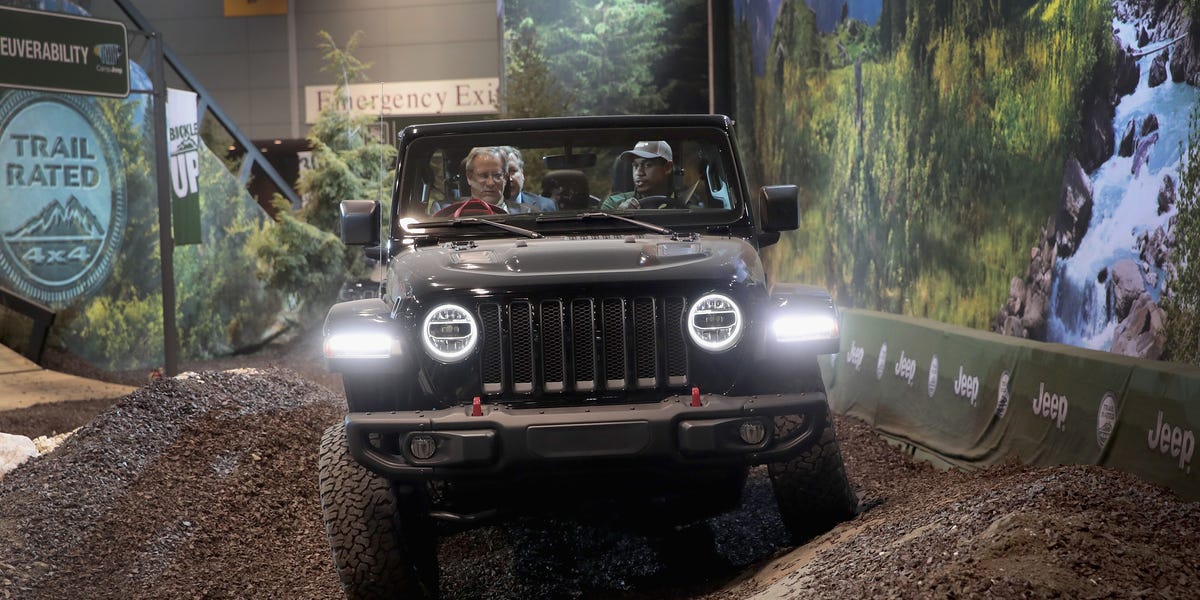 If you're thinking about adding some upgrades to your Jeep Wrangler, a new set of LED lights can enhance your Wrangler's appearance and functionality. We've put this guide together to help you select the top LED lights for your vehicle.
What Are Jeep Wrangler LED Lights?
Jeep Wrangler LED lights are automotive lights that use a semiconductor to generate light instead of a light bulb. There are many benefits to swapping out your Jeep Wranglers halogen lights for new LED lights, including:
Longer Lifespan – A standard halogen bulb produces around 1,000 hours of light. However, with LED lights, you can get up to 15,000 hours of light. While LED lights cost more than halogen lights, you'll save money in the long run because you won't have to replace them as often.
Safety – Because LED lights produce a longer and wider beam than halogen lights, you'll be able to see farther in the dark. Plus, halogen lights can often produce a glare that can blind other drivers. LED lights eliminate the glare factor.
Immediacy – LED lights brighten as soon as you activate them, unlike halogen lights which need some time to reach full brightness. LED immediacy is helpful when you have to apply your brakes and you need the driver behind you to see your brake lights.
Energy Efficiency – While LED lights produce more light than halogen bulbs, they also consume less energy. If you swap out your halogen lights for LED lights, your Wrangler will have improved fuel efficiency, and your battery won't drain as fast.
Appearance – Many drivers prefer LED lights because they produce a cleaner and sharper beam of light.
Types of Jeep Wrangler LED Lights
There are several types of LED lights that you can add to your Jeep Wrangler.
LED Headlights
LED headlights won't burn out as fast as halogen lights. They also generate a broader and longer beam of light without producing a glare. Many LED lights are designed to adapt to different driving situations, providing you with improved visibility when you're driving down a curvy road or taking on a tight turn. They can also dim or brighten depending on traffic conditions. If you're looking for headlights in different colors, LED headlights come in all sorts of shades. Halogen lights are typically only available in white or yellow.
LED Taillights
Like LED headlights, LED taillights are long-lasting and energy-efficient. They're also easier for other drivers to see in low-visibility conditions.
LED Turn Signal Lights
LED turn signal lights also have the advantage of being more visible to drivers. LED turn sign lights can usually give you up to 50,000 hours of functionality.
LED Fog Lights
LED fog lights generate a sharper beam of light and, like all LED lights, are more visible. Manufacturers offer fog lights in various colors and shapes so you can choose a set the complements your Wrangler.
LED Accessory Lights
LED accessory lights are a great way to refresh your Wrangler's exterior. You can add underbody lights, light strips, or tubes. Accessory lights come in lots of different colors, making it easy to find a set that looks good on your Wrangler.
How to Choose LED Lights for Your Jeep Wrangler
When selecting the right LED lights for your Jeep Wrangler, there are several factors to consider, including:
Legal Restrictions – Most states require that you have yellow or white headlights on your vehicle, so headlights in different colors may not be an option for you. Some states also restrict what kind of accessory lights you can add to your vehicle. Before you start shopping, check with your state's Department of Motor Vehicles or Department of Public Safety to see what the restrictions are in your state. Make sure that any headlights or taillights you purchase have a DOT/SAE certification. This certification ensures that your lights are street-legal when it comes to brightness.
Cost – After you figure out which types of lights are legal in your state, decide how much you want to spend. Setting a budget can help you narrow down your choices even further. If you need a professional to install your lights, make sure you factor in labor cost.
Material – Manufacturers use different materials to produce the lenses for LED headlights. Some headlights have plastic lenses which can crack easily and aren't very scratch-resistant. Polycarbonate lenses are more durable and scratch-resistant. Glass lenses offer the highest quality. While they might cost more, they'll last longer.
Where You Drive – When equipping your Wrangler with LED lights, you want lights that are suitable for your local driving conditions. Fog lights are a worthy investment if you live in an area that frequently experiences fog and rain. Consider curve-adaptive lights if you drive often on curvy roads.
Ease of Installation – If you want to install your new LED lights yourself, try to find a set with plug-and-play installation.
How to Replace/Install Jeep Wrangler LED Lights
Disclaimer: The guidelines in this story are general and not meant to replace instructions for your specific vehicle. Please consult your owner's manual or repair guide before attempting repairs.
After you select the right set of LED lights for your Jeep Wrangler, you'll need to install them.
Remove Your Wrangler's Grille
Before you put your new lights in, you'll have to take the old ones out. To access your Wrangler's lights, you'll need to release the hood latch, remove the screws from the front grille, then remove the grille. If you put your hand on the bottom of the grille and then push it up, it should pop right out.
Remove the Old Headlights
To remove the old headlights, you'll need to remove the screws holding headlight rings in place. Remove the ring, then remove and unplug the headlights.
Install the LED Headlights
Connect your new LED headlights to the module box, then connect the module box to the headlight harness. Then put the headlight rings back in place.
Test the New Lights
Before you put the grille back on your Wrangler, you'll want to test the lights to make sure they're hooked up correctly. After you see that the lights are working, you can put the grille back on.
Where to Buy LED Lights for Your Jeep Wrangler
This content is created and maintained by a third party, and imported onto this page to help users provide their email addresses. You may be able to find more information about this and similar content at piano.io
Source link