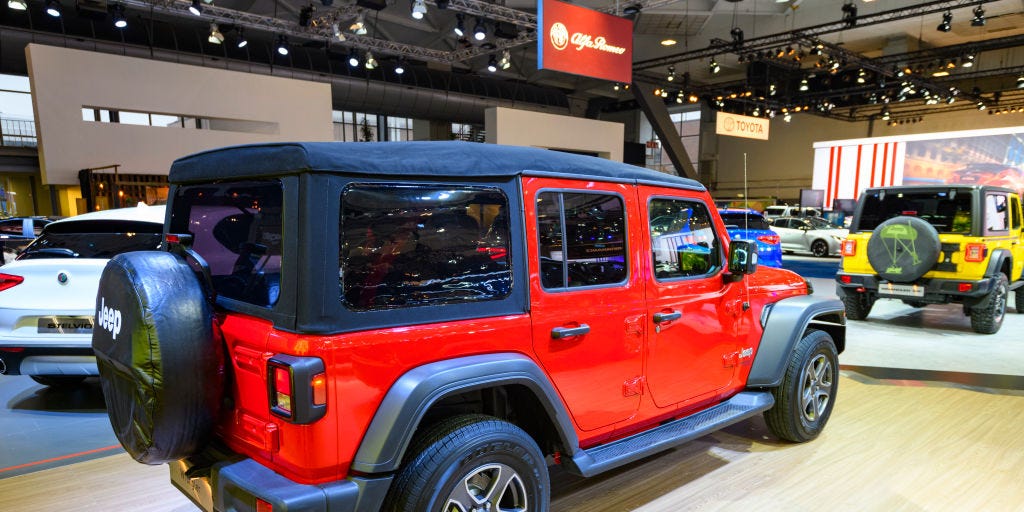 Sjoerd van der WalGetty Images
Your Guide To Jeep JL Running Boards
Getting in and out of your Jeep Wrangler JL can be challenging, especially if you've recently lifted the vehicle or installed monster-size off-road tires. Investing in Jeep JL running boards will offer a quick and easy solution to this problem.
Since running boards typically come with mounting kits that match your vehicle's make and model, you want to make sure that you opt for running boards that will fit your model of Jeep Wrangler. If you're not sure whether your Wrangler is a JL, the JL model arrived in the 2018 model year. This means that if you purchased a 2018 or later model, it's definitely a Wrangler JL.
What Are Jeep JL Running Boards?
Jeep JL Running boards act as steps under the side doors of your Wrangler. Apart from enabling your passengers to easily get in and out of the vehicle, running boards also provide the following benefits:
Safety: Running boards offer safety as well as convenience. Anyone can use a lift up, but elderly people and those whose strength is compromised could be at risk of falling if they have to pull themselves up into a vehicle. Running boards could make it possible for some people to get into your Wrangler JR who might otherwise not be able to.
Protection: Running boards will protect your Wrangler's paint job from getting damaged by stones, rocks, and other loose debris that the wheels kick up from the surface, especially when you're driving on back roads or over rough off-road terrain. When you install running boards, they act as a barrier between the surface and your doors and side panels.
Cleanliness: Since passengers' feet first come into contact with the running boards before they get into the vehicle, the running boards act as a type of doormat. Passengers can quickly wipe the dirt from their shoes or feet on the running boards before entering the Wrangler, which will help keep the cabin clean.
Types of Jeep JL Running Boards
The term "running board" is a generic phrase that refers to any bar or board that's bolted along the side of your Wrangler. Apart from normal running boards, you also get side step bars and rock sliders, for instance. Here's a short description of these three types of running boards:
Normal Running Boards
Your typical running board is a flat flush-mounted board, which means that there's little to no space between the running board and the rocker panel. Running boards usually have a flat and wide design with a width of between 4 and 7 inches. Electric running boards, which automatically extend when you open the doors and then retract again when you close the doors, are also available. If you're looking for a wider step, running boards are the way to go. They're safe and effective but may not be aesthetically pleasing for everyone.
An example of Wrangler JL running boards, AMP Research's PowerStep Xtreme Electric Running Boards are designed from high-strength aluminum steel and boast an aggressive and bold design. They are meant to withstand harsh conditions. Each running board features dual motors that can handle sub-zero winters and muddy off-road excursions. These running boards fit onto the four-door Wrangler model.
Side Step Bars
A side step running board uses either round or oval tubing that ranges in diameter from 2 to 6 inches. The tubular steps feature textured step pads in front of each vehicle door. As opposed to the traditional flush-mounted running board, there's typically a gap between a side step bar and the rocker panel of the vehicle. Side step bars may not be as wide or as safe as normal running boards, but they have a more sophisticated and rugged look. Side step bars are also referred to as nerf bars.
An example of available nerf bars for the Wrangler JL is Westin's Pro Traxx 4 Oval Nerf Step Bars, which are constructed from steel and boast fully welded domed ends. These nerf step bars feature molded polymer step pads at each door, which provide a 4-inch step area. They are made for four-door Wranglers.
Rock Sliders
If you're an avid off-roader, rock sliders are the way to go. Rock sliders are constructed from thick and durable steel tubing and provide superior protection for your rocker panels and the bottom of your doors. They're typically mounted tightly to the body of your Wrangler to serve as an effective barrier between the vehicle and the rough terrain it goes over.
An example of rock sliders for the Wrangler is Rampage Products' TrailCrawler Rock Slider Step, which is a durable rock slider that's constructed from steel tubing that's covered with a black powder-coated finish. The rock slider features a one-piece design that includes welded steel step bars. These rock slider steps fit onto Wrangler four-door models.
How To Replace/Install Jeep JL Running Boards
Disclaimer: The guidelines in this story are general and not meant to replace instructions for your specific vehicle. Please consult your owner's manual or repair guide before attempting repairs.
Although the process of fitting running boards onto your Wrangler may differ slightly depending on the style of running board, you can typically do this job yourself in one to two hours with just a few basic tools. Here are the basic steps if you're, for instance, installing a two-door running board:
Step 1
The first step you want to take is to get the brackets bolted up to the side and bottom of the Jeep. Line up the holes in the front of each bracket with the holes in the pinch weld, and hand-tighten so that they can still be adjusted. Line up the opening in the bracket with the threaded hole on your Jeep, and thread in the bolt.
Step 2
Now you can take your running board and place it onto the brackets. Line up the running board with the holes in the brackets and install the bolts. You can now tighten each bolt and nut with a ratchet and socket to ensure that the running board is secured to the brackets.
This content is created and maintained by a third party, and imported onto this page to help users provide their email addresses. You may be able to find more information about this and similar content at piano.io
Source link