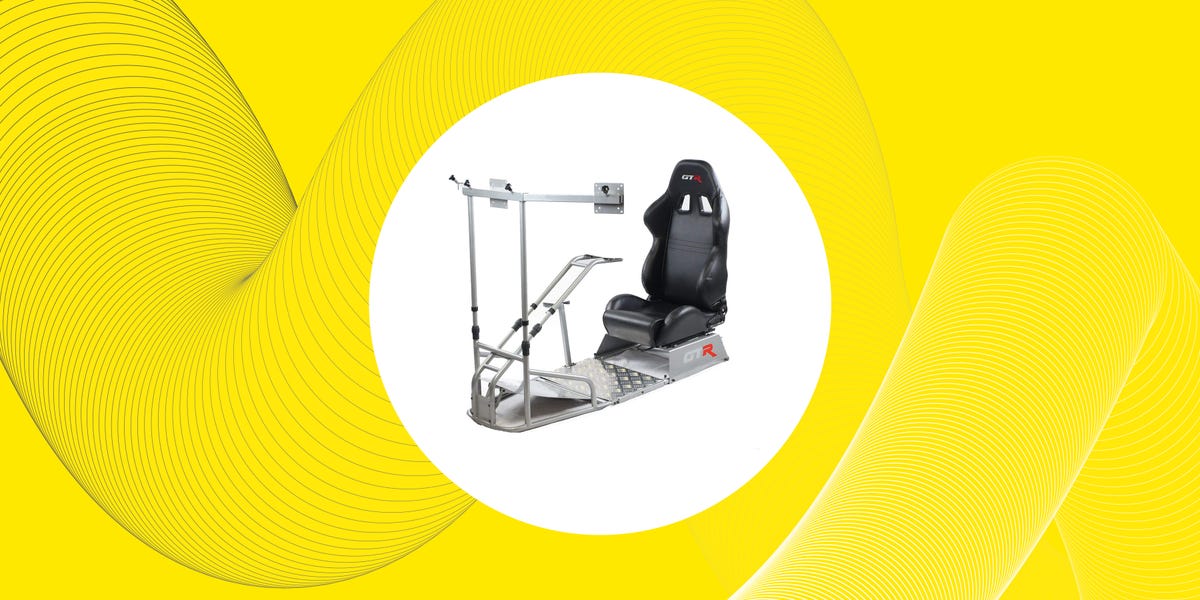 So you want to expand your virtual racing experience beyond a measly controller? You're looking into racing wheels, pedal setups, and seats, right? Make sure you don't forget the contraption that brings it all together. These racing rigs hold all the parts you need in a sturdy, adjustable frame.
Be aware that none of the rigs in this list include a racing wheel, pedals, or accessories. Some lack the seat as well.
We talked to hard-core racing experts from Car and Driver, Road & Track, and Autoweek about which sim rigs they recommend. To complete the list, we also hunted for the best choices on Amazon based on consumer ratings.
Don't be daunted by the number of choices out there; we'll help you decide. Now it's time to settle in, get a bowl of snacks, and hit the track.
---
Advertisement – Continue Reading Below
Racing Simulator Stand
If you're looking for a convenient way to mount your wheel, pedals, and shifter, this stand is great. With a lot of adjustability, this rig lets you find and set your favorite racing position. However, it's compatible only with certain Logitech and Thrustmaster wheels, so keep that in mind. The wheel, pedals, and shifter are not included.
Foldable Simulator Racing Cockpit
If you need to put away your toys when not in use, this setup might be the ticket. It folds into a small package, even with your electronics mounted. The seat is made of a breathable fabric to keep you cool during those grueling endurance races, and the cockpit is pre-drilled to work with all major wheel and pedal setups.
Playseat Evolution Alcantara
This cockpit has seen plenty of playing time in Car and Driver's Ann Arbor office and comes recommended by editors from across Hearst's automotive brands. The rugged seat is covered in microsuede, and the rig is foldable, for when you need to save some space. Reinforced tubing eliminates wobble as you lean into turns, and the setup is compatible with all major wheel and pedal brands. It's sure to get more racing time from us.
OpenWheeler GEN3 Racing Cockpit
The OpenWheeler is a midrange rig that allows for plenty of modification. You can move the shifter mount to either side of the seat, and the pedal plate has many adjustments. The bread and butter of sim racing cockpit experiences, the GEN3 is nothing fancy, but it does the job with ease. 
GTR Simulator GTSF with a Triple- or Single-Monitor Mount
If you're looking for a panoramic experience, the GTSF is the rig for you. It offers a mount for a single- or triple-monitor setup and a winning combination of comfort, rigidity, and adjustability.
Sim Lab P1-X Cockpit
The folks at Sim Lab know what they're doing. With a focus on structural strength and overall adjustability, the P1-X earns the recommendation of one of our editors. The seat and feet are sold separately. 
Sparco Evolve GP
The Evolve GP's low, reclined seat is closer to that of true racing cars than your typical rig chair. It also allows for custom padding. A favorite of one of our social-media editors, this Sparco setup is highly adjustable to suit your racing needs.
DOF Motion Simulator Platform P3
The DOF Motion Simulator P3h uses motors and actuators to simulate pitch, roll, and traction loss in the back. For a true motion simulator, you can't beat the price. The company is known for its stellar customer service, so if you have any questions, rest assured you'll be helped quickly. The seat, wheel, pedals, and shifter are not included. It's also compatible with VR for a truly immersive driving experience.
CXC Motion Pro II Standard
If you're serious about racing and have money to throw around, throw it at this. CXC Simulations makes top-of-the-line, professional-grade racing motion rigs for driver training. And this is the cheap one—a three-monitor version costs $108,000. Frivolously recommended by the editors at Autoweek, the Pro II has everything you could ever dream of in a sim rig, and if you consider the price of an actual track car and its accompanying costs, this is a steal.
This content is created and maintained by a third party, and imported onto this page to help users provide their email addresses. You may be able to find more information about this and similar content at piano.io
Advertisement – Continue Reading Below
Source link