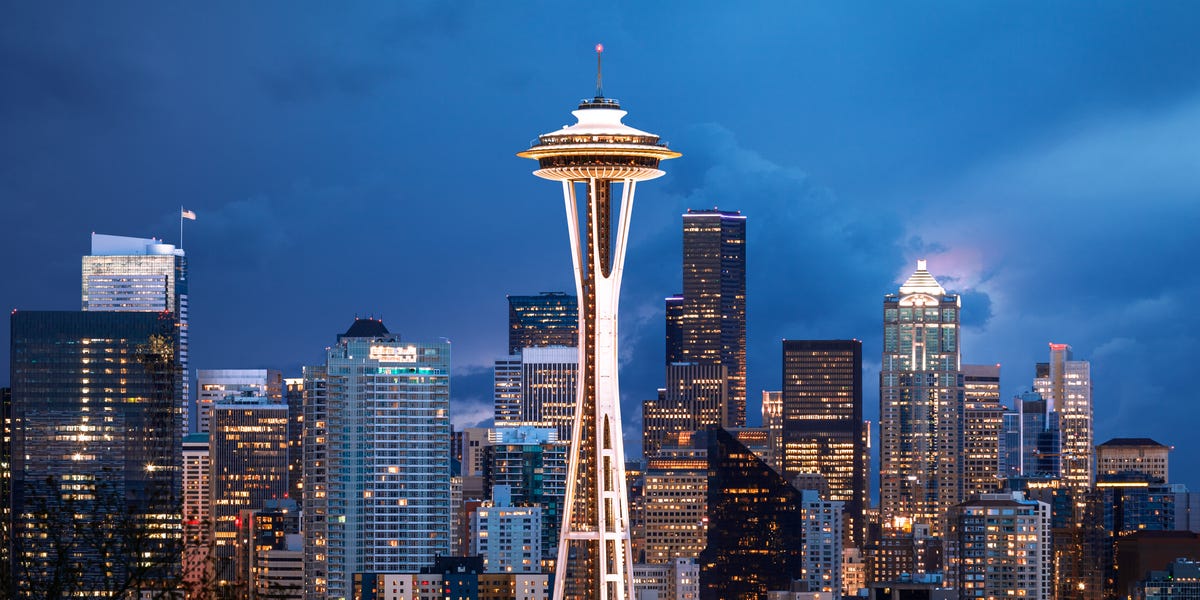 joe daniel priceGetty Images
If you live in Washington state and you get caught driving without insurance or are cited for a DUI, you're required to file an SR22 insurance form to reinstate your driver's license. How much does SR22 insurance in Washington State cost? That depends on your insurance provider.
What Is SR22 Insurance?
According to MoneyGeek, SR22 insurance is insurance coverage that requires your insurance provider to file an SR22 form with the state. The form verifies that your insurance coverage meets Washington state's required minimums. It's a standard legal document that Washington state requires if a driver needs to have a suspended driver's license after a serious violation. MoneyGeek notes that Washington state drivers have to file an SR22 form if they commit the following offenses:
Driving with a suspended license
Operating a motor vehicle without insurance
Reckless driving
DUI
Multiple minor violations, such as excessive speeding tickets
Typically, you have to provide an SR22 form for three years following your conviction. The form confirms that your insurance policy includes:
Bodily injury liability: $25,000 per person/$50,000 per accident
Property damage liability: $10,000 per accident
How Much Does SR22 Insurance Cost?
While filing fees for an SR22 form are relatively inexpensive, between $15 and $30, you can count on your insurance rates to increase significantly after you receive a citation. The Zebra reports that drivers who live in Washington state can expect to pay the following rates, on average, if they have recent citations on their record:
Reckless driving: $1940 a year
Hit-and-run: $2120 a year
DUI: $1978 a year
At-fault accident: $2016 a year
Speeding ticket: $1701 a year
Affordable SR22 Insurance Options for Washington Drivers
In a survey of leading providers, MoneyGeek gathered quotes to see how much they charge, on average, for SR22 insurance. They report that the most affordable options for Washington drivers include:
State Farm: $550 a year
Progressive: $566 a year
USAA: $694 a year
PEMCO: $788 a year
Allstate: $917 a year
In certain situations, you may need to file an SR22 form even if you don't own a vehicle. Perhaps you committed a major violation while driving a rental car or borrowing a relative's vehicle. In that case, you should purchase nonowner SR-22 insurance. MoneyGeek notes that these are the most affordable nonowner SR22 options:
Progressive: $452 a year
State Farm: $459 a year
USAA: $506 a year
Travelers: $592 a year
GEICO: $658 a year
How to File for SR22 Insurance in Washington State
According to Finder, you must take the following steps to file for SR22 insurance in Washington state:
Find an insurance provider. If you already have insurance, ask your provider if they issue SR22 forms in Washington state. If they don't, you'll have to find another car insurance provider.
Pay the SR22 filing fee. Your insurance provider will charge you a fee for filing the SR22 form on your behalf.
Verify your coverage. Make sure your insurance policy meets Washington state's minimum requirements.
Submit your SR22 form. Your insurance agent should file your SR22 form with the Washington Department of Licensing. They should provide you with verification once the form is filed.
Wait for confirmation. Once the state accepts your SR22 form, you should receive confirmation letters from the Department of Licensing and your insurance company.
Keep in mind that if you let your SR22 insurance lapse, your insurance provider is required to report the lapse to the Department of Licensing. Letting your SR22 insurance lapse could result in another licensing suspension.
According to Clearsurance, if you can't obtain SR22 insurance from a conventional insurance company, you can sign up for the Washington Automobile Assigned Risk Plan. You can also forgo SR22 insurance if you deposit $60,000 to the State Treasury or obtain a surety bond from a licensed company.
For most violations, Washington state requires you to carry SR22 for three years. CarInsuranceComparison.com notes that if you move to another state before the three years are up, you still must prove to the Washington Department of Licensing that you're meeting the SR22 requirements. That means you'll need to get an out-of-state SR22 filing from a nationwide insurance provider.
How to Save Money on SR22 Insurance
While you'll end up paying higher rates for SR22 insurance, you can still save money. Clearsurance recommends you do the following:
Bundle your car insurance with your other policies. If you don't already have your homeowners or renters policy bundled with the same company that provides your car insurance, you can earn a discount for bundling all of your policies with the same provider.
Raise your deductibles. If you have collision and comprehensive coverage, you can raise your deductibles, and your provider will lower your premiums. Make sure you can afford to pay a higher deductible if you have to file a claim.
Pay your premium in full. Many providers will shave a percentage off of your premium if you pay it in full instead of making monthly payments.
Consider usage-based car insurance. If you don't drive very often, you might want to purchase a usage-based policy that charges you by how many miles you drive a month.
Shop around for quotes. Another provider might be able to offer you lower rates, even if you require SR22 insurance. Consider shopping around for quotes when it's time to renew your policy. You might be able to use those quotes to negotiate for lower rates from your current provider.
Now that you know how to file for an SR22 insurance policy and you know how much it costs, you can make an informed decision if you ever need to purchase this type of coverage. By taking your time to shop around, you can find the best coverage at a reasonable price. You'll also be able to take the necessary steps to restore your driving status with Washington state.
Check this out if you need additional information, resources, or guidance on car insurance.
Sources:
Washington SR-22 Insurance: What It Is and How Much It Costs | moneygeek.com
Insurance With An SR-22 in Washington | thezebra.com
Compare SR-22 Insurance in Washington| finder.com
SR-22 insurance in Washington: Quotes, rankings, and information | clearsurance.com
How does a suspended license affect car insurance rates? | carinsurancecomparison.com
SR22 Insurance Without a Car: Everything You Need to Know | caranddriver.com
Washington State Auto Insurance Laws: Everything You Need to Know | caranddriver.com
This content is created and maintained by a third party, and imported onto this page to help users provide their email addresses. You may be able to find more information about this and similar content at piano.io
Source link