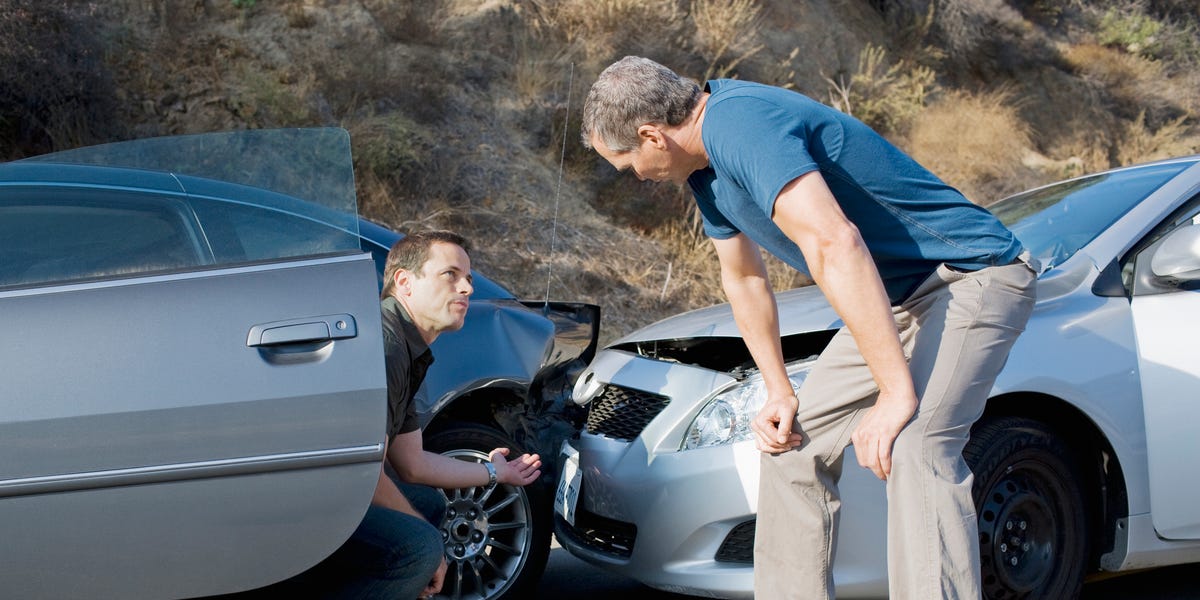 Car insurance companies use several factors to calculate your insurance rates. One factor that has a significant impact on how much you pay is whether you have a recent accident on your record. So, how much does insurance go up after an accident? That depends on your provider.
What Is the Average Cost of Car Insurance after an Accident?
According to The Zebra, the national average cost of car insurance is $1548 a year. After an accident, it's typical for a driver's car insurance rate to increase by 50 percent. Keep in mind that an accident can remain on your record for three to five years. The Zebra points out that over a three-year period, you could end up paying an additional $2300 in car insurance costs.
At-Fault Accidents vs. Not-At-Fault Accidents
According to Progressive, if you're responsible for a car accident, you can almost always expect your insurance rates to increase. However, depending on the state you live in, you may not see your rates increase if the resulting damages are under a specific dollar amount. Typically, an at-fault accident will remain on your record for three years. Again, this depends on your state of residence and your insurance provider.
Even if you're not at fault in an accident, your provider could raise your rates, although not as much as it would for an at-fault accident. A not-at-fault accident could stay on your record for a few years, depending on where you live and who you have an insurance policy with.
Circumstances That May Not Trigger a Rate Increase
ValuePenguin notes that some insurance providers won't raise your rates if they determine that you're less than 50 percent responsible for an accident. If you have a policy with State Farm, you're not at fault in an accident if:
Your vehicle is legally parked.
Your vehicle is rear-ended, and you're not cited or convicted for a moving traffic violation connected to the accident.
Your vehicle is hit by a hit-and-run driver, and you report the accident to the authorities within 24 hours.
The other driver is convicted of a moving traffic violation connected to the accident.
Why Do Car Insurance Rates Increase after an Accident?
The Zebra reports that car insurance rates go up after an accident because of the following:
Claim-Filing Fees: When you file a claim, it triggers several surcharges. These include the cost of a claim adjuster's time, claims representatives fees, and the cost of parts and labor. The fees associated with filing a claim aren't typically included in your insurance premium. That's why your provider will raise your rates to cover the additional fees. If you're in a minor accident, you may want to avoid filing a claim and consider settling out of pocket.
Additional Risk: According to industry data, after a driver is in a crash, they're more likely to have another accident later on. If you have an accident on your record, your provider will consider you a greater risk to insure than someone with a clean record. They'll account for this risk by charging you more for insurance.
How to Lower Your Car Insurance Rates after an Accident
In case you're expecting your insurance rates to go up because of a recent accident or you're already paying higher rates, there are steps you can take to reduce your costs. NextAdvisor suggests you do the following:
Qualify for Discounts: If you don't already have your car insurance policy and your home owner's policy with the same company, consider switching providers so you can qualify for a bundling discount. Some providers will give you a discount if you take a defensive driving class or add a device to your car that tracks your driving habits. If you have a teen driver or a college student under the age of 25 on your policy, they might qualify for a good student discount if they maintain a 3.5 GPA or higher.
Drive Safely: One of the best ways to lower your insurance rates is to drive safely. If you get into another accident, especially within three years of your first accident, your rates will go up even more.
Adjust Your Coverage: If your rates increase because of an accident, you may want to analyze your coverage to see if you're paying for more insurance than you need. For instance, if you drive an older car, you might not need collision and comprehensive coverage. If you keep your full coverage, consider adjusting your deductibles so that your premium fits your budget.
Car Insurance Increases by Provider
Depending on your insurance provider, your insurance rates might not increase as much as your fellow drivers' rates after an accident. According to The Simple Dollar, here is what some of the leading providers charge after an accident:
Nationwide: $2174 a year (61 percent increase)
Farmers: $2226 a year (6 percent increase)
Progressive: $2772 a year (73 percent increase)
Liberty Mutual: $2358 a year (43 percent increase)
State Farm: $1617 a year (23 percent increase)
GEICO: $1997 a year (57 percent increase)
Allstate: $3017 a year (60 percent increase)
Car Insurance Increase by State
Because each state has its own laws regulating how much insurance companies raise rates, the state you live in also affects how much you'll pay after an accident. The Simple Dollar reports that drivers in the following states see the highest increases:
California: 63.1 percent increase
New Hampshire: 60.3 percent increase
Texas: 59.9 percent increase
Massachusetts: 57.3 percent increase
North Carolina: 57.3 percent increase
On the other end of the spectrum, drivers in the following states see the lowest increases after an accident:
Maryland: 21.5 percent increase
Michigan: 26.1 percent increase
Oklahoma: 27.9 percent increase
Montana: 30.2 percent increase
Kentucky: 30.6 percent increase
Now that you know how an accident can affect your car insurance rates, you can take the necessary steps to avoid an increase. By doing a little research, you can get excellent coverage at a fair price, even if you have an accident on your record.
Check this out if you need additional information, resources, or guidance on car insurance.
Sources:
How Much Does Car Insurance Go Up After an Accident? | thezebra.com
Do Accidents Affect Insurance Rates? | progressive.com
How Much Does Car Insurance Go Up After an Accident? | valuepenguin.com
Here's How Much Your Car Insurance Goes Up After an Accident, and What You Can Do About It | time.com
How Much Does Car Insurance Go Up After An Accident? | thesimpledollar.com
How Does Insurance Work in a Car Accident? | caranddriver.com
Will My Insurance Go Up If Someone Hits Me? | caranddriver.com
This content is created and maintained by a third party, and imported onto this page to help users provide their email addresses. You may be able to find more information about this and similar content at piano.io
Source link