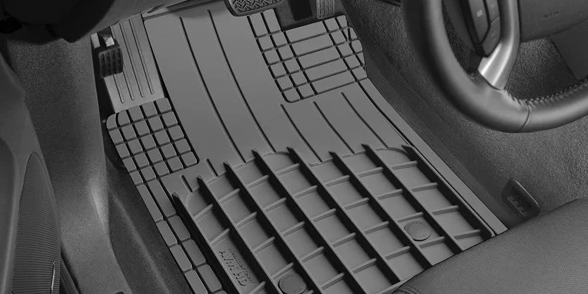 After investing in a new vehicle, you want to keep your interior as pristine as possible. Heavy duty floor mats protect your upholstery from the damaging effects of water, mud, snow, ice, dirt, sand, pet fur, and debris. With this guide, you'll find the perfect floor mats for your car, truck, or SUV.
What Are Heavy Duty Floor Mats?
Heavy-duty floor mats cover the car's carpet to shield it from spills. If you tend to be rough on your vehicles or typically transport kids and pets, consider these benefits of using floor mats to protect the interior of your car:
Fast, convenient cleaning. You can wash off messes that end up on your floor mats in seconds with soap and water. In some cases, a simple spray of the hose will do the trick.
Seamless protection. The floor mat material traps big spills as well as the smallest sand particles.
Durability. Mats constructed from high-quality rubber can stand up to years of wear and tear especially compared to less sturdy cloth mats.
Aesthetics. Even the heaviest floor mats come in colors that can match your vehicle's interior or stand out for eye-catching appeal.
Resale value. Protecting your car's interior will mean more money in your pocket when it's time to trade it in for a new model.
If you want the cabin of your vehicle to have a clean, dry carpet, you need floor mats that stand the test of time.
Types of Heavy Duty Floor Mats
Drivers seeking vehicle protection can select from several types of heavy duty floor mats.
FloorLiner Laser-Measured Mats
The FloorLiner product from WeatherTech provides custom floor protection, laser measured and cut to fit your vehicle. The liner covers the entire footwell and interior carpet of the vehicle with a strong, high-density surface.
All-Weather Floor Mats
These flexible custom WeatherTech All-Weather Floor Mats have the versatility to tackle your entire year of adventures. The deep channels easily keep sand, mud, road salt, and water from damaging your upholstery. Live in a cold climate? These durable mats won't crack or curl even after weeks of below-freezing temperatures.
Heavy Duty Trim-to-Fit Floor Mats
WeatherTech makes these semi-custom trim-to-fit floor mats for clients who want to balance affordability and quality. The heavy-duty trim-to-fit mats can fit almost any vehicle and have the durability to provide protection for nasty weather and dirty jobs alike. Fans appreciate the flexible, odorless rubber compound and unique contoured protection, with rugged ribbing and a watertight seal after installation.
Another option in this category is the Amazon Basics 4 Piece Heavy Duty Car Floor Mat set. This economical product features thick, flexible rubber with flexible grooves that catch liquid, mud, and debris. These trim-to-fit mats come with a one-year limited warranty.
Motor Trend 923-BK Black FlexTough Contour Liners also offer trim-to-fit protection for your upholstery. These heavy-duty deep dish floor mats come in six different shades of a rubber polymer that provides flexibility and a slip-free grip that stays in place.
Caterpillar Heavy-Duty Rubber Floor Mats offer another trim-to-fit option for drivers looking for this type of flexibility. This model offers three different colors, each with a cool two-tone metal-look finish.
Trim-to-Fit Floor Mats
Another WeatherTech semi-universal option, these trim-to-fit floor mats offer the same great protection as with the heavy duty model in a slightly lighter rubber. You'll find it's easy to customize based on the size and shape of your interior carpet, so you can shield your car's upholstery from unexpected drips, spills, and splashes.
How to Choose Heavy Duty Floor Mats
Keep these considerations in mind when selecting heavy duty floor mats for your car, truck, or SUV:
Where were the floor mats manufactured? Some drivers prefer to purchase parts and accessories made in the United States.
Does it come with a limited lifetime warranty? Reputable manufacturers stand behind their products and replace them if defects arise.
Are they made from recycled materials? Many drivers prefer to buy green products when possible.
Are they free of lead, cadmium, latex, and PVCs? These harsh chemicals in some rubbers can cause unpleasant odors.
What material do you prefer? Rubber and vinyl floor mats are ideal for all-weather protection, but you can also choose a carpet and rubber hybrid, carpet mats, or other materials such as faux leather.
What color do you want? Most floor mats come in black but you'll also find a range of other hues including gray, tan, and blue.
When you decide on your floor mats after answering these questions, simply select the make, model, and year of your vehicle to order the right size. Universal floor mats usually come in a few different sizes depending on if you have a car, truck, or SUV.
How to Replace/Install Heavy Duty Floor Mats
Disclaimer: The guidelines in this story are general and not meant to replace instructions for your specific vehicle. Please consult your owner's manual or repair guide before attempting repairs.
It couldn't be easier to give your vehicle a new look and enhanced protection with new heavy-duty floor mats. First, take out the factory mats and completely vacuum the floor of your car. Then, lay out the new mats on the ground so you can visualize how to place them in your vehicle. Next, put each floor mat in the appropriate place and make sure it is aligned correctly. Depending on the type of floor mat, they may feature connectors such as pegs to help them stay in place without sliding around.
If you chose floor mats with a universal fit or splurged on custom-fit mats, they're all set after this final step. If you chose trim-to-fit mats, use a thick blade or heavy scissors to trim the extra rubber from around the edges according to manufacturer instructions. Your car floor might have a groove that makes this step easier.
Where to Buy Heavy Duty Floor Mats
This content is created and maintained by a third party, and imported onto this page to help users provide their email addresses. You may be able to find more information about this and similar content at piano.io
Source link