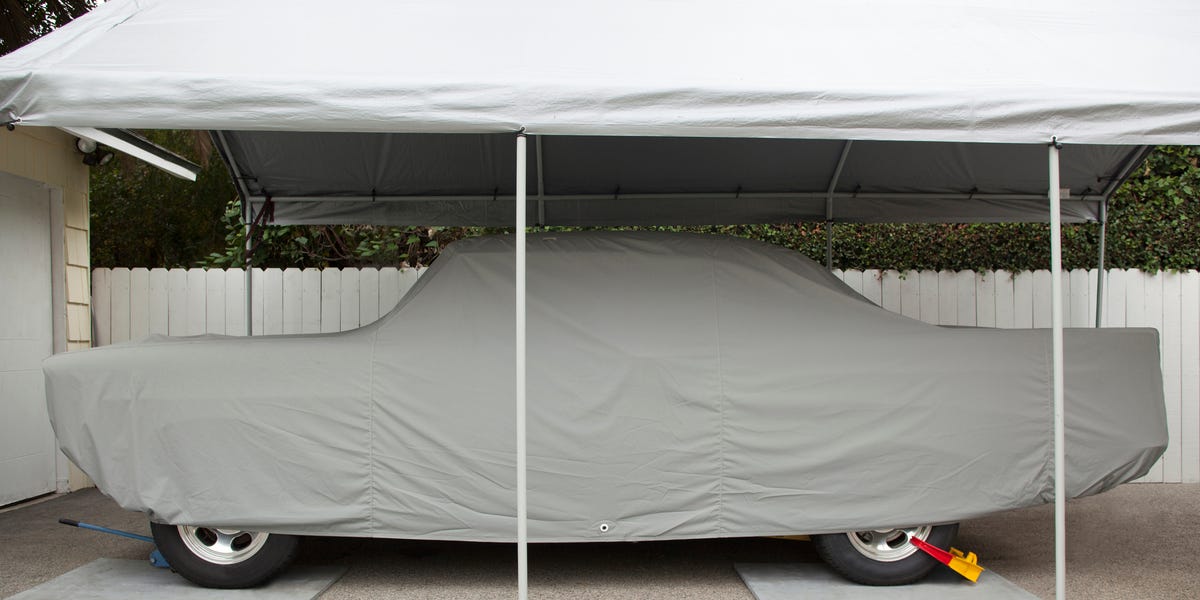 When it comes to choosing the right heavy-duty car cover, you have a lot of options, which can make the selection process somewhat confusing. That's why we've put together this guide to help you choose the right heavy-duty car cover for your vehicle.
What Is a Heavy-Duty Car Cover?
A car cover is a piece of material that is big enough to cover your entire car. A heavy-duty car cover is made out of heavy-duty material, such as PVC. Heavy-duty car covers are typically heavy, thick, and waterproof. There are many benefits to using a heavy-duty car cover, including:
Protection from parking lot mishaps. A heavy-duty car cover can protect your car from dents and scratches when it's parked in a parking lot. It can really come in handy if you don't have a garage and you have to share a parking space with other drivers, like in an apartment complex.
Protection from animals. How many times have you stepped outside and found your car covered in bird droppings? Not only do bird droppings look disgusting, but they can also damage your car's paint. A heavy-duty car cover can protect your vehicle from bird droppings. It can also protect your car from stray cats and their claws.
Protection from pollen and plant debris. If you've ever had to wash a car that's covered in pollen or sticky tree sap, you can see why a car cover would come in handy.
Protection from the sun. The sun's rays can cause your car's paint to fade. They can also fade out cloth upholstery and cause leather interiors to crack. Plus, they make your car unbearably hot. By using a car cover, you can protect your paint job and your upholstery. Your car will also stay cooler on hot summer days.
Protection from the weather. If you've ever experienced a hail storm, you know what kind of damage it can do. A heavy-duty car cover can protect your car from hail and other extreme weather conditions.
Protection from thieves. A car thief is less likely to target your car if it means that they have to deal with a car cover. You can even add a lock to your car cover for extra protection.
Types of Heavy-Duty Car Covers
There are several types of car covers to choose from. What cover is ideal for your car depends on your specific needs.
Universal Car Cover
A universal car cover typically comes in small, medium, and large sizes. For example, if you drive a compact car, a small universal car cover is designed to fit your car regardless of make and model. While a universal car cover is usually your most affordable option, its looser fit can allow dirt and debris to slip underneath. It can also blow off if it's really windy outside. If your car has a spoiler, louver, or splitter, a universal car cover can cause stress on these exterior details because it doesn't have special pockets to accommodate them.
Ready-Fit Car Cover
A ready-fit car cover is designed to fit a specific type of vehicle. Let's say you drive a sedan. You can buy a universal car cover that is also designed to fit an SUV, or you can buy a ready-fit cover that fits sedans and only sedans. Because ready-fit car covers are designed to fit specific vehicle types, they have a better fit than universal car covers.
Custom-Fit Car Cover
If you don't mind spending a few extra bucks, you can order a custom-fit car cover. A custom-fit car cover is designed to fit a specific make and model. For example, if you drive a Chrysler 300, your custom-fit car cover will match your car's measurements as closely as possible. It will also accommodate your mirror, antenna, and other exterior fixtures. Because they fit so nicely, drivers don't have to worry about their car covers blowing off when it's windy.
Indoor Car Cover
Even if you have a garage, you can still benefit from a car cover. An indoor car cover can protect your vehicle from tools, bicycles, and other items you might be storing in your garage. Plus, a car can get dusty even if it's parked inside. Keep in mind that an indoor car cover, as its name suggests, is only suitable for indoor use. It isn't sturdy enough to withstand outdoor elements. If you want to cover your car when it's outside, you'll need to buy an outdoor cover.
Outdoor Car Cover
An outdoor car cover is heavy-duty enough to withstand all sorts of extreme outdoor conditions. Also known as an all-weather car cover, an outdoor car cover is water-resistant, protecting your vehicle from the rain while allowing moisture to escape so it doesn't damage the paint. If you need a car cover for indoor and outdoor use, you can use an outdoor car cover for both. Like indoor car covers, outdoor car covers are available in universal, ready-fit, and custom-fit varieties.
Car Capsule Cover
A car capsule cover, or bubble cover as it's sometimes called, is a plastic inflatable cover that often resembles an airstream trailer. Car capsule covers create an airtight seal that filters air and protects your car from outside contact. Drivers who own antique and collectible vehicles often choose car capsule covers.
How to Choose a Heavy-Duty Car Cover
When it comes to selecting a heavy-duty car cover, there are several factors to consider. These include:
Price – Before you start shopping, decide how much you want to spend. Keep in mind that cheaper car covers won't protect your car from the elements as well as more expensive car covers can. If you buy a lower-cost car cover, you could end up spending money repairing a damaged paint job or windshield.
Vehicle Location – If you keep your car in a garage most of the time, you can probably make do with an indoor car cover. However, if you need to protect your car from outdoor elements, an outdoor car cover is the way to go.
Fit – A custom-fit cover offers maximum coverage and protection. It's also less likely to damage your car's exterior features than a universal car cover.
Lining – You may want to choose a car cover that comes with a soft interior lining that won't scratch your paint.
How to Replace/Install a Heavy-Duty Car Cover
Disclaimer: The guidelines in this story are general and not meant to replace instructions for your specific vehicle. Please consult your owner's manual or repair guide before attempting repairs.
Installing a heavy-duty car cover is pretty simple. Unfold the cover, drape it down the sides of the car, and tuck in the edges.
Where to Buy a Heavy-Duty Car Cover
This content is created and maintained by a third party, and imported onto this page to help users provide their email addresses. You may be able to find more information about this and similar content at piano.io
Source link