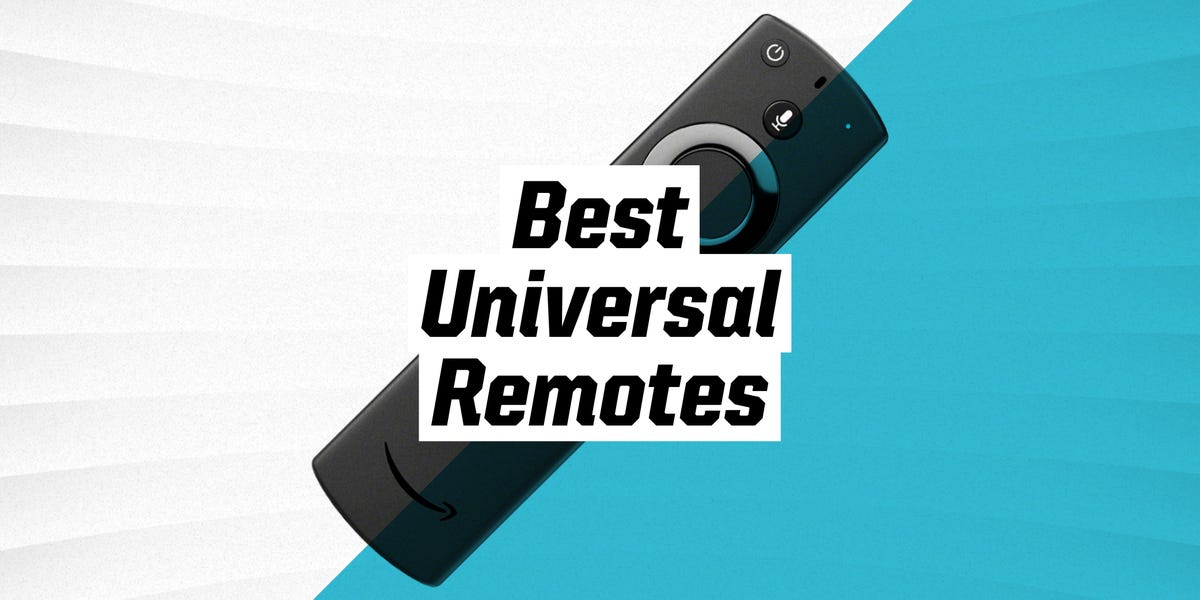 Home entertainment systems often include more than just a TV and sound system these days. Add in a few smart-home gadgets, and suddenly, you're corralling an army of devices. Stop the madness with a universal remote, and your crew of clickers—Apple TV, surround speakers, Blu-ray, Roku, and more—can work with just one universal remote.
Bonus: Because these remotes have been through multiple iterations, they are now more intuitively designed and smaller, rendering them more usable and less clunky than they were just a few years ago.
What to Look For
The best remotes take ergonomics, intuitive use and size into consideration, while also boasting numerous capabilities and pairing with a large number of brands. The best in class will also work in tandem with smart devices and voice control systems. Keep in mind though, that some remotes work with some systems and not others; where relevant, we indicated that below. Ideally, a universal remote can be used for many years, so think about all of the ways you'll want to use it now and in the near future.
How We Selected
We reviewed hundreds of options, and picked the most user-friendly, attractive and practical options available. We also took warranties, customer support options and user reviews into account, ultimately only including highly rated products. Several of our options include remotes rated 4.5 stars and above.
---
Advertisement – Continue Reading Below
1
Best for Fire TV Users
Fire TV Stick (3rd Gen) 2021 with Alexa Voice Remote
This remote works with most Fire TV devices. This remote is perfect for Alexa fans; it allows users to either change channels, find, launch and control content manually, or through voice. The playback control is highlighted as a favorite by users, and the ability to play music, scan sports scores, check the weather and control home devices. Because Amazon is such a dynamic company, older-generation items won't be compatible with this remote.
2
Best Overall
SofaBaton U1 Universal Remote
This remote is designed to support more than 500,000 devices from 6,000-plus brands and will automatically update as new devices come out. It is compatible with IR and Bluetooth, but does not support wireless or Wi-Fi. The remote can be set up via a downloadable smartphone app. 
Use is intuitive, and allows you to control the entire house with one device. Reviewers loved how programmable it is and praised the customer support, which includes app, email, and phone options.
3
Best Budget Option
GE Universal Remote Control
If it feels like a dream to land a universal remote under $10, pinch yourself. This über-bargain category of the universal remote market is a fairly new phenomenon, and this is one of the best examples, with delirious reviews on Amazon toasting its intuitive functionality. 
However, this remote isn't completely universal. Users can operate up to four different audio and video components, such as TVs, Blu-Ray/DVD players, Roku boxes and other streaming media players and sound bars. Setup is straightforward. (It does not, it should be noted, work with Roku streaming or Amazon Fire TV.)
4
Best for Gadget Pros
UNIVERSAL REMOTE Complete Control
This universal remote comes with an LCD Color Screen, and features a 255-device capacity with the ability to control virtually every function on entertainment and home gadgets. While most users rated this device highly, some were not thrilled with the degree of difficulty in the setup. 
Bottom line: This is a remote control designed and suited for self-declared gadget wonks. If programming electronics is not a snap for you, and you do not want or need the ability to control multiple devices, it may be better to move on.
5
Best for Seniors
Flipper Big Button TV Remote
This universal remote is specifically designed for people with low or impaired vision, limited tech skills, and those suffering with dementia or Alzheimer's. 
The simple remote has three clearly displayed functions: on/off, channel, volume. It can be programmed to work with multiple devices, including TVs and cable/satellite boxes' soundbars, Xfinity, Comcast, Dish, Direct TV and more. Content can also be customized with a favorites feature, allowing users to easily flip through curated channels. 
The programming instructions are easy to follow—and even better, it features a lock option to prevent accidental reprogramming.
6
Best for Streamers
Inteset 4-in-1 Universal Learning Remote
This Universal is compatible with Apple TV, Xbox One & X, Media Center/Koki and Roku devices. The remote includes a worldwide database of device codes, with library search capabilities and learning capabilities. There is also an option to macro-program this remote, which allows you to add a string of commands within a mode or independent of it. You can also control Fire TV and the Nvidia Shield if you install an Inteset IreTV IR Receiver.
7
Best Home Control
OnQ Home Systems Universal Remote
This remote is hailed as "awesome" by users. On-Q allows users to control up to eight devices in an easy-to-program, slender unit. The DVD, cable/satellite receive, amplifier or tuner and auxiliary devices can all be run from this one remote. It comes with an automatic 60-day money-back guarantee, and with a one-year warranty.
8
Best Design
Philips Universal Companion Remote Control
This Universal Remote snagged a CES 2020 Innovation Award for its sleek and innovative design. The remote features a patent-pending flip and slide cradle that holds your compatible Fire TV remote. Once programmed, it allows you to operate your Fire TV and up to four audio and video components, with a code library that will support all major brands. 
The setup is easy to follow, with online videos even the most tech-averse can understand. This, like some of our other budget offerings, supports four devices, which makes it very useful, but not precisely universal.
9
Best for Roku Users
Sideclick Universal Remote Attachment for Roku
This slimmed-down remote is designed specifically for Roku, allowing users to control the basic functions of the TV, receiver, sound bar, Blu-ray, and Roku device all in one. 
Sideclick's patent-pending clip-on design allows you to utilize Roku voice search. Users were not thrilled with the way it "blocks" the headphone jack, but others were delighted at how user-friendly it is for the youngest and oldest customers.  
10
Best Backlit Remote
GE Backlit Universal Remote Control
If you love to enjoy your entertainment system in the dark, this universal remote will light up your life. This fully backlit universal remote allows users to find buttons in dark or dimly lit rooms. 
The bargain-priced device also allows you to control up to four audio and video components, including TVs, DVD players, cable and satellite receivers, streaming media players and more. The vast remote-code library cooperates with major brands, but does not work with Roku streaming stick, the Fire TV stick, or other RF streaming devices.
This content is created and maintained by a third party, and imported onto this page to help users provide their email addresses. You may be able to find more information about this and similar content at piano.io
Advertisement – Continue Reading Below
Source link