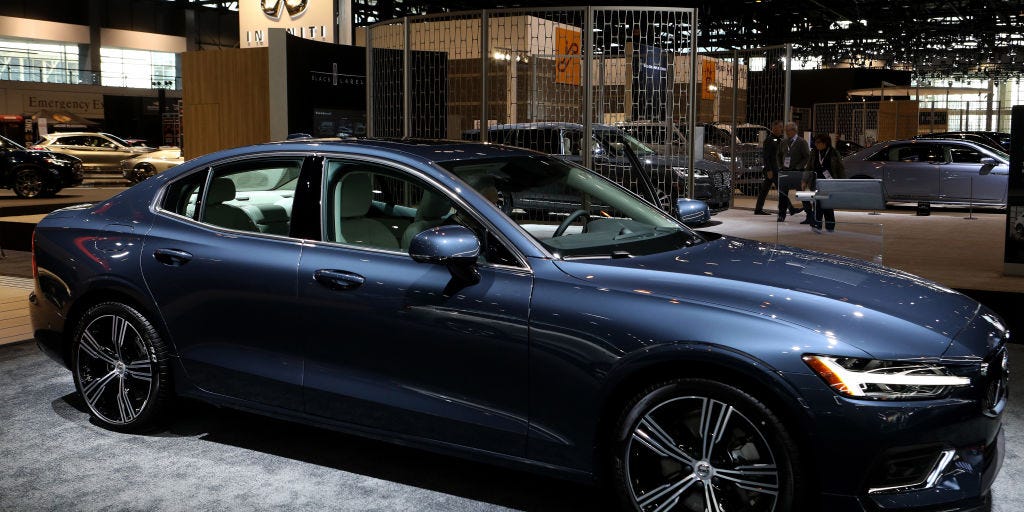 Floor mats for the Volvo S60 are an accessory that's important to protect the fabric on your car's floor. The floor in your vehicle is subject to dirt and damage from the constant presence of shoes and cargo brought into the car.
What Are Floor Mats for the Volvo S60?
Dirt, water, sand, and salt can all wreak havoc on the fabric of your vehicle's flooring, which can lead to stains, discoloration, and worn spots. Floor mats help keep these areas looking newer and allow you to clean the floor in your car more easily.
Types of Floor Mats for the Volvo S60
Think about a few different types of floor mats to consider when choosing ones that you'd like for your new Volvo S60. The most common types you will find on the market include the following:
Custom fit.
Universal.
All weather.
Carpet.
WeatherTech's 2020 Volvo S60 FloorLiner
For many vehicle owners, the custom-fit option is the way to go with floor mats. Mats such as WeatherTech's 2020 Volvo S60 FloorLiner are laser measured to fit exactly to the specs of your S60. Custom-fit options provide strong protection since you won't have to worry about dirt, water, and debris getting in the cracks between the edges of the liner. You will have complete protection and an easy-to-clean floor surface.
What if you don't require a custom fit or you want to use the mats with a different vehicle? A universal option is likely what you may need. This mat type provides decent coverage, and you can easily install and uninstall it.
3D MAXpider All-Weather Floor Mats for Volvo S60 2011-2018 Custom-Fit Car Floor Liners
If you are looking for a floor mat that can easily stand up to the elements, then the 3D MAXpider All-Weather Floor Mats for Volvo S60 2011-2018 Custom-Fit Car Floor Liners are the ideal option. These liners can handle all the elements. The rubber surface makes them easy to clean while containing water, salt, and dirt. They also feature deeper edges for greater amounts of water to contain it on the mat.
Beige Heavy-Duty Front & Rear Carpet Floor Mats Universal Liners for Car, SUV, Van, and Truck
If the goal for your floor mats is to elevate the look of your interior, then you may want to choose from among carpet options, such as the Beige Heavy-Duty Front & Rear Carpet Floor Mats Universal Liners for Car, SUV, Van, and Truck. Carpet mats come in different colors and designs so that you can customize your Volvo vehicle's interior.
How to Choose Floor Mats for the Volvo S60
Choosing the right floor mat for your Volvo S60 requires a few simple choices. The first consideration you will want to make is the type of material you want for your floor mats. Plastic and rubber floor mats are likely a great option if you are worried about mud, salt, or water. They are also the easiest to keep clean.
If you want a material that looks more like it is part of the car's interior, you may want carpet-based mats, which will come in more color options than other types. This type of material is ideally suited to your needs if your concern is primarily sand or dirt.
How to Install Floor Mats for the Volvo S60
Disclaimer: The guidelines in this story are general and not meant to replace instructions for your specific vehicle. Please consult your owner's manual or repair guide before attempting repairs.
Installing your floor mats is relatively easy and can be completed in a few simple steps.
Measure the Area
The first step in the process is getting accurate measurements so that you can find the right floor mat to fit your vehicle. Start with the width, measuring the flat space from the center divider to the door.
Then you will need to measure the length. You will need to measure from just behind the driver seat front to the gas pedal to obtain an accurate driver's seat measurement. For the front passenger seat, go from just behind the seat to as far as a passenger's feet could reach. For the back seats, measure the flat surface from the base of the seats to where a passenger's feet would rest.
Once you have your measurements, you can find the right floor mat to fit your space.
Prepare Your Car Floor
Prepare your vehicle's floor before laying down your new floor mats. Failing to do so could cause debris, dirt, or moisture to become trapped under them and lead to smells, mildew, and staining.
Start by thoroughly vacuuming the area, making sure that you get into all of the tiny cracks. Next, take a lint roller or lint brush to remove any loose hairs or fibers.
Use soap and water or a carpet cleaner to wash the floors and soak up any additional water with a wet or dry vacuum. Use as little water as possible during the cleaning process to ensure your floors do not get soaked.
Ideally, you should allow your floors to dry overnight, but you can use a hairdryer if you need to speed up the process.
Clean the Mats
Give your mats a quick cleaning to remove all of the dirt and debris. Wipe down rubber mats with a clean, damp cloth, and give fabric or carpet mats a quick vacuum. Even if you have just released the floor mat from the packaging, you'll want to clean it to remove any residue that could be present from the factory.
Install the Floor Mats
When it comes time to install the floor mats, start with the front seats and work your way back. On the front seats, fit the floor mat to the contour of your floor. Some vehicles may have a post or hook for attaching.
When you move to the back seats, start by placing the back of the mat against the seats and move forward.
Where to Buy Floor Mats for the Volvo S60
This content is created and maintained by a third party, and imported onto this page to help users provide their email addresses. You may be able to find more information about this and similar content at piano.io
Source link