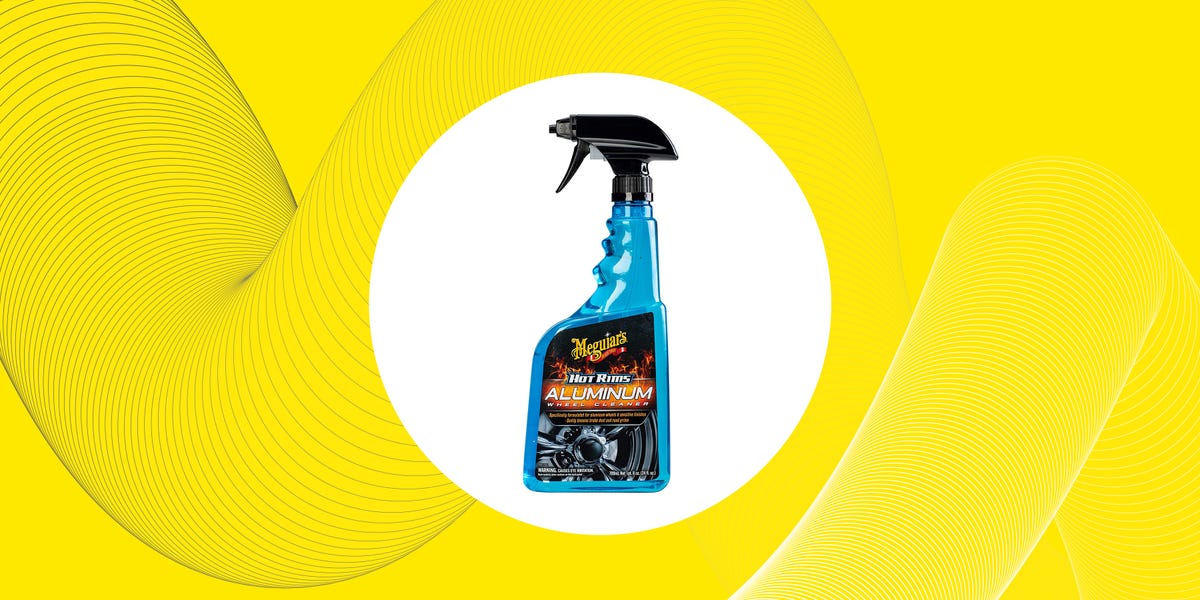 We love washing cars; it's like therapy. Wiping the sparkling hood with big, sweeping swipes of your favorite microfiber cloth is incredibly satisfying. However, once you start working your way down the panels and notice those spoked surfaces surrounded by rubber, relaxation turns to anxiety. Bending down and scrubbing between spokes caked in months' worth of brake dust and road grime can make anyone's heart sink. But have no fear! We found the top wheel and tire cleaning products on Amazon for you to try. By the time you're done spritzing, scrubbing, and shining, your wheels will be in showroom shape.
Note: Please read the instructions. A wheel cleaner designed for chrome wheels will do serious damage to an uncoated aluminum wheel, whereas a bare aluminum cleaner may not get chrome the mirror finish it deserves without a decent amount of elbow grease. If you aren't sure what kind of wheels you have, just be sure to buy something that is safe for all wheels.
Check out Meguiar's Latest Car-Cleaning Products
---
Advertisement – Continue Reading Below
Meguiar's Aluminum Wheel Cleaner
This is some of the best aluminum wheel cleaner out there, as it's formulated to be gentle while retaining solid cleaning power. Just spray some on, let it foam, and then wash it away to enjoy gorgeous shine. This product is safe on all aluminum wheels, but if you have painted or chrome wheels, Meguiar's has more aggressive cleaners in its catalog.
Meguiar's Ultimate Insane Shine Tire Coating
Griot's Garage Heavy-Duty Wheel Cleaner
This heavy-duty cleaner from Griot's Garage can tackle nastier wheels, loosening and removing caked-on brake dust and other grime picked up from the road. It's specially formulated to be safe on virtually all types of wheel surfaces.
Sonax Wheel Cleaner
Sonax's Wheel Cleaner is one of our favorites and a great choice for basic cleaning power. It's safe on just about every wheel surface material, including aluminum, steel, and even paint. As the stuff dissolves brake dust, it changes color for a neat show, but it doesn't fare as well against severe grime and buildups. For that you might need something a bit stronger.
Wheel and Tire Brush Kit
Of course, to make the most of these wheel cleaners, you need special brushes to scrub uniquely shaped surfaces. This set comes with seven, allowing you to reach into crevices, deep lug-nut areas, and even through spokes onto the barrel of a wheel. 
Black Magic Tire Wet Foam
Chemical Guys Tire-Dressing Applicator Pad
If you're new to the tire-shine world, you probably don't have any applicators. These foam contoured pads could be the perfect solution for your needs.
Chemical Guys Microfiber Towels
A car-wash kit would be incomplete without microfiber towels. We recommend getting a set strictly for wheels and tires—they'll get dirty quickly. These machine-washable towels should do the trick.
Chemical Guys Wheel Sealant
All right, your wheels look better than ever after that cleaning session. But there's still one last step: lock in the clean. Simply apply this paste from Chemical Guys with a microfiber cloth. Spread it evenly around the wheel, let it sit for 10 to 15 minutes, and wipe it off. The paste works to repel water and grime and can keep your wheels looking shiny for up to six months. 
Sonax Wheel Rim Shield
If your arms have had enough scrubbing, try this spray-on stuff from Sonax. The Wheel Shield also works to keep water and contaminants off freshly cleaned wheels and is rated to keep them shiny for up to six weeks. 
This content is created and maintained by a third party, and imported onto this page to help users provide their email addresses. You may be able to find more information about this and similar content at piano.io
Advertisement – Continue Reading Below
Source link