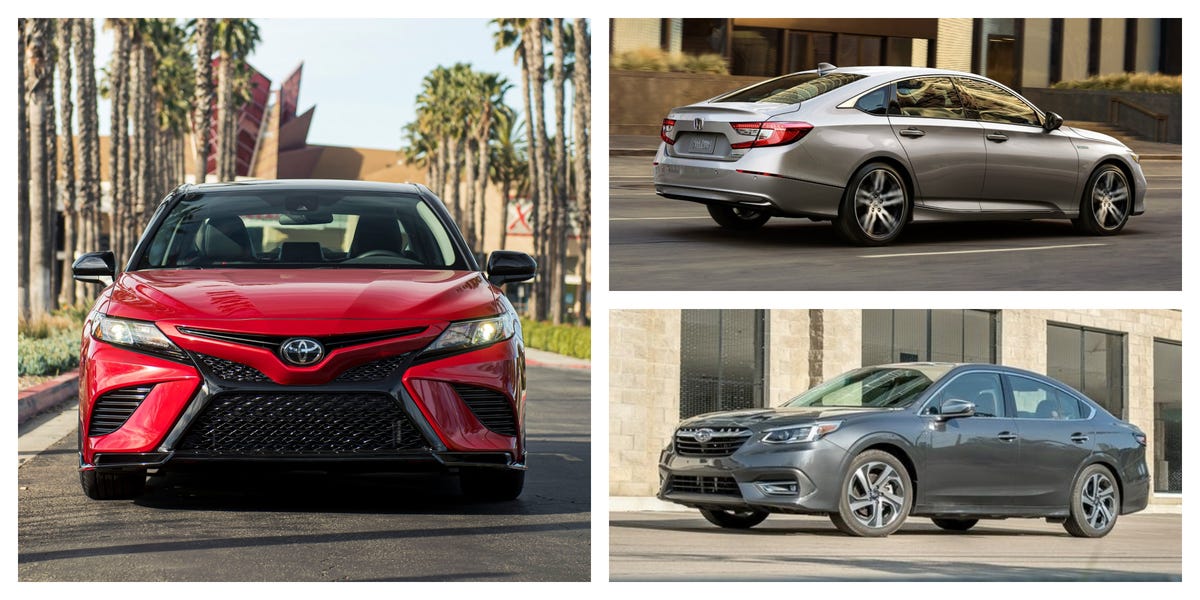 As auto manufacturers move toward SUV-heavy lineups it's easy to forget the once-dominant mid-size sedan. Powered by turbocharged four-cylinders, hybrid motors, or hydrogen engines, the 11 cars on our list return excellent fuel economy while providing nearly as much utility as some small SUVs. But sedans can be fun, too. The proliferation of turbochargers and lightning-quick automatic transmissions have allowed companies to garnish their sedans with high-performance goodies. Paired with a playful chassis and cutting-edge technologies, and you have the recipe for a class of car that remains more than the sum of its parts.
Advertisement – Continue Reading Below
11. Honda Clarity
Available for 2021 in plug-in hybrid and hydrogen fuel-cell models, the Honda Clarity is both family and environmentally friendly. Though an all-electric Clarity was cut from the lineup for 2021, the current plug-in hybrid model, with 50 miles of battery-only range, may still be an option for prospective EV buyers. Honda also claims its $60,000 hydrogen model that's only available in California can go for 360 miles on a single fill. Real-world results may vary significantly. Far from a stop-light monster, the Clarity isn't a complete slouch off the line. Our testing returned a zero-to-60 mph time of 7.7 seconds for the hybrid. Of the three models available, we'd opt for the base PHEV trim which starts at $34,355 and is capable of achieving 110MPGe.
Base price: $34,355
Trunk space: 15 cubic feet
EPA combined fuel economy: 110 MPGe
10. Chevrolet Malibu
The Chevrolet Malibu enters the new year largely unchanged since its last update, in 2016. While not offensive in any one way, we find the current model's age beginning to show. Available in five trim levels, the basic L model starts at $23,065. The LT, however, comes in around the $27,000 mark and powered by a 160-hp 1.5-liter engine, seems like the best value of the bunch. Those looking for more power or convenience may opt for the 250-hp top Premier trim. On our 200-mile highway fuel-economy test we squeezed 34 mpg out of a 1.5-liter equipped car. As with other Chevrolets, the Malibu comes standard with an above-average infotainment system that includes Apple CarPlay, Android Auto, and a WiFi hotspot.
Base price: $23,065
Trunk space: 16 cubic feet
EPA combined fuel economy: 32/29/36 mpg (1.5L) 26/22/33 (2.0L turbo)
9. Volkswagen Passat
Following Ford's plan to kill off cars, Volkswagen announced last fall that it plans to eliminate its venerable Passat sedan sometime this decade. While that may be a reflection of the broader market, the Passat still represents solid value in the mid-size sedan space. Available in three trims, S, SE, and R-Line, the Passat rolls into 2021 with minimal changes. While returning worse highway fuel economy than both the Toyota Camry and Hyundai Sonata, the Passat still returned a strong 36 mpg when we tested it. Moreover, we were impressed with the Passat's interior quality and large, class-beating rear seat space, however the latter comes at the expense of trunk capacity. We like the $28,000 SE model which includes touchscreen infotainment, 17-inch wheels, heated seats, and several safety-minded features.
Base price: $24,990
Trunk space: 16 cubic feet
EPA combined fuel economy: 27/23/34 mpg
8. Toyota Mirai
With an annual GDP of more than three trillion dollars, California is currently the world's fifth-largest economy. It's also the only place Toyota plans on selling its redesigned, hydrogen-powered Mirai. With a starting price of $50,455, Toyota is aiming this zero-emissions sedan directly at prospective Tesla buyers. And while there are 100 times more superchargers in the Golden State than hydrogen filling stations, refilling the Mirai takes only a fraction of the time as a Tesla. Total range for the 2021 Mirai is expected to be around 402 miles, beating, or right in line with, all but one of Tesla's Model Ss.
Base price: $50,455
Trunk space: 9 cubic feet
EPA combined fuel economy: not yet rated
7. Subaru Legacy
For those who become queasy at the thought of braving considerable amounts of snow, the 2021 Subaru Legacy, with its standard all-wheel drive system, may be the perfect antidote. Subaru's modest sedan is available with either a naturally aspirated or turbocharged 2.5-liter engine, depending on trim level. Our vote goes to the mid-range Sport model which starts at $28,020 and includes 18-inch wheels, better exterior lighting, push-button start, and a handful of other interior upgrades. While navigation is only available with the two turbocharged trim levels, Limited XT and Touring XT, Apple CarPlay and Android Auto are standard across the lineup. The 2021 receives the highest ratings from both the National Highway Traffic Safety Administration and the Insurance Institute for Highway Safety.
Base price: $23,820
Trunk space: 15 cubic feet
EPA combined fuel economy: 30/27/35 mpg (2.5L) 27/24/32 mpg (2.4L)
6. Nissan Altima
The Nissan Altima has a lot to offer. For those interested in a little more pep, we recommend the uniquely turbocharged SR model. More frugal buyers may be impressed by the 41 mpg the all-wheel drive Altima returned in our real-world fuel-economy testing. We certainly were. The cheapest member of the lineup is the S trim level, which starts at $25,225. At the top of the range sits the Platinum model which, has larger infotainment screen, bigger wheels, and leather interior, is no longer available with the VC-Turbo motor and still starts around the $35,000 mark. Every Altima model, sans S, comes with an 8.0-inch touchscreen, Apple CarPlay and Android Auto, and optional navigation.
Base price: $25,225
Trunk space: X cubic feet
EPA combined fuel economy: 32/28/39 mpg (FWD) 30/26/36 (AWD)
5. Kia K5
Pour one out for Kia Optima and remember it fondly. But do not weep, for its legacy continues with the new for the Kia K5. While we haven't had a chance to put the K5 through a full battery of tests, our first drive left us impressed by its exterior and interior styling and assortment of upscale features. We did find the standard car's 160-hp 1.6-liter engine somewhat lackluster. Hyundai plans on fixing that later this year with the release of the GT trim which promises a 190-hp 2.5-liter four-cylinder. It is expected to start at $31,455. All-wheel drive is an option for the K5, as is a 10.25-inch touchscreen infotainment display.
Base price: $24,455
Trunk space: 16 cubic feet
EPA combined fuel economy: 32/29/38 mpg (FWD 6L) 27/24/32 mpg (2.5L)
4. Toyota Camry
While the Toyota Camry is available as a hybrid, the time-tested Camry SE, sporting a gas-powered four-banger, is the most fuel-efficient non-hybrid to ever roll through our test. Not only did we enjoy its sharp driving dynamics, but we were blown away by the 45 mpg it returned in testing. Despite that, our favorite model in the lineup is still the TRD V-6 with its 301-hp V-6 engine, stiffer suspension, and sporty body work. Pricing for the 2021 Camry starts at $25,965 for the base car and tops out around the $33,000 mark for the TRD. Touchscreen infotainment is standard on every model and features Apple CarPlay and Android Auto compatibility.
Base price: $25,965
Trunk space: 15 cubic feet
EPA combined fuel economy: 52/5153 mpg (Hybrid) 32/28/39 (2.5L)
3. Hyundai Sonata
Like its cousin, the Kia K5, Hyundai's Sonata punches a class above its weight with attractive design cues inside and out. Hyundai offers the Sonata in a whopping eight different trim levels, three of them hybrids, as well as a N Line variant equipped with a 290-hp turbo four-cylinder. Of the Sonatas we've driven, our current pick is the mid-range SEL Plus which comes with a 180-hp engine, 19-inch wheels, and several interior upgrades. Those with long commutes may opt for one of the hybrid models with the Blue hybrid receiving the highest EPA-estimated fuel economy of the bunch at 50 mpg city and 54 highway.
Base price: $24,595
Trunk space: 16 cubic feet
EPA combined fuel economy: 32/28/28 mpg (2.5L) 52/49/52 mpg (Hybrid Blue)
2. Mazda 6
The Mazda 6 comes in second on our list, and for good reason. The company's stylish mid-size offering gifts flight-footed and sport driving dynamics to even the most preoccupied among us. For those looking to truly experience the 6's fantastic chassis, Grand Touring and higher trims come equipped with a turbocharged 2.5-liter engine that puts out a respectable 250 horsepower and, more importantly, 320 pound-feet of torque. In our most recent testing, we returned 36 mpg in a model equipped with the standard engine, and a zero-to-60 mph time of 6.4 seconds with the more powerful powertrain. For our money, the mid-pack Grand Touring, which starts at $30,970, offers the best value as the lowest trim level available with the bigger engine.
Base price: $25,270
Trunk space: 14 cubic feet
EPA combined fuel economy: 29/26/34 mpg
1. Honda Accord
45 years, 10 generations, and 35 10Best wins later, the Honda Accord embodies a classic proverb: if it ain't broke, don't fix it. While the sedan has evolved over the years, the 2021 Accord is just as playful, and useful, as ever. Changes for the new year include a minor facelift, and a standard touchscreen infotainment display. In line with changing times, however, Honda will no longer offer the Accord with a manual transmission. Available in six different trims, ranging in price from $25,725 for the LX to $37,655 for the Touring, our personal favorite is the Sport equipped with the optional 252-hp 2.0-liter turbo four linked to Honda's excellent 10-speed automatic transmission.
Base price: $25,725
Trunk space: 17 cubic feet
EPA combined fuel economy: 33/30/38 mpg (1.5L) 48/48/48 mpg (Hybrid)
Curious about SUVs? Here Are the Crossover SUVs With the Most Cargo Space
This content is created and maintained by a third party, and imported onto this page to help users provide their email addresses. You may be able to find more information about this and similar content at piano.io
Advertisement – Continue Reading Below
Source link