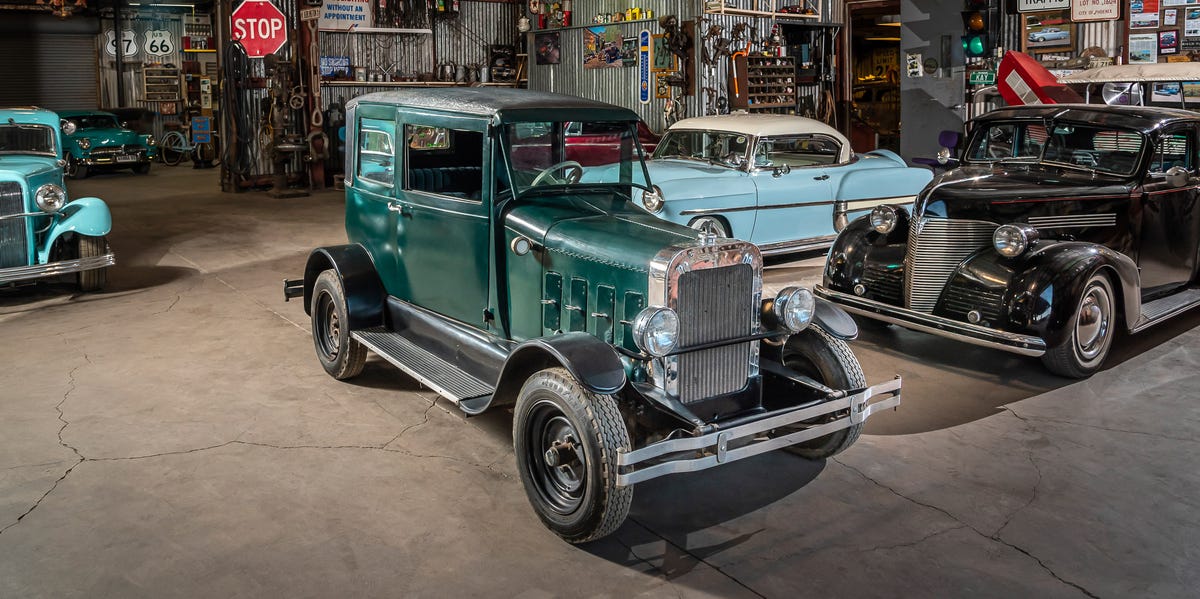 Paul MortonCar and Driver
From the September 2021 issue of Car and Driver.
When Ernie Adams looked at a trashed refrigerator, he saw not garbage but the steel curves of a classic car. In 1965, Adams started an eight-year build that turned nine scrapped fridges into a cool little "Chevy." He stacked two refrigerators to create the body. Adams used one more for the firewall and radiator shell. Others became the body skirts, running boards, and fenders—which proved to be the most challenging part, "because I had to make patterns so that right and left would match," he said.
The finished product wasn't modeled exactly on any existing machine, but it looks most like a 1928 Chevrolet, so that's how Adams describes the chest-high coupe. It was originally a roadster rolling on solid rubber; in the late '70s, he upgraded to pneumatic tires and turned it into a coupe, using a refrigerator door for the roof panel. In time, Adams nicknamed the mini-build Grandpa Dwarf—the forefather of everything that came after it.
And a lot did come after it. Creating pint-sized hot rods soon became Adams's life's work. He helped found a dirt-oval racing class for five-eighths-scale replicas of '20s, '30s, and '40s racers, called Dwarf Race Cars. And in his spare time, he turned his attention to street-legal little cruisers. As of this writing, he has built nine of them and has a mini '41 Chevy under construction.
At 80 years old, Adams loves taking his cars to shows or getting spotted on a cruise. The recycled-refrigerator car has a special place in his heart. "People get a kick out of seeing it," he said. If you want to get a kick out of seeing it, too, head over to the Dwarf Car Museum in Maricopa, Arizona, where Adams's creations are on display.
This content is created and maintained by a third party, and imported onto this page to help users provide their email addresses. You may be able to find more information about this and similar content at piano.io
Source link