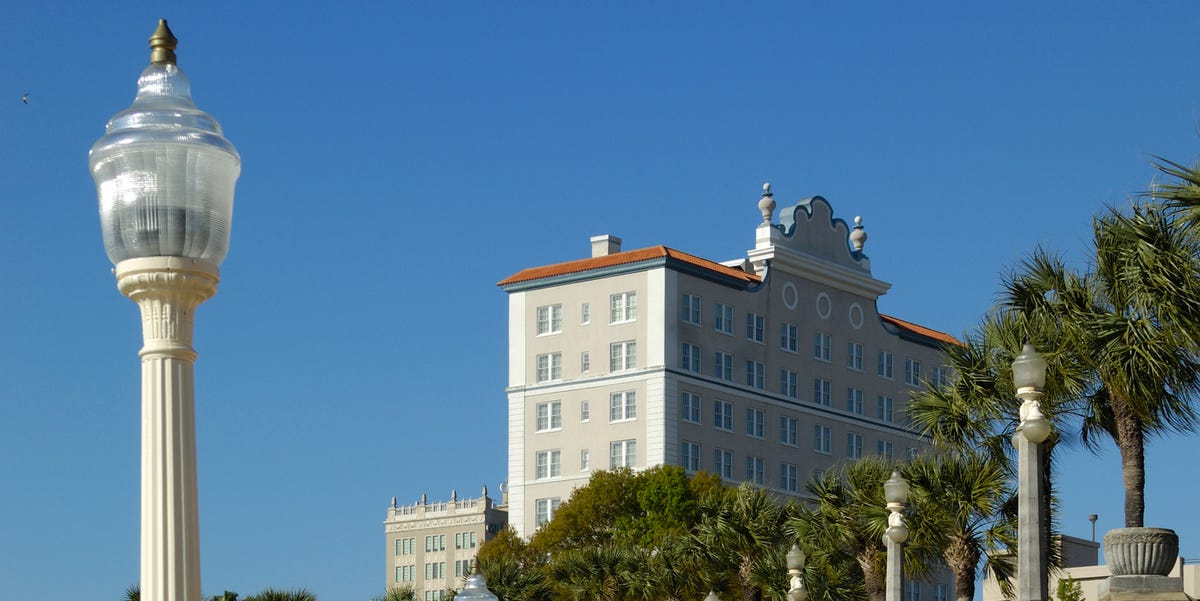 Many reputable companies offer cheap car insurance in Lakeland, Florida. Florida requires all drivers to carry proof of insurance at all times, including those in Lakeland. Each policy must have at least the state minimums. Florida's state minimum requirements are:
Bodily injury liability insurance: $10,000 per person and $10,000 per accident
Property damage liability insurance: $10,000 per accident
Continue reading to learn more about the most common factors in determining auto insurance rates in Lakeland.
Car Insurance: Lakeland Rates vs. State + National Averages
Lakeland drivers pay $2199 annually for their car insurance. That's $110 cheaper than the state average of $2309 and $651 more expensive than the national average of $1548.
Lakeland Auto Insurance Costs by Insurer
One of the most effective ways to lower your auto insurance rates is to compare quotes from as many companies as possible. Only choose the insurer that fits your needs at the best price. State Farm has the lowest prices for the typical auto insurance buyer. Every quote is personalized to you, so be sure to find quotes that match your profile.
These are the companies with the cheapest annual rates per The Zebra:
State Farm: $1453
GEICO: $2068
Progressive: $2640
Allstate: $2895
Lakeland Auto Insurance Premiums by Driver Age
Lakeland residents in their 50s have the cheapest car insurance rates in the city. At only $2009 per year, on average, they pay less than any other age group. As drivers age out of their 50s into their 60s, their insurance rates increase by $45 to $2054.
Teenage motorists pay the most per year for their auto insurance. Insurance premiums drop substantially when growing out of your teen years in Lakeland. The gap in premiums from teens to 20-year-olds is $3439, the largest between any two age brackets.
These are the annual rates in Lakeland by age group:
Teens: $6249
20s: $2810
30s: $2190
40s: $2146
50s: $2009
60s: $2054
70s: $2511
Lakeland Car Insurance Premiums by Gender and Marital Status
Many insurance providers take gender and marital status into account when deciding on your car insurance premiums. Married couples typically pay less for their insurance policies. Married people in Lakeland see rates $95 cheaper than their single neighbors. Single folks pay higher rates than widows but less than those who are divorced. Although gender is being slowly phased out of insurance companies' quotes, some providers still use gender when determining monthly premiums. Lakeland women pay $46 more on average than males do for auto insurance.
These are the annual rates by gender and marital status in Lakeland:
Female: $2245
Male: $2199
Single: $2009
Married: $2104
Divorced: $2199
Widowed: $2154
Average Lakeland Insurance Rates After a Violation or Accident
Keeping your driving history free of accidents and citations is the best way to keep your auto insurance premiums low. At-fault accidents, DUIs, DWIs, reckless driving, and speeding tickets can drive your rates up.
Lakeland motorists convicted of reckless driving see an increase of $1202 per year for a total of $3399 in their auto insurance prices. A speeding citation results in a spike of $579 annually, and a DUI costs policyholders an extra $1095 every year for auto insurance.
These are the annual rates for some common violations in Lakeland:
DUI: $3293
Reckless driving: $3399
At-fault accident: $3040
Speeding ticket: $2778
Lakeland Auto Insurance Premiums by Credit Tier
Your credit score can dramatically affect your car insurance premiums. Lakeland drivers that increase their credit score from 300-579 to 800-850 receive a discount of up to 59 percent on their auto insurance. Improving your score for the "Fair" category from the "Very Poor" tier has the most impact on your premiums of any credit change. Moving into the "Fair" level results in a $1647 reduction in annual auto insurance rates.
These are the annual rates by credit tier in Lakeland:
Very Poor: $4344
Fair: $2697
Good: $2199
Very Good: $1992
Exceptional: $1767
Cheaper Florida Cities
The city you live and work in helps insurers calculate how likely you are to file a claim. This is one reason your location affects your insurance prices. Lakeland is the least expensive city to purchase car insurance in Florida.
These are a few of the least expensive cities in Florida and their annual rates:
Lakeland: $2047
Jacksonville: $2110
Orlando: $2429
Fort Lauderdale: $2695
Miami: $3267
Tampa: $3063
Cheaper Lakeland Zip Codes
Car insurance rates in Lakeland zip codes average around $2900 annually for full-coverage car insurance.
According to ValuePenguin, these are the cheapest zip codes in Lakeland and their annual rates:
33801: $2938
33803: $2918
33805: $2910
33809: $2899
33810: $2915
33811: $2929
33812: $2988
33813: $2928
33813: $2928
33815: $2928
List of Insurance Companies in Lakeland
Lakeland has a wide variety of popular insurance providers, including State Farm, 21st Century, Direct Auto, Direct General Insurance, Allied, Allstate, Mercury, Metropolitan, United Automobile Insurance Company, Kemper Direct, and many more.
No-Fault Insurance in Lakeland Information
Florida is a no-fault state, which means you may not be able to sue a driver following a traffic accident, even if they caused the collision. No-fault insurance covers 80 percent of injury-related medical bills and 60 percent of lost wages but will not pay out for property damage. You aren't legally required to purchase full coverage by the state, although lenders will ask that you buy comprehensive and collision insurance before giving you a loan.
It's an inescapable fact that anyone who drives in Lakeland must buy auto insurance. Since you have to get insurance, it should be the best you can find. You need a policy with a reliable company that fits your budget. Comparing prices online has become quick and easy. Head to your favorite insurance provider's website or use a third-party quote generator to get your auto insurance journey started today.
Check this out if you need additional information, resources, or guidance on car insurance.
Sources:
Car and Driver Car Insurance Hub | caranddriver.com
Lakeland, FL Car Insurance | thezebra.com
Cheapest Auto Insurance Quotes in Lakeland, Florida | valuepenguin.com
Cheap Car Insurance in Tampa, Florida | carranddriver.com
Driving an Uninsured Car: Everything You Need to Know | caranddriver.com
This content is created and maintained by a third party, and imported onto this page to help users provide their email addresses. You may be able to find more information about this and similar content at piano.io
Source link