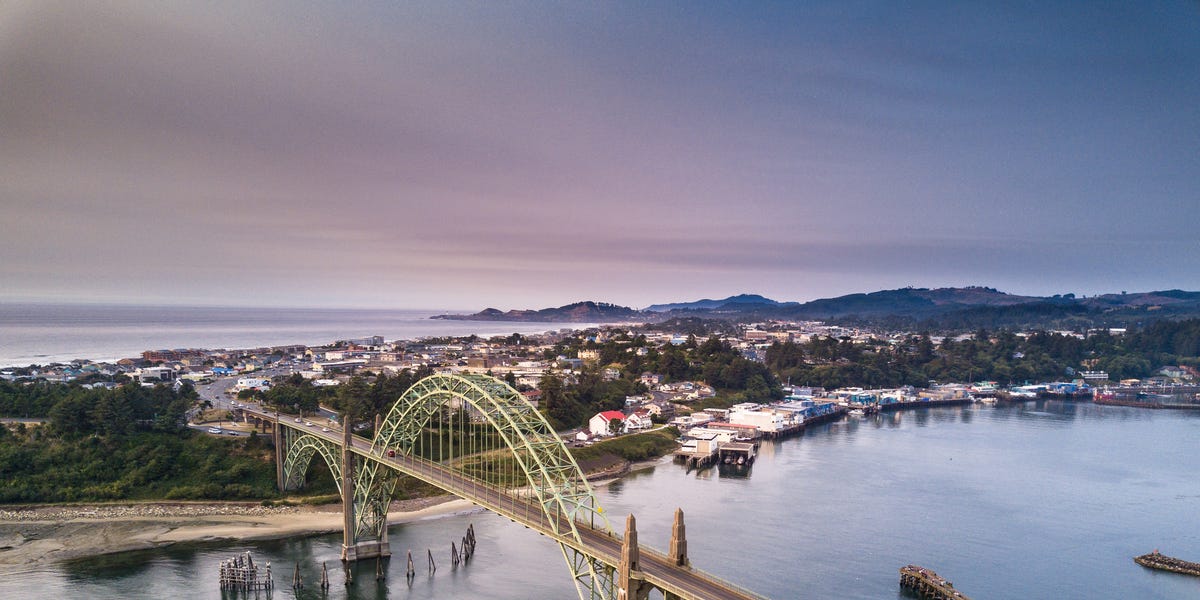 Table of Contents
Oregon Auto Insurance Costs by Insurer
Oregon Auto Insurance Premiums by Driver Age
Oregon Car Insurance Premiums by Gender and Marital Status
Average Oregon Insurance Rates After a Violation or Accident
Oregon Auto Insurance Premiums by Credit Tier
Expensive Oregon Cities
Cheaper Oregon Cities
List of Insurance Companies in Oregon
No-Fault Insurance in Oregon Information
You can expect to pay around $2332 per year for full coverage insurance on your vehicle in Oregon. To legally operate your vehicle in your state, you will only need minimum liability coverage, which will run an average of $800. Rates in Oregon are significantly higher than the national average, making it one of the more expensive states to insure a car. Minimum coverage in Oregon includes:
Bodily injury liability: $25,000 per person/$50,000 per accident
Property damage liability: $20,000
Uninsured motorist bodily injury: $25,000 per person/ $50,000 per accident
Personal injury protection (PIP): $15,000
Oregon Auto Insurance Costs by Insurer
Several insurers choose from in the state, all offering a wide range of coverage options and annual premium rates. The most popular carriers in Oregon and their average monthly premiums include:
State Farm: $520
Progressive: $697
Country Financial: $859
American Family: $977
Allstate: $ 1125
Farmers: $1311
GEICO: $1488
Nationwide: $1652
Oregon Auto Insurance Premiums by Driver Age
Young drivers will pay double and sometimes triple for insurance premiums in Oregon. The high jump in cost is the higher risk they pose due to a lack of driving experience. As mentioned by Insurify, Country Financial can provide young drivers with cheaper full coverage than other insurers, but it is still significantly higher than the average. Below are the average annual rates for teen drivers based on different carriers.
Country Financial: $2908
USAA: $3045
State Farm: $3846
GEICO: $6672
Farmers: $7444
Nationwide: $8054
Progressive: $8684
American Family: $8805
Allstate: $11,228
Oregon Car Insurance Premiums by Gender and Marital Status
While there is little difference in the rates between drivers, except for teen drivers when female rates will be slightly lower, there are differences between married and single drivers. Married drivers will pay an average of $230 less than single drivers with an average annual rate of $2232.
Average Oregon Insurance Rates after a Violation or Accident
ValuePenguin states that one of the biggest issues affecting your car insurance rates is having moving violations or accidents on your record. Multiple violations and accidents will portray you as a risky driver. The best insurer for drivers who have had moving violations is State Farm, according to MoneyGeek. They also provide the cheapest rates for drivers with accidents. Below you will see the average annual premium costs for drivers who have had a moving violation.
State Farm: $1651
Country Financial: $1881
Progressive: $3151
Accidents can have an equally drastic effect on your annual premium rates as well. Having just one accident on your driving record can raise your yearly premium up to $1000.
Oregon Auto Insurance Premiums by Credit Tier
While credit score does not affect your insurance premiums nearly as much as having any moving violations, poor credit can result in higher premium quotes, according to WalletHub. The insurance carriers that provide the lowest rates for those with poor credit in Oregon are State Farm and Country Financial, but even their rates will increase from $150 to $200 if your credit score is poor instead of good.
Expensive Oregon Cities
The location of your car will also have an impact on the total amount you pay for your annual premiums. Larger cities with more cars and higher traffic rates will see a higher percentage of accidents than other areas. On top of accident risks, bigger cities also seem to see higher crime rates, which can increase your premium as well. In Oregon, the most expensive cities to obtain car insurance in include:
Gresham, where average rates are $1732
Happy Valley, where rates run around $1670
Fairview, with averages at $1664
Troutdale, with annual premiums of around $1627
Clackamas, with rates around $1580
Cheaper Oregon Cities
Several cities boast much cheaper rates for car insurance. These cities have lower populations, less traffic, and lower overall crime rates, including car theft. Some of the cheapest cities in Oregon for car insurance are:
Hermiston, which sees average rates as low as $904
Roseburg, which has an annual average of around $943
Bend, with average premium rates as low as $948
Grants Pass, which runs around $964 per year
Klamath Falls, with lower premiums of around $967
List of Insurance Companies in Oregon
There are several insurance companies in the state that provide a wide range of coverage options as well as a variety of driver discounts to help you get the lowest premiums.
State Farm is a widely known company that is ranked high for its claims process and also known to have some of the lowest rates for those with accidents and poor credit scores. Progressive is another popular option, best known for its online quoting.
Insurers like Country Financial are more regional but can provide better rates for teens and those in the lower credit ranges. Allstate and Farmers are both options that fall in the mid-range cost for insurance premiums but are popular with many buyers due to their discount availability and strong customer service.
GEICO gets strong marks for their customer service and is popular for their online portals, which allow customers to get quotes, manage their accounts, and file claims.
USAA boasts some of the lowest rates in Oregon but is only available to military members, their spouses, and their dependents.
No-Fault Insurance in Oregon Information
Oregon is considered an at-fault state, which means the driver responsible for the accident will bear the financial responsibility of the damages. Yet, unlike other at-fault states, Oregon requires personal injury protection as part of their required minimum coverage, which is otherwise only seen as a requirement in no-fault states.
Check this out if you need additional information, resources, or guidance on car insurance.
Sources:
Car Insurance | caranddriver.com
The Best Cheap Car Insurance in Oregon for 2021 | moneygeek.com
Cheap Auto Insurance Quotes in Oregon (2021) | insurify.com
Who Has the Best Car Insurance Quotes in Oregon? (2021) | valuepenguin.com
Cheapest Car Insurance in Oregon | wallethub.com
What Are The Different Types of Car Insurance? | caranddriver.com
Car Insurance For Teens: Everything You Need To Know | caranddriver.com
This content is created and maintained by a third party, and imported onto this page to help users provide their email addresses. You may be able to find more information about this and similar content at piano.io
Source link