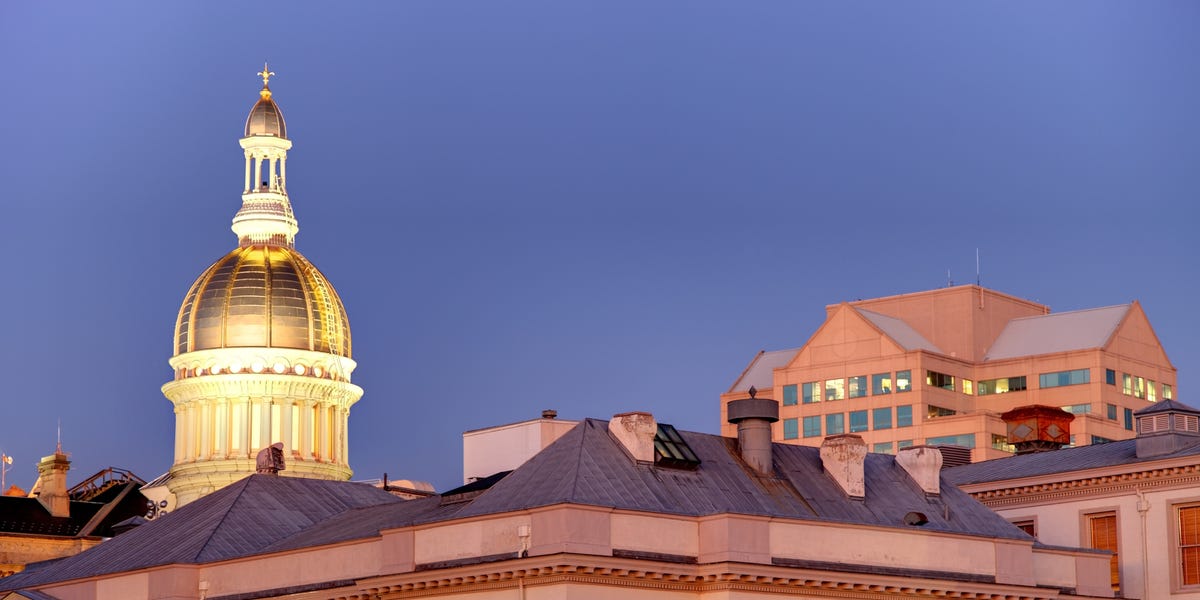 DenisTangneyJrGetty Images
When it comes to car insurance, Trenton, NJ, adopts no-fault laws. This means you need to file a claim with your own auto insurance provider if you get involved in an accident, regardless of whether you're at fault. Auto insurance isn't exactly affordable in this city, but you might get a good deal if you spend time comparison shopping. Check out this helpful guide to learn more about car insurance in Trenton.
What Are the Minimum Auto Insurance Requirements in Trenton?
All drivers in Trenton must comply with New Jersey's minimum car insurance requirements. According to The Hartford, you need to have the following coverage limits to drive legally in the city:
Per-accident property damage liability: $5000
Per-accident bodily injury liability: $30,000
Individual bodily injury liability: $15,000
Personal injury protection: $15,000
How Much Does Car Insurance Cost in Trenton?
In a survey, Compare.com found that Trenton drivers pay an average auto insurance premium of $106 per month. While this amount is in line with New Jersey's average rate of $107, it's significantly higher than the national average of $80.
What Factors Affect Auto Insurance Rates in Trenton?
Your auto insurance rate can be more affordable or expensive than the average cost in Trenton, depending on your personal circumstances. Car insurance providers in this city use many details to evaluate your risk of getting into an accident and making a claim, such as age, gender, driving history, and credit. The quotes you receive from insurers will be based on your risk level and the following factors.
Age
In general, auto insurance companies in Trenton consider older drivers to be more experienced on the road and less likely to make mistakes that result in accidents. Therefore, if you're in your 40s, 50s, or 60s, you'll enjoy a more favorable car insurance rate than younger drivers. In contrast, if you're a teenager, you can expect to pay substantially more for auto insurance. As you get older, you'll likely see your premium drop regularly until you reach retirement age, at which point your rate will start climbing again.
The following are the average auto insurance costs for different age groups in Trenton:
Under 18: $283 per month
18 to 24: $167 per month
25 to 34: $103 per month
35 to 44: $96 per month
45 to 54: $88 per month
55 to 64: $80 per month
65 and above: $88 per month
Gender
In most places, gender affects the cost of auto insurance. This is also the case in Trenton, where male drivers have a slightly higher average premium than their female counterparts. Here, male drivers pay an average of $110 each month for car insurance, while women pay an average of $102 per month.
Marital Status
On average, married drivers in Trenton pay less to insure their vehicles than single drivers. This is because many married couples have multiple cars on the same policy, which make them eligible for a discount. The average auto insurance rates in Trenton by marital status include:
Married: $93 per month
Single: $110 per month
Divorced: $89 per month
Widowed: $91 per month
Driving Record
Your auto insurance premium can vary greatly depending on your driving history. Having an at-fault accident or traffic ticket on your driving record can cause your car insurance cost to go up considerably. Therefore, if you want to reduce your monthly bill, you should drive carefully to keep your record clean.
Below are the average auto insurance rates for drivers in Trenton who have previously committed one or more traffic violations or at-fault accidents:
One at-fault accident: $119 per month
Multiple at-fault accidents: $161 per month
One traffic ticket: $136 per month
Multiple traffic tickets: $170 per month
Vehicle Type
In Trenton, the type of vehicle you drive is another contributing factor to the price of your auto insurance policy. Typically, you'll receive lower quotes if you drive a larger vehicle that provides better crash protection. Trenton drivers who own large SUVs, pickup trucks, or minivans pay an average of $97 per month for auto insurance, whereas car owners face an average premium of $100. Additionally, the age of your vehicle can affect your car insurance rate. In general, new vehicles are more expensive to insure than older ones.
The average auto insurance premiums in Trenton by vehicle age include:
Less than one year old: $84 per month
2 to 3 years old: $117 per month
4 to 5 years old: $115 per month
6 to 7 years old: $105 per month
8 to 10 years old: $108 per month
11 to 14 years old: $102 per month
15 years or old: $108 per month
What Are the Most Affordable Auto Insurance Providers in Trenton?
To determine the cheapest auto insurance companies in Trenton, Insurify got quotes from several insurers using a sample male driver who is 30 years old, has a clean driving record, owns a 2021 Honda Accord, and opts for a $1000 deductible for minimum liability coverage. The car insurance providers that quoted the lowest rates are:
Progressive: $91 per month
Travelers: $209 per month
State Farm: $427 per month
Besides comparing quotes from different insurers in Trenton, take advantage of the many car insurance discounts available to lower your premium. Examples include the:
Multi-car discount
Multi-policy discount
Good driver discount
Defensive driving discount
Safety device discount
Good student discount
Low mileage discount
You can also try to raise your credit score or increase the deductible on your policy. Park in a garage, if possible, and look for cars that are cheaper to insure when shopping for your next vehicle.
Check this out if you need additional information, resources, or guidance on car insurance.
Sources:
Car Insurance NJ | thehartford.com
Trenton, NJ Car Insurance | compare.com
Cheapest Car Insurance in Trenton, NJ | insurify.com
Auto Insurance Facts: Everything You Need to Know | caranddriver.com
Does Filing a Claim Increase Car Insurance | caranddriver.com
How to Lower Your Car Insurance Rates | caranddriver.com
2021 Honda Accord | caranddriver.com
This content is created and maintained by a third party, and imported onto this page to help users provide their email addresses. You may be able to find more information about this and similar content at piano.io
Source link