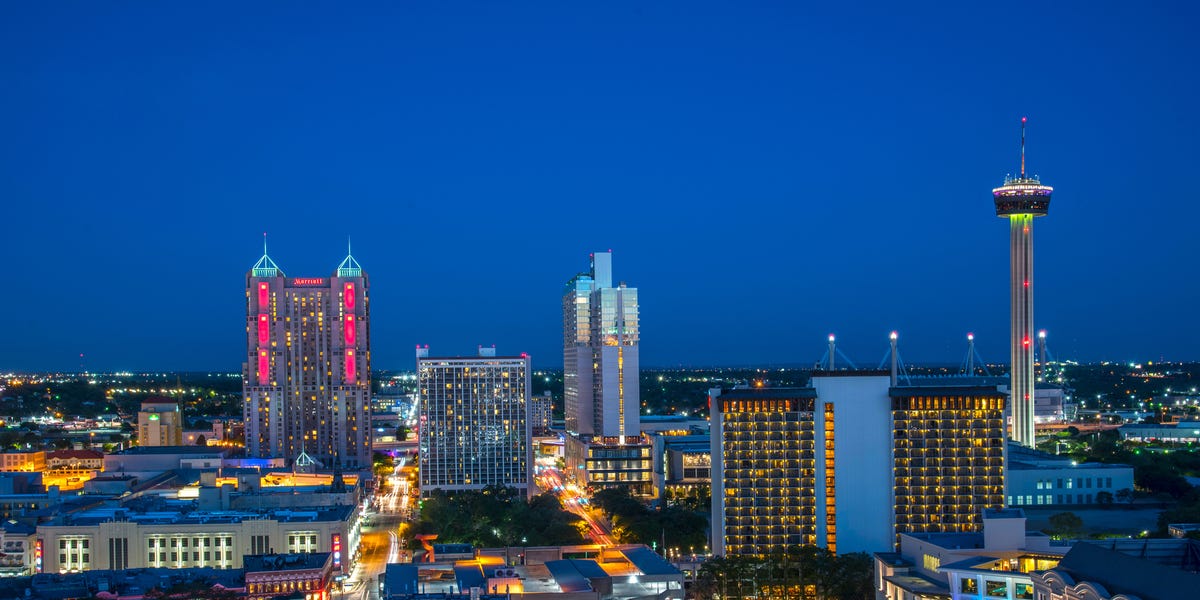 You'll pay an average of $1501 annually for car insurance in San Antonio, Texas, according to data from the insurance research website The Zebra. While that's a little less than the U.S. annual average premium of $1548, it's higher than the average drivers pay across Texas. Fortunately, you can access lower rates by shopping around for coverage. Review this guide to help you find the best rates for car insurance if you live in San Antonio.
Minimum Texas Auto Insurance Requirements
Drivers in San Antonio and throughout Texas must carry liability insurance of at least $30,000 per person and $60,000 per accident for bodily injury and wrongful death, along with $25,000 per accident for property damage. When you get an insurance quote, the agent will typically write this type of policy as 30/60/25.
Your liability insurance pays the costs others experience if you cause an accident. However, it does not cover your property damage or medical expenses. Many insurance experts, including finance website ValuePenguin, recommend carrying more than the Texas minimum liability coverage. The website recommends upgrading to a 100/300/50 liability policy if you can afford the higher cost.
Most Affordable Auto Insurance in San Antonio
Finance website MoneyGeek reports that San Antonio drivers who want full coverage policies will find the most affordable options from State Farm and Loya. The site lists the average annual full coverage premium by company:
Allstate: $4592
Chubb: $2392
Dairyland: $3825
GEICO: $2309
Loya: $1196
MetLife: $5230
Nationwide: $2497
State Farm: $1600
USAA: $1356 (available only to current military members, veterans, and their families)
These are the average annual rates for drivers who want only Texas minimum liability coverage:
Allstate: $1556
Chubb: $843
Dairyland: $1089
GEICO: $1103
Loya: $719
MetLife: $1959
Nationwide: $1147
State Farm: $745
USAA: $485
Average Car Insurance Cost by Age in San Antonio
The Zebra reports that drivers in their 50s have the lowest average car insurance rates among San Antonio motorists, paying approximately $1307 per year. Those rates go up to $1354 per year for drivers in their 60s, while rates for drivers in their 70s rise to about $1666 per year.
As for the costliest rates in San Antonio, teen drivers pay $1871 more annually on average than drivers in their 20s, with annual premiums of $3818 and $1947, respectively, for these age groups. Drivers in their 30s pay an average of $1478 per year, and rates drop to an average of $1441 for drivers in their 40s.
Car Insurance in San Antonio After an Accident
Insurance companies charge more if you have an at-fault accident claim. According to Insurify, San Antonio customers of Loya, State Farm, and Nationwide tend to have the smallest rate increases after an accident. The website reports the average annual premium increase by company:
Allstate: $2772
Chubb: $1663
Dairyland: $1173
GEICO: $1279
Loya: $292
Nationwide: No increase
MetLife: $4600
State Farm: $270
These are the average premiums San Antonio drivers pay after common incidents:
Speeding ticket: $1632 per year
At-fault accident: $1903 to $2277 per year
Reckless driving ticket: $2320 per year
Arrest for driving under the influence: $2339
Car Insurance in San Antonio by Credit Score
Drivers in San Antonio can save about 61 percent on auto insurance by achieving an exceptional credit score compared to drivers who have poor credit. Even improving credit from poor to fair can reduce auto insurance costs by $1308 per year on average. The Zebra reports the average annual insurance cost for San Antonio motorists by credit score:
Exceptional: $1235
Very Good: $1393
Good: $1501
Fair: $1871
Poor: $3179
Best Insurance Companies for Customer Service in San Antonio
Insurify reports that Farmers Insurance has an outstanding reputation for customer service and a substantial selection of driver discounts. Chubb also has few customer complaints but has higher rates than other San Antonio insurance companies. While Loya boasts the cheapest prices for both full coverage and minimum coverage policies, it has the most complaints of the 14 largest insurers serving San Antonio. Loya also lacks a 24/7 call center, a staple of most major auto insurance providers.
Insurify reports the complaint rate of these companies based on market share, with lower numbers signifying fewer customer complaints:
Allstate: 0.6
Berkshire Hathaway: 0.41
Chubb: 0.27
Farmers Insurance: 0.16
Nationwide: 0.39
Progressive: 0.4
Travelers Insurance: 0.34
Texas Farm Bureau Insurance: 0.42
Loya Insurance: 2.01
Liberty Mutual: 0.93
MetLife: 0.91
Sentry Insurance: 1.03
State Farm: 0.69
USAA: 0.69
Average Insurance Rates in San Antonio by Zip Code
Some San Antonio residents pay more for auto insurance based on the neighborhoods where they live. If your zip code has a high rate of uninsured motorists, theft, or other crimes, you might notice higher premiums for coverage. According to ValuePenguin, the most costly San Antonio zip codes for auto insurance are 78285, 78284, 78241, 78237, and 78206. You'll pay the lowest rates if you live in 78266, 78232, 78253, 78248, or 78259.
As noted by MoneyGeek, you must have proof of minimum auto insurance if you drive or park your vehicle on Texas roads. Prepare to show this proof if you have an auto accident, when you renew your car registration, or if a police officer asks to see it.
Drivers who cannot qualify for coverage because of a checkered driving history can apply for coverage through the Texas Automobile Insurance Plan Association. You can also file a surety bond with the Department of Public Safety or make a deposit of at least $55,000 with the state comptroller in lieu of auto insurance to prove you can pay the costs if you cause an accident.
Check this out if you need additional information, resources, or guidance on car insurance.
Sources:
Cheapest Car Insurance in San Antonio, TX | valuepenguin.com
San Antonio, TX Car Insurance | thezebra.com
Cheap Auto Insurance Quotes in San Antonio, TX (2021) | insurify.com
Compare the Cheapest Car Insurance Quotes in San Antonio, TX | moneygeek.com
Car Insurance | caranddriver.com
Non-Owner Car Insurance in Texas: Everything You Need to Know | caranddriver.com
This content is created and maintained by a third party, and imported onto this page to help users provide their email addresses. You may be able to find more information about this and similar content at piano.io
Source link