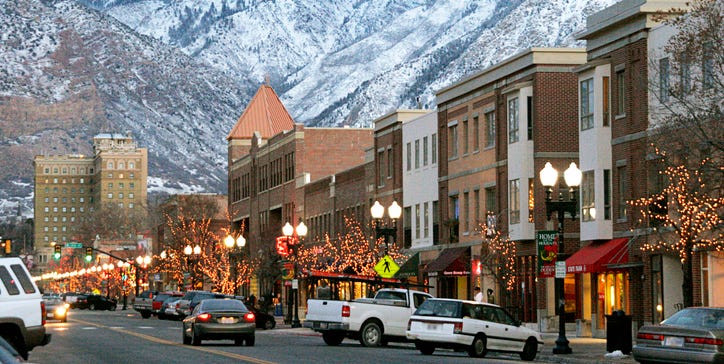 mandicoleman.comGetty Images
Utah state law requires all drivers, including those who live in Ogden, to purchase a minimum amount of car insurance if they want to operate a vehicle on state roadways. Prices for car insurance Ogden, Utah, can vary depending on a driver's age and other personal details.
Utah Insurance Requirements
According to Insurify, all vehicles parked or in operation on the state's roadways must be insured. Drivers are required to provide proof of insurance in the following situations:
A law enforcement officer requests to see it.
You're renewing your vehicle registration.
You're in an accident.
To meet Utah's minimum car insurance requirements, Ogden drivers should add the following to their policies:
Bodily Injury Liability: $25,000 per person/$65,000 per accident.
Property Damage Liability: $15,000 per accident.
Personal Injury Protection (PIP): $3000 per person.
As Insurify notes, car insurance isn't a one-size-fits-all product, and you may need more coverage than what's required by law. If you have concerns about paying out of pocket in the event of a serious accident, consider raising your liability limits.
How Much do Ogden Drivers Pay for Car Insurance?
Compare.com reports that Ogden drivers pay, on average, $59 a month for car insurance. That's lower than both the statewide average of $63 a month and the nationwide average of $80 a month. Because Ogden has a lower population than Salt Lake City and other major cities in the state, there's less risk of car accidents. That's why Ogden drivers enjoy lower insurance rates.
What Factors Affect Individual Insurance Rates?
When you request a car insurance quote, the insurance provider will evaluate your personal profile, which means you could pay more or less for car insurance than the average Ogden driver. For instance, if you're a driver in your 60s, you'll probably pay lower rates because the industry views your age group as the lowest risk to insure. On the other hand, if you're a teen driver, you don't have much driving experience, making you a bigger risk to insure. High-risk drivers typically pay higher rates. Insurify reports that Ogden drivers can expect to pay the following rates based on age:
Ages 16 to 19: $296 a month.
Ages 20 to 29: $201 a month.
Ages 30 to 39: $153 a month.
Ages 40 to 49: $166 a month.
Ages 50 to 59: $137 a month.
Ages 60 to 69: $116 a month.
Ages 70 to 79: $144 a month.
Ages 80 to 89: $195 a month.
One of the best ways to minimize your insurance rates is to maintain a clean driving record. If you get a speeding ticket, run a red light, or are at fault in an accident, you can count on your rates increasing. Insurify provides a breakdown of car insurance rates depending on the violation:
Speeding Ticket: $186 a month.
At-Fault Accident: $209 a month.
Failure to Stop at a Red Light/Stop Sign: $218 a month.
Your credit score also has a significant impact on your insurance rates. For an insurance provider, a driver's credit score indicates how financially responsible they are and whether or not they'll miss a premium payment. Here's what Ogden drivers can expect to pay for car insurance depending on their credit ratings:
Poor: $180 a month.
Average: $170 a month.
Good: $165 a month.
Excellent: $147 a month.
Finally, your insurance provider will look at your ZIP Code when calculating your car insurance rates. If you live in an area of Ogden with high rates of car theft and vandalism, you can expect to pay more for car insurance. SmartFinancial reports the following rates based on Ogden ZIP codes:
84201: $55 a month.
84401: $94 a month.
84403: $97 a month.
84404: $88 a month.
84405: $131 a month.
84408: $153 a month.
84414: $81 a month.
Affordable Car Insurance Options for Ogden Drivers
Because each insurance company uses its own formula to determine rates, prices vary from one company to the next. You can save money by shopping around for quotes. To see how much leading providers typically charge the average Ogden driver for a policy, SmartFinancial gathered the following quotes:
USAA: $67 a month.
Bear River: $75 a month.
Clearcover: $84 a month.
ACCC Insurance Company: $94 a month.
Farm Bureau Mutual: $101 a month.
Esurance: $106 a month.
SAFECO: $106 a month.
Nationwide: $108 a month.
State Farm: $121 a month.
Auto-Owners Insurance Co: $127 a month.
Car Insurance Discounts for Ogden Drivers
Even if you live in a high-risk ZIP code or have a less-than-perfect driving record, you can still save money on your car insurance. Bankrate recommends that you talk to your insurance provider to see if you qualify for the following discounts:
Bundling Discounts: If your car insurance provider also provides your homeowner's or renter's insurance, you can earn a significant discount by bundling your policies. You can also save money if you insure all of your household's vehicles with the same company.
Student Discounts: Your teen driver might qualify for a good student discount if they have a 3.0 GPA or higher. Some companies extend good student discounts to college students under the age of 25. If you have a college student on your policy and they only use their car when they're at home, see if they qualify for an "away from home" discount. High school students who take an approved safety course can also qualify for discounts.
Vehicle Safety Discounts: Many providers offer discounts if your car comes equipped with safety equipment, such as airbags or antilock brakes. You can also earn a discount for any anti-theft devices on your vehicle.
Telematics Discounts: If you're willing to use a telematics device or smartphone app to track your driving habits, you can earn a customized discount based on how safely you drive.
As you can see, there's a lot that goes into determining how much a driver pays for car insurance. By taking the time to research your options, you can get the best insurance in Ogden at the most reasonable price.
Check this out if you need additional information, resources, or guidance on car insurance.
Sources:
Cheap Auto Insurance Quotes in Ogden, UT (2021) | insurify.com
Ogden, UT Car Insurance | compare.com
Ogden Car Insurance | smartfinancial.com
Best Car Insurance in Utah for 2021 | bankrate.com
Best Car Insurance in Utah: Everything You Need To Know | caranddriver.com
Utah Car Insurance Laws: Everything You Need to Know | caranddriver.com
This content is created and maintained by a third party, and imported onto this page to help users provide their email addresses. You may be able to find more information about this and similar content at piano.io
Source link