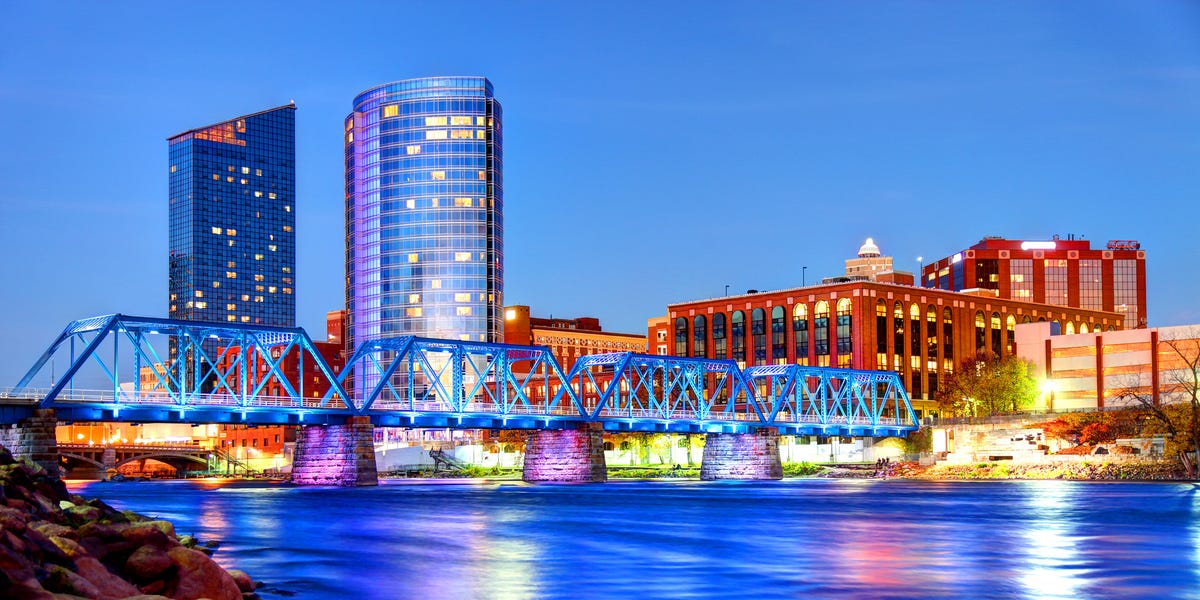 DenisTangneyJrGetty Images
Michigan law mandates that all drivers, including Grand Rapids residents, carry a minimum amount of car insurance to operate a motor vehicle on state roadways. Rates that drivers pay for car insurance Grand Rapids, Michigan, vary depending on factors such as driving records, age of the driver, and ZIP code.
Michigan Insurance Requirements
ValuePenguin notes that Michigan is a no-fault state, which means drivers have to carry personal injury protection coverage in addition to liability coverage. When purchasing an insurance policy, Grand Rapids drivers should make sure that it includes:
Bodily Injury Liability: $20,000 per person/$40,000 per accident.
Property Damage Liability: $10,000 per accident.
Personal Injury Protection (PIP): Unlimited.
Property Protection Insurance: Up to $1 million.
As ValuePenguin points out, an unlimited amount of personal injury protection means that your insurance provider will cover all your medical expenses after an accident, no matter how much they end up costing. PIP in Michigan also covers up to three years in lost wages.
ValuePenguin also notes that driving without proof of insurance in Michigan is classified as a misdemeanor. If you can't provide proof of insurance upon a law enforcement officer's request, you could face the following penalties:
A driver responsibility fee (up to $400).
Suspension of driver's license for up to 30 days.
$25 reinstatement fee.
Up to one year in jail.
If you let your insurance lapse while you're operating a motor vehicle, you could end up having to pay up to $1000 in driver responsibility fees and a $125 reinstatement fee.
How Much Do Grand Rapids Drivers Pay for Car Insurance?
According to The Zebra, Grand Rapids drivers pay, on average, $2686 a year for car insurance. That's lower than the statewide average of $3096 but higher than the nationwide average of $1548. Michigan residents, including those who live in Grand Rapids, pay higher rates for car insurance than drivers across the country because of Michigan's unlimited personal injury protection requirement. ValuePenguin suggests that drivers coordinate their health insurance plans with their PIP coverage to lower their rates. However, drivers enrolled in Medicaid or Medicare can't take advantage of this cost-saving measure.
What Factors Affect Individual Insurance Rates?
When calculating insurance rates, providers analyze your personal profile. That means you could end up paying more or less for car insurance than the average Grand Rapids driver. The Zebra suggests that you shop around for quotes for different companies since each provider has its own formula for calculating rates. Here's what some of the leading insurance companies in Grand Rapids charge, on average, for a car insurance policy:
Progressive: $1872 a year.
AAA: $1951 a year.
State Farm: $2399 a year.
The Hanover: $4415 a year.
Allstate: $5082 a year.
No matter which provider you purchase a policy from, you can count on your age to play a huge role in how much you pay. Grand Rapids drivers in their 50s typically enjoy lower rates because they are a low-risk group. Teen drivers often pay the highest rates because they have less driving experience, making them a higher risk to insure. The Zebra breaks down how much Grand Rapids drivers can expect to pay by age group:
Ages 16 to 19: $7994 a year.
Ages 20 to 29: $3380 a year.
Ages 30 to 39: $2674 a year.
Ages 40 to 49: $2641 a year.
Ages 50 to 59: $2477 a year.
Ages 60 to 69: $2520 a year.
Ages 70 to 79: $2951 a year.
Another significant factor in calculating insurance rates is your driving history. If you get a speeding ticket, are cited for a DUI, or are involved in an accident, you can expect a rate increase. Here are the rates Grand Rapids drivers pay, on average, for specific violations:
DWI/DUI: $8031 a year.
Reckless Driving: $8214 a year.
At-Fault Accident (with damages less than $1000): $3871 a year.
At-Fault Accident (with damages over $2000): $4227 a year.
Speeding Ticket (16 to 20 mph over the speed limit): $4366 a year.
According to Insure.com, recent changes in Michigan law forbid insurance companies from using your gender, marital status, ZIP code, or credit score to factor car insurance rates. If you suspect that an insurance provider is calculating rates or denying you coverage based on these factors, you should contact Michigan's Department of Insurance and Financial Services.
Car Insurance Discounts for Grand Rapids Drivers
Even if you have a spotty driving record or you're part of a high-risk age group, you can save money by taking advantage of discounts. Bankrate suggests that you check with your insurance provider to see if you qualify for the following:
Good Student Discount: If you're adding a teen driver to your policy, they could qualify for a student discount if they maintain a 3.0 GPA or higher. Many car insurance providers extend this discount to college students under the age of 25.
Bundling Discount: Bundling your car insurance policy and your home insurance policy with the same provider can earn you a significant discount. You'll also see significant savings if you insure all your household's vehicles with the same company.
Safety Feature Discount: If your car comes with the latest safety technology or you equip your vehicle with an anti-theft device, you could qualify for this discount.
Automatic Payments Discount: Many providers offer a discount to customers who use the automatic payments feature for paying their premiums. You might also earn a discount if you pay your premium in full.
Defensive Driver Discount: If you complete an approved defensive driver course and submit proof to your insurance provider, you can qualify for a defensive driver discount. Some companies offer discounts to drivers who manage to go for a specified period of time without an accident. Safe driving discounts are also available for customers who track their driving habits with telematics devices or smartphone apps.
Now that you know how insurance companies in Michigan calculate car insurance costs, you can make an informed choice when it comes to getting the best insurance in Grand Rapids at a reasonable price.
Check this out if you need additional information, resources, or guidance on car insurance.
Sources:
Car Insurance in Grand Rapids, Michigan | valuepenguin.com
Penalties for Driving without Insurance in Michigan | valuepenguin.com
Grand Rapids, MI Car Insurance | thezebra.com
How Your Gender Affects Auto Insurance Rates | insure.com
Best Cheap Car Insurance in Grand Rapids | bankrate.com
Cheapest Car Insurance in Grand Rapids, Michigan: Everything You Need to Know | caranddriver.com
Michigan Car Insurance Laws: Everything You Need To Know | caranddriver.com
This content is created and maintained by a third party, and imported onto this page to help users provide their email addresses. You may be able to find more information about this and similar content at piano.io
Source link