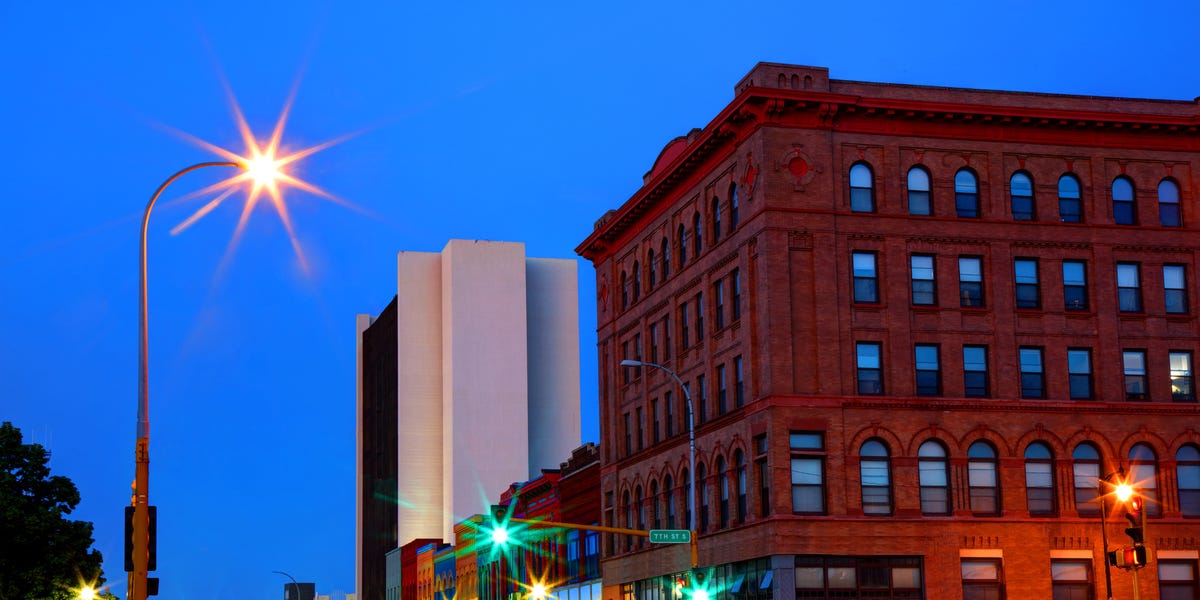 When it comes to car insurance, Fargo, North Dakota, requires you include bodily injury liability coverage, personal injury protection or PIP, property damage liability coverage, and uninsured/underinsured motorist coverage. These are the state minimums for auto insurance in North Dakota:
Bodily injury liability: $25,000 per person and $50,000 per accident
Property damage liability: $25,000 per accident
Uninsured and underinsured motorist: $25,000 per person and $50,000 per accident
Personal injury protection: $30,000 per person
Though the state minimum insurance will allow you to drive legally, they won't be enough to protect you financially. Minimum liability policy limits are usually too low to cover expenses related to a traffic accident fully. They do not cover any injury or damage to you or your vehicle. MoneyGeek recommends drivers in Fargo purchase higher limits for liability, and those with new or expensive vehicles should consider collision and comprehensive coverages.
Car Insurance: Fargo Rates vs. State and National Averages
The average annual rate for policyholders in Fargo is $1237. That's $142 less than the North Dakota average of $1379 and $311 cheaper than the national average of $1548.
Fargo Auto Insurance Costs by Insurer
A major contributing factor to your car insurance rates is the company you choose to do business with. Nodak is the most affordable company in Fargo, while Progressive offers the highest annual rates on average.
These are the best insurance providers in Fargo per The Zebra:
North Star: $1194
Progressive: $1195
Nodak: $624
State Farm: $868
American Family: $1035
Fargo Auto Insurance Premiums by Driver Age
Teenage drivers pay the highest rates in Fargo. Aging out of your teens into your 20s is one of the best ways to get cheaper auto insurance premiums. Teens pay $3036 more than drivers in their 20s, the largest pay gap between any two age groups.
According to Insurify, Young drivers usually pay more for car insurance regardless of the city they live in. Auto insurance premiums typically go down as you age. Policyholders in their 50s see the lowest rates and begin to see their rates increase as they hit their 60s. Insurance companies charge young folks more because they lack the necessary experience behind the wheel.
Take a look at the average annual car insurance rates in Fargo by age group:
Teens: $4679
20s: $1643
30s: $1216
40s: $1155
50s: $1068
60s: $1091
70s: $1321
Fargo Car Insurance Premiums by Gender and Marital Status
Some insurance companies take a driver's marital status into account when deciding on their car insurance rates according to ValuePenguin. Married couples often pay cheaper insurance bills than single people. Married drivers pay $109 less than single motorists for the same insurance. Premiums for the widowed are much lower as well. Another factor in your monthly premiums is your gender. Male drivers pay $4 less than female drivers in Fargo.
Here are the annual rates by gender and marital status in Fargo:
Female: $1241
Male: $1237
Single: $1129
Married: $1129
Divorced: $1237
Widowed: $1191
Average Fargo Insurance Rates After a Violation or Accident
Keeping your driving record free from accidents and traffic tickets will ensure your car insurance prices stay low. DUIs, reckless driving convictions, at-fault traffic accidents, and speeding citations will raise your rates significantly.
The two most expensive violations when it comes to your insurance premiums are DUI and reckless driving. If you're found guilty of reckless driving in Fargo, you'll see an increase of $660 annually. Compare that to a DUI, which is a premiums spike of $630, and a speeding ticket results in paying $226 more per year.
Check out the most common traffic violations in Fargo and their average annual rates:
DUI: $1867
Reckless Driving: $1898
At-fault Accident: $1678
Speeding Ticket: $1504
Fargo Auto Insurance Premiums by Credit Tier
Your driving history and gender aren't the only factors in deciding your auto insurance quotes. Most insurance companies use your credit history to find your monthly premiums as well. This is because insurance companies have found those with higher credit scores are more financially stable and less likely to miss payments. They also believe credit history is an Indicator of risk, feeling that drivers with lower scores are more likely to get into an accident.
Insurance companies are legally not allowed to discriminate based on the amount of money you have. However, your credit score is based on things like credit history length, outstanding debt, and if you've paid your bills when they come due.
These are the average annual rates by credit tier in Fargo:
Very Poor: $2298
Fair: $1458
Good: $1237
Very Good: $1120
Exceptional: $987
Rates in North Dakota Cities
Where you live, commute, and park your car at night greatly affects your auto insurance rates. Areas that are more densely populated or have higher crime rates and a larger number of uninsured drivers usually have higher rates than more rural and safer areas.
These are the cheapest North Dakota cities for car insurance and their monthly rates:
Bismarck: $95
Grand Forks: $77
Minot: $96
West Fargo: $88
Fargo: $79
North Dakota: $87
Rates In Fargo Zip Codes
Auto insurance rates don't vary much by zip code in Fargo. The average variance in price by zip code in Fargo is $13. Though where you live does impact your auto insurance rates in Fargo, it can be negligible.
List of Insurance Companies in Fargo
Many insurance companies offer competitive rates in Fargo, including American Family, State Farm, Progressive, Grinnell Mutual, GEICO, Nodak Mutual, Auto-Owners Insurance Co., and USAA.
No-fault Insurance in Fargo Information
North Dakota has adopted no-fault laws. This means every driver is required to carry personal injury protection. Each driver files a claim with their own insurance company in a no-fault state, regardless of who caused the accident. 6.8 percent of drivers in North Dakota don't carry any auto insurance. That's one out of every fifteen drivers.
If you cannot purchase car insurance from a reputable agency because of poor credit, at-fault accidents, or any other factor, you can apply for coverage with the North Dakota Automobile Insurance Plan.
Check this out if you need additional information, resources, or guidance on car insurance.
Sources:
Car Insurance | caranddriver.com
Compare the Cheapest Car Insurance Quotes in Fargo, ND | moneygeek.com
Fargo, ND Car Insurance | thezebra.com
Cheap Auto Insurance Quotes in Fargo, ND (2021) | insurify.com
Best Auto Insurance Rates in North Dakota | valuepenguin.com
Does An Insurance Quote Affect Your Credit Score? | caranddriver.com
Car Insurance For Teens: Everything You Need To Know | caranddriver.com
This content is created and maintained by a third party, and imported onto this page to help users provide their email addresses. You may be able to find more information about this and similar content at piano.io
Source link