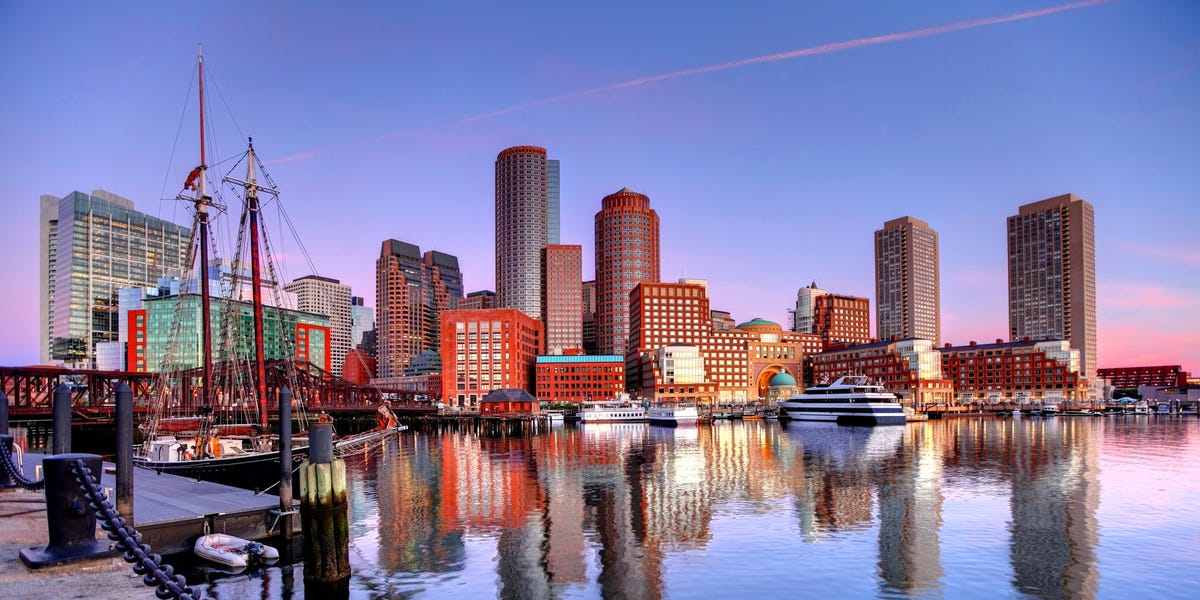 DenisTangneyJrGetty Images
Like most states, the state of Massachusetts requires all drivers, including those who live in Boston, to carry a certain amount of insurance to operate a motor vehicle on state roadways. When shopping for car insurance, Boston, Massachusetts, drivers may pay higher or lower rates depending on their personal driver profiles.
Massachusetts Insurance Requirements
According to QuoteWizard, Massachusetts law mandates all drivers to purchase liability coverage, uninsured motorist coverage, and personal injury protection. That means if you live in Boston and are purchasing an insurance policy, it must include the following:
$20,000 bodily injury liability per person
$40,000 bodily injury liability per accident
$5000 property damage liability
$20,000 uninsured motorist coverage per person
$40,000 uninsured motorist coverage per accident
$8000 personal injury protection
QuoteWizard recommends that Boston drivers raise their liability limits because the state minimum usually isn't enough to cover all of the damages caused by a severe accident. If you have minimum coverage and you're in a serious accident, you'll likely have to pay for some of the damage out-of-pocket.
As NerdWallet points out, some Boston drivers aren't able to purchase insurance from conventional insurance companies because of spotty driving records or other factors that put them in a high-risk group. If that's your situation, you can have an insurance agent submit an application on your behalf to the Massachusetts Automobile Insurance Plan. This plan requires all insurance companies to cover a portion of the state's risky drivers.
How Much Does Car Insurance Cost in Boston?
According to MoneyGeek, Boston drivers pay, on average, $1112 a year for car insurance. That's equal to the statewide average and 21.9 percent less than the national average. Of course, your rates will vary depending on which provider you purchase a policy from. MoneyGeek provides a breakdown of average rates by insurance company:
Safety Group: $730 a year
Plymouth Rock Assurance: $778 a year
State Farm: $782 a year
GEICO: $800 a year
MetLife: $851 a year
USAA: $928 a year
Amica Mutual: $1070 a year
Allstate: $1103 a year
Arbella Insurance Group: $1291 a year
Progressive: $1363 a year
Travelers: $2356 a year
What Factors Affect Boston Car Insurance Rates?
When shopping around for insurance quotes, you'll find that your car insurance premium may be higher or lower than the average Boston driver's. That's because insurance companies use personal factors to calculate your rates. As The Zebra notes, these factors include:
Your Age: Your age indicates how much driving experience you have. Teen drivers pay more than other age groups because they have the least experience. If you're a teen driver in Boston, you can expect your insurance rates to decrease upon entering your 20s. In fact, the average gap between teen driver insurance rates and rates for drivers in their 20s amounts to $4180 a year.
Your Driving Record: Boston drivers who maintain a clean driving record can expect to pay lower insurance rates. Getting a speeding ticket or being involved in a DUI or at-fault accident is sure to trigger an increase in rates.
Your Location: If you live in a Boston neighborhood with higher rates of automobile thefts, acts of vandalism, and motorists driving without insurance, you'll pay more for your car insurance. For example, if you were to move from the 02467 ZIP code to the 02119 ZIP code, your insurance premium would increase by $699 a year, on average.
Comparing Quotes for Boston Drivers
If you want to find the lowest auto insurance rates, shop around for quotes from various companies. Rates vary because each company has its own formula for calculating rates. NerdWallet gathered quotes for drivers in their 20s, an age group that tends to pay higher rates. If you're a driver in your 20s with a clean driving record and you're shopping for a policy that meets the state minimums, you can expect to pay the following, depending on your provider:
The Hanover: $484 a year
State Farm: $493 a year
Plymouth Rock: $642 a year
Safety Insurance: $653 a year
GEICO: $838 a year
NerdWallet also found the most affordable full-coverage rates for drivers in their 20s with clean driving records:
State Farm: $1135 a year
GEICO: $1660 a year
Safety Insurance: $2114 a year
Plymouth Rock: $2280 a year
Metlife: $2409 a year
Keep in mind that your rates may be higher if you live in a high-risk ZIP code.
Discounts for Boston Drivers
Even if you fall into a high-risk group of drivers, there are several discounts you can take advantage of to save money on your insurance policy. QuoteWizard suggests you look into the following car insurance discounts:
Bundling Discounts: If you purchase car insurance from the same company that provides your homeowner's or renter's insurance, you can save up to 15 percent when you bundle your policies.
Student Discounts: Because Boston is home to so many prestigious educational institutions, including Harvard, Boston College, and MIT, it's common for Boston drivers to take advantage of student discounts. While many providers require you to maintain a 3.0 GPA to earn a student discount, some insurance companies will give you a discount simply for being enrolled in college. If you have a teen driver on your car insurance policy, you may want to ask if your provider offers discounts for high school students.
Full Payment Discounts: If you're able to pay your insurance premium in full instead of making monthly payments, your insurance company may be willing to reduce your premium. Many providers also offer discounts to customers who choose to manage their accounts online instead of receiving statements in the mail.
Safe Driver Discounts: Boston has a high rate of collisions, so insurance companies are willing to reward drivers who have safe driving habits. If you're able to maintain a clean driving record or refrain from filing a claim within a specified period of time, you'll see significant savings. Many providers will also let you track your driving habits with a mobile app to earn even bigger discounts.
Check this out if you need additional information, resources, or guidance on car insurance.
Sources:
Best Auto Insurance Rates in Boston, Massachusetts | quotewizard.com
Best Cheap Car Insurance in Massachusetts for 2021 | nerdwallet.com
Compare the Cheapest Car Insurance Quotes in Boston, MA | moneygeek.com
Boston, MA Car Insurance | thezebra.com
Car Insurance Rates Massachusetts: Everything You Need to Know | caranddriver.com
Best Way to Shop for Car Insurance: Everything You Need to Know | caranddriver.com
Car Insurance | caranddriver.com

This content is created and maintained by a third party, and imported onto this page to help users provide their email addresses. You may be able to find more information about this and similar content at piano.io
Source link