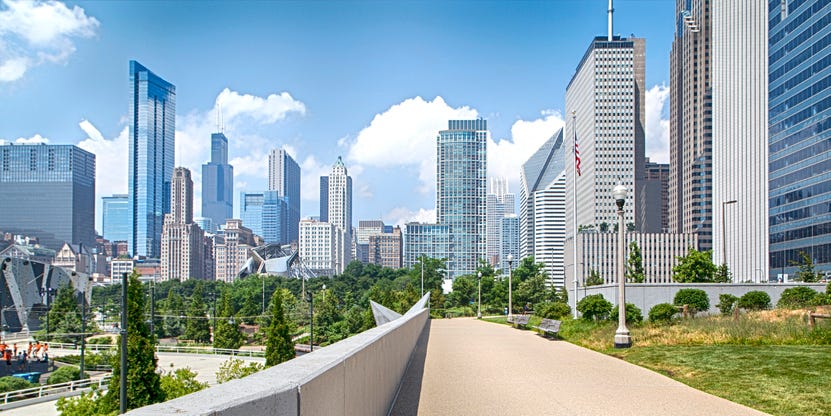 Anjelika GretskaiaGetty Images
When shopping around for the best car insurance in Chicago, the cost will naturally be a deciding factor. According to Bankrate, residents of the Windy City pay an average of $660 per year for minimum auto insurance coverage and $2150 a year for full coverage. Getting quotes from several insurance providers will increase your chances of finding affordable coverage since rates significantly vary.
Factors That Affect Chicago Auto Insurance Coverage
Value Penguin notes these factors that increase the cost of auto insurance for Chicago motorists:
Ranked 101 of 300 major cities for auto theft.
Frequent inclement weather including significant rainfall.
High rate of uninsured motorists.
Some of the factors that potentially lower Chicago auto insurance rates include the lack of required personal injury protection and the relatively low number of fatal auto accidents compared to the collision fatality rate in the 300 other large cities studied.
Most Affordable Chicago Auto Insurance Coverage
Finance website Nerd Wallet reports that Pekin offers the cheapest overall policies for Illinois residents, with an average monthly premium of $58 ($20 for drivers who decide to buy minimum coverage only). Pekin is also the most affordable for drivers who have poor credit with an average cost of $109 a month for this demographic.
Nerd Wallet also notes that young drivers, who traditionally pay more for auto insurance, will find the best rates with Geico. The company charges an average of $44 a month for Illinois drivers in their 20s.
According to insurance website Value Penguin, State Farm has the most affordable rates for Chicago drivers with an average annual premium of $716, followed by Country Financial with an average yearly premium of $838. State Farm is also the least costly option for many drivers who have a history of violations. The company charges an average of $1035 per year for individuals with a DUI or speeding ticket and $1121 with an at-fault accident in the past three years.
The researchers at Money Geek found the most affordable insurance rates for Chicago drivers at Geico, with an average full coverage rate of $789 per year for a 40-year-old male. The ubiquitous company also offers the cheapest prices for minimum coverage.
USAA provides the most affordable auto insurance prices for Chicago drivers who currently or previously served in the military and their family members. The average cost is $46 per month or $556 for coverage from this insurer, who also offers vehicle storage discounts and top-rated customer service.
Best-Rated Auto Insurance for Chicago Drivers
Bankrate recommends Geico for Chicago motorists who prioritize customer service. In addition to its low rates, the company has the highest regional customer satisfaction score from J.D. Power and Associates (851 out of 1000). Geico also offers a diverse array of generous client discounts, including savings programs for college alumni, driver education, vehicle safety and anti-theft features, members of the military, and federal employees.
Money Geek reviewed Chicago auto insurers and provided numeric ratings to reflect a combination of good customer service and affordable rates. They used sources such as J.D. Power and Associates to rate factors such as financial stability. Based on these metrics, they recommend Erie with a score of 95 out of 100 and Hartford with a score of 88 out of 100. Since USAA is only available to military members, veterans, and their families, it is not listed as best overall.
Erie, a regional provider, has competitive premiums and unique offerings such as coverage for lost or damaged personal items, pet needs, and locksmith service. This insurer also has a range of discounts including savings for policy bundling, safe driving devices, and new drivers. With Erie Rate Lock, you can keep your policy cost the same unless you add a new car or motorist.
Chicago Auto Insurance Requirements
All Illinois motorists must carry minimum insurance to drive legally. State requirements include at least:
$25,000 per person and $50,000 per accident for bodily injury liability.
$20,000 per accident for property damage liability.
$25,000 per person and $50,000 per accident for uninsured motorist bodily injury coverage.
Liability policies cover the costs incurred by other people if you cause an auto accident. You must pay for associated expenses outside your policy limits, so many drivers decide to buy additional coverage. Uninsured motorist coverage pays your costs if you have an accident with a driver who has no or minimal auto insurance.
You may also want to buy personal injury protection coverage. This policy pays the medical expenses for you and your passengers after an accident regardless of fault. Depending on the extent of coverage, PIP may also pay the cost of household services you cannot do after an accident, funeral expenses if fatalities occur, and lost wages if you become temporarily or permanently disabled in an accident.
Depending on your financial situation, you may also want to purchase optional comprehensive and collision policies. Comprehensive coverage pays for damage to your car resulting from non-collision events, including but not limited to theft, vandalism, extreme weather, explosion, fire, or falling object. Collision coverage pays for vehicle damage when you have an accident with another vehicle or a stationary object.
If you have an auto loan or have leased your vehicle, the lender or leasing firm will likely contractually obligate you to have full coverage, which includes both comprehensive and collision. If you own your vehicle outright, you may want to drop down to minimum coverage if the value of your car is below $3000 or it is more than a decade old.
Drivers who cannot find auto coverage with a traditional insurance provider can purchase insurance through the Illinois Automobile Insurance Plan. This program writes policies for drivers who have issues such as poor credit or a history of accidents and driving violations.
Check this out if you need additional information, resources, or guidance on car insurance.
Sources:
Best Cheap Car Insurance in Illinois for 2021| nerdwallet.com
Which Insurer Has the BEST Chicago Auto Insurance Quotes? | valuepenguin.com
Compare the Cheapest Auto Insurance Quotes in Chicago, IL | moneygeek.com
Best cheap car insurance in Chicago for 2021 | bankrate.com
Car Insurance | caranddriver.com
Chicago, Illinois Car Insurance Rates: Everything You Need to Know | caranddriver.com
Car Insurance Alternatives: What You Should Know | caranddriver.com
This content is created and maintained by a third party, and imported onto this page to help users provide their email addresses. You may be able to find more information about this and similar content at piano.io
Source link