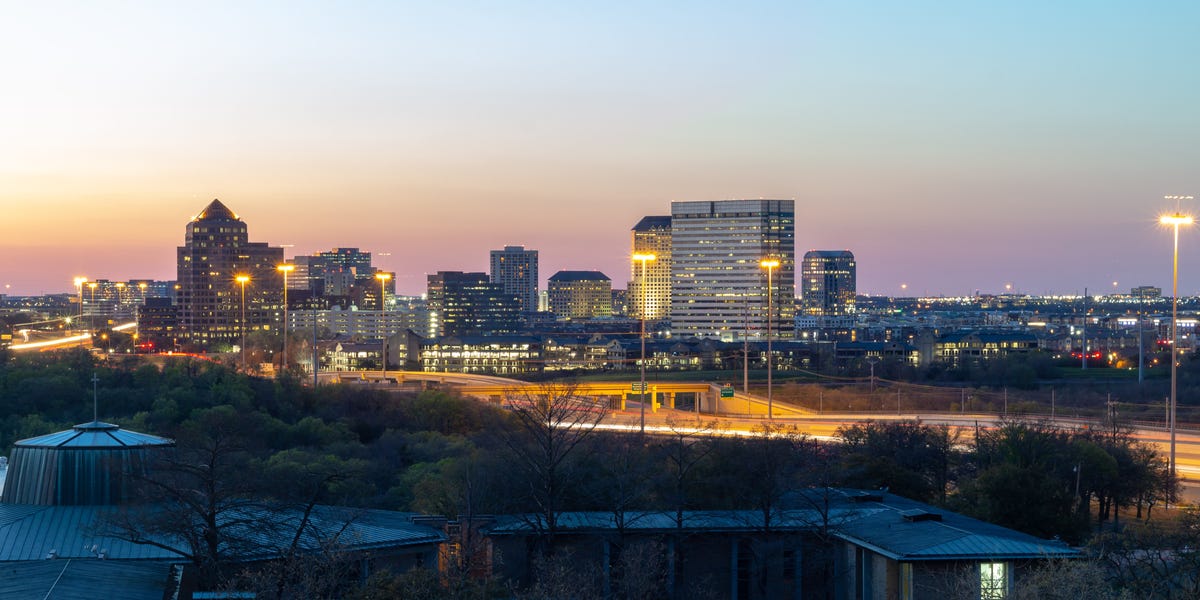 Duy Cao / 500pxGetty Images
If you're looking for auto insurance in Irving, Texas, it is important to understand the minimum requirements and factors for calculating rates. This information will help you find a policy that fits your needs, as well as your budget.
Auto Insurance in Irving, TX, Requirements
Irving, Texas, has the following minimum insurance requirements:
$30,000 bodily injury liability per person
$60,000 bodily injury liability per accident
$25,000 property damage liability per accident
Some drivers may want additional coverage beyond the minimum requirements because the minimum insurance requirements only cover damages you cause to someone else's vehicle. A full-coverage policy will cover damages to your vehicle, regardless of who is at fault. Additionally, comprehensive coverage can help to cover damages related to theft or weather.
Texas drivers are also required to carry proof of insurance on them at all times. If you are pulled over and unable to provide proof of insurance, it could result in a fine.
How Much Is Auto Insurance in Irving, TX?
According to The Zebra, the average cost of auto insurance in Irving, Texas, is $1518 per year. This is slightly higher than the state's average, which is $1415 per year and a little lower than the national average of $1548 per year. Irving can be higher than other Texas cities because it has a high number of freeways and a lot of rainy weather.
Irving is also a part of the Dallas-Fort Worth area, and according to BuyAutoInsurance.com, high amounts of traffic and long commute times lead to an increase in accident-related claims.
Drivers within Irving, but in different zip codes, may even receive different insurance rates. Insurance rates may vary based on zip code depending on the number of claims and theft rates in the area. The most expensive zip codes in Irving are 75038 and 75062. A few of the cheaper zip codes in Irving include 75309 and 75063.
Top Insurance Providers in Irving, Texas
Shopping around and comparing quotes among providers is one of the best ways to get affordable insurance rates. Here are a few top auto insurance providers in Irving, Texas, to consider:
USAA: Average annual rate of $1310
GEICO: Average annual rate of $1329
Allstate: Average annual rate of $2447
State Farm: Average annual rate of $1383
These rates are for minimum coverage. In contrast, a full-coverage policy in Irving, Texas, can be as expensive as $6330 per year. Other top insurance provides that are available in Irving include Nationwide, Progressive, and American Family. While they tend to have more expensive rates than the list above, you may qualify for discounts with them, which could result in a cheaper insurance rate.
Age and Insurance Rates in Irving, Texas
Age is one of the factors that have the biggest effect on how much you pay for insurance. Teen drivers in Irving, Texas, pay the highest rates, with an average annual rate of $3895 for minimum coverage. However, rates significantly begin to decrease after you turn 20, with the cheapest age bracket being in your 50s, with an average annual rate of $1316.
Teen drivers may be able to find ways to save on high insurance rates. For example, teens may be able to stay on their parent's policy for longer if they live at home or are temporarily away at college.
Driving Record and Insurance Rates in Irving, Texas
Your driving record is the biggest factor that you can control in calculating your insurance rates. Drivers with a DUI may notice an increase in their rates by as much as $854 per year. A reckless driving charge can increase your rates by as much as $834 per year. If you have a less-than-perfect driving record, you may need to do more research and request more quotes to find an affordable rate in Irving, Texas.
Additional Factors That Can Influence Your Insurance Rates
While age and driving record usually have the biggest effect on your insurance rates, these additional factors may also be considered:
Gender: Gender has an effect, although minimal, on how much you pay. In Irving, TX, male drivers pay approximately $10 more per year.
Marital status: Your marital status also has a minimal effect. While single and married drivers pay the same rate, divorced drivers may pay, on average, $101 more per year, according to The Zebra.
Credit rating: The better your credit rating is, the more you can save on insurance rates. Having a credit rating that falls into the exceptional range can save you as much as 61 percent on rates.
Commute: Your commute, including how many miles and where you drive, will also be factored into your insurance rates. Drivers with shorter commutes tend to get the best rates because they spend less time on the road.
You can learn more about how your individual factors influence your rates by requesting quotes. Ask for a breakdown that includes your driving record and other factors.
Tips to Save on Insurance in Irving, TX
Even though Texas tends to have expensive insurance, there are ways you can save, including:
Compare prices: Compare prices to find the best insurance policy based on your unique factors.
Adjust your coverage and deductible: Adjusting your coverage and deductible can make a big difference in how much you pay each month.
Re-evaluate your insurance needs every few months: Continue to reevaluate your insurance needs and request quotes as they change. For example, if you upgrade your car or pay off a loan, it is time to compare prices again.
Ask about discounts: Discounts are one of the easiest ways to save. Find out if your provider offers you any discounts and if you are eligible for them.
Shopping for insurance is not a one-time thing. Instead, you may continue to compare prices each time you renew your insurance policy.
Find affordable auto insurance in Irving, TX, by doing your research and comparing prices. If your driving record changes or you celebrate a birthday and you're no longer a teen, it is time to reevaluate your policy.
Check this out if you need additional information, resources, or guidance on car insurance.
Sources:
Irving, TX Car Insurance | thezebra.com
Buy Cheap Irving, TX Auto Insurance | buyautoinsurance.com
GEICO vs. Progressive: Everything You Need to Know | caranddriver.com
Insurance Comparison by State: Everything You Need to Know | caranddriver.com
This content is created and maintained by a third party, and imported onto this page to help users provide their email addresses. You may be able to find more information about this and similar content at piano.io
Source link