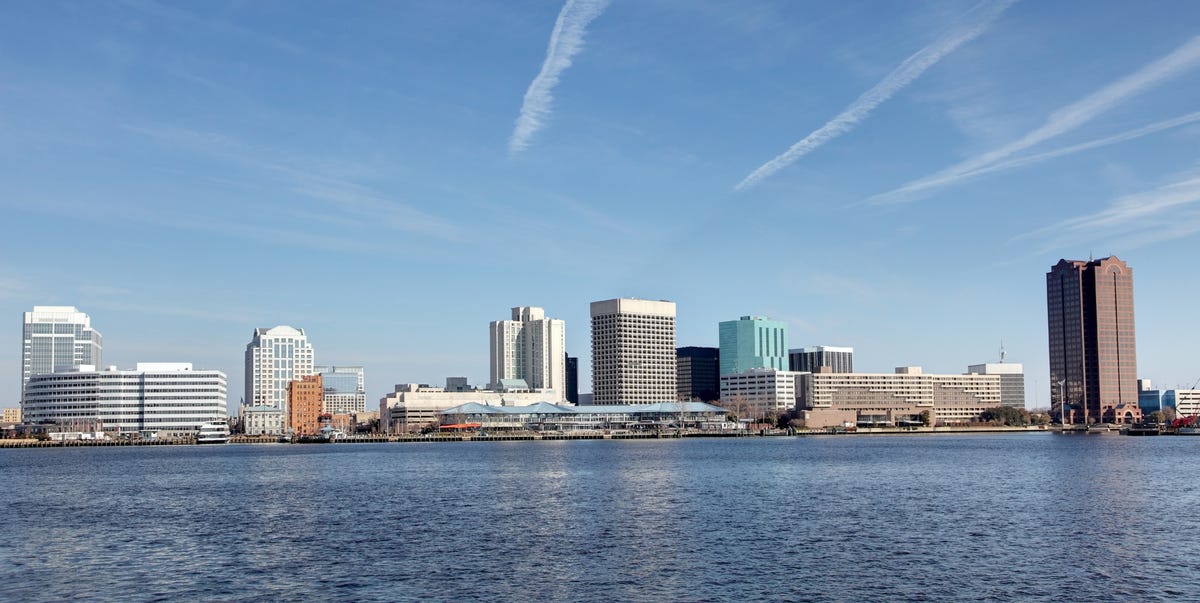 DenisTangneyJrGetty Images
Are you shopping for auto insurance in Chesapeake, Virginia? This is the second-largest city in Virginia based on population and has a complex highway system that leads to long commutes for some residents, especially during inclement winter weather. Explore this guide to find the most affordable rates.
Average Auto Insurance Cost in Chesapeake
Drivers in Chesapeake pay less than the average Virginia auto insurance premium of $790 per year. According to the finance website Money Geek, many Chesapeake residents find the most affordable rates at Progressive, which charges an average annual premium of $503. To gather sample insurance quotes, the website's researchers use a profile for a 40-year-old man who lives in Chesapeake and has full coverage on a 2010 Toyota Camry.
Most Affordable Chesapeake Auto Insurance Providers
Insurance research website Insurify gathered insurance quotes for a sample driver. They used a 30-year-old single male Chesapeake resident who has minimum liability on a 2012 Honda Accord. Based on this profile, these are the most affordable insurance providers in the city:
American Family: $156 per month
The General: $228 per month
State Farm: $67 per month
Researchers at The Zebra reported these annual average auto insurance rates for Chesapeake drivers:
Erie: $929
Nationwide: $1060
Progressive: $968
State Farm: $978
USAA: $894
Money Geek reports that Progressive offers the most affordable overall rates in Chesapeake, the cheapest minimum coverage in the state, and the lowest average rates for motorists who have less than perfect records. They report these annual average premiums by company:
Erie: $668
Geico: $609
Nationwide: $751
Progressive: $503
USAA: $632
Value Penguin reports that the lowest overall average rates for drivers who live in the state come from Virginia Farm Bureau. This provider charges about $30 per month or $359 per year. They also have the most affordable average rates for minimum coverage and full coverage. According to the website, Erie Insurance has the cheapest rates for young drivers in Virginia and Geico has the best prices for most drivers who have bad credit.
Smart Financial recommends these Chesapeake insurance providers for affordable average monthly rates:
Auto Owners Insurance Co: $113
ALFA: $121
Direct Auto: $128
Erie: $93
Mercury: $120
Penn National: $102
State Farm: $90
USAA: $87
Utica National Insurance Group: $88
Best Chesapeake Auto Insurance Providers
Insurify has created a proprietary composite score for insurance providers based on a range of sources such as Consumer Reports, J.D. Power and Associates, Moody's, Standard & Poor's, and A.M. Best as well as customer ratings. These companies had the highest scores out of a total of 100:
American Family: 89, average premium of $179 a month.
Nationwide: 89, average premium of $177 a month.
Safeco: 86, average premium of $152 a month.
Liberty Mutual: 82, average premium of $201 a month.
Mercury: 81, average premium of $214 a month.
Money Geek uses a similar system to rank auto insurance providers based on affordability and quality customer service. Geico received the highest score of 93 out of 100 with top ratings for cost, client satisfaction, and financial stability. Hartford received a score of 88 while Travelers Insurance and State Farm both earned an 85. Nationwide got a 78 while Allstate, CSAA, and Farmers Insurance all received scores of 75 out of 100.
In addition to these options, other auto insurance providers serving Chesapeake, Virginia, include Amica, Esurance, and MetLife.
Chesapeake Auto Insurance Rates by Age
Young drivers tend to pay more than older drivers for auto insurance. According to The Zebra, these are the average annual rates by age group for Chesapeake drivers:
Teens: $3897
20s: $1433
30s: $1017
40s: $969
50s: $891
60s: $935
70s: $1198
Chesapeake Auto Insurance Rates After Accidents and Violations
Having a less than perfect driving record will increase the amount you pay for auto insurance. According to the Zebra, these are the average annual rates for drivers who have had common issues:
At-fault accident: $1461 to $1639 depending on total damages
Reckless driving: $1457
Driving under the influence: $1610
Speeding ticket: $1297
Chesapeake Auto Insurance Rates by Credit Rating
Credit score also affects the amount you pay for auto insurance in Virginia. According to Insurify, these are the average monthly rates for Chesapeake drivers based on credit tier:
$223 with poor credit
$191 with average credit
$213 with good credit
$229 with excellent credit
Chesapeake Auto Insurance Rates by ZIP Code
Your Chesapeake neighborhood will influence the amount you pay for auto insurance. Insurance providers check your ZIP code for factors such as uninsured motorists, theft, accident, and vandalism rates. The Zebra reports that 33323, 23322, and 23324 are the costliest ZIP codes for auto insurance while 23325, 23321, and 23320 are the most affordable ZIP codes.
Virginia Auto Insurance Requirements
To drive legally in Virginia, you must have at least $25,000 per person and $50,000 per accident for bodily injury liability insurance and property damage liability of at least $20,000 per accident (also called a 25/50/20 policy). The state also requires uninsured motorist coverage with the same minimums. These policies cover your expenses if you have an accident with an uninsured driver.
Virginia also allows you to pay $500 to the Department of Motor Vehicles as an uninsured motorist fee. You can drive an uninsured vehicle after registering with this program, but you have legal responsibility for all expenses resulting from an accident, including medical bills and property damage that can potentially cost hundreds of thousands of dollars.
Check this out if you need additional information, resources, or guidance on car insurance.
Sources:
Compare the Cheapest Car Insurance Quotes in Chesapeake, VA | moneygeek.com
Chesapeake, VA Car Insurance | thezebra.com
Cheapest Auto Insurance Quotes in Chesapeake, VA (2021) | insurify.com
2012 Honda Accord EX-L 4dr V6 Auto W/Navi Features And Specs | caranddriver.com
Car and Driver Car Insurance | caranddriver.com
2010 Toyota Camry | caranddriver.com
The Best and Cheapest Car Insurance in VA | valuepenguin.com
What Is the Average Cost of Car Insurance in Chesapeake? |smartfinancial.com
Virginia Department of Motor Vehicles Insurance Requirements | dmv.virginia.gov
This content is created and maintained by a third party, and imported onto this page to help users provide their email addresses. You may be able to find more information about this and similar content at piano.io
Source link