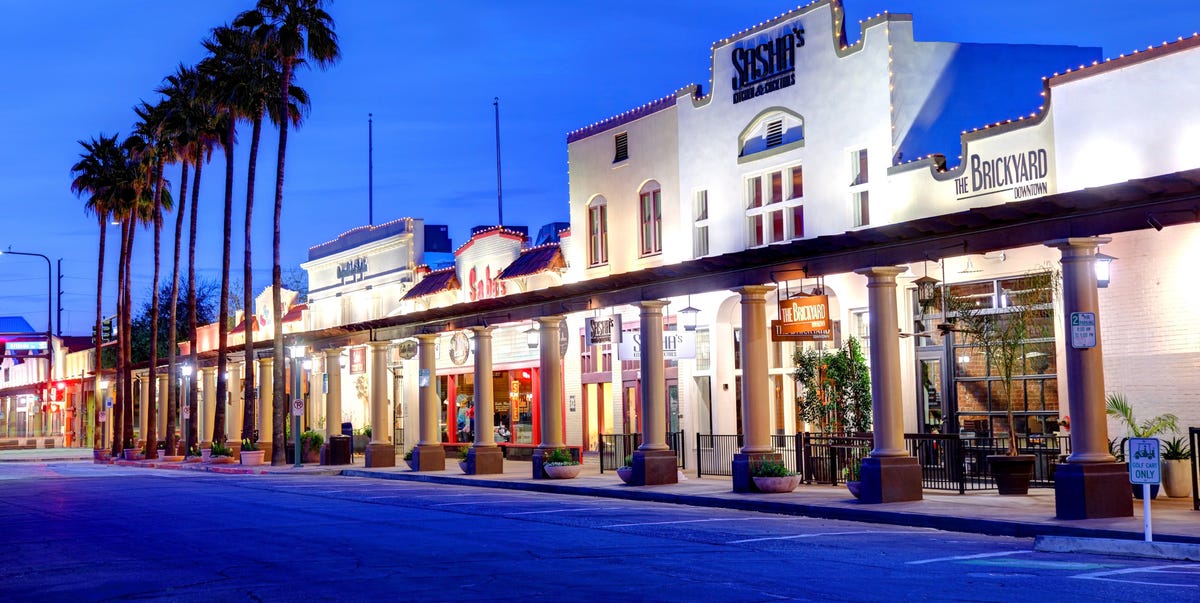 If you live in Chandler, you'll pay a bit more for car insurance coverage than other Arizona residents on average. According to auto insurance website The Zebra, the typical denizen of Chandler pays about $1540 a year for coverage, just slightly less than the national average. Review this guide to auto insurance in Chandler, Arizona, so you can access the best rates and policies based on your needs.
Most Affordable Chandler Auto Insurance Rates
According to the website Insurify, these companies offer the most affordable average monthly auto insurance rates for drivers who live in Chandler:
Allstate: $122.
The General: $189.
Liberty Mutual: $201.
State Farm: $73.
Travelers Insurance: $127.
To gather these quotes, researchers used a sample profile of a 30-year-old male Chandler resident who has a good driving record and minimum coverage on a 2012 Honda Accord.
Finance website Money Geek reports that Geico has the most affordable rates for Chandler drivers. The company also has the lowest prices for those who live in Chandler and want minimum coverage only or have a less than perfect driving history.
According to The Zebra, these are the insurance companies offering the lowest annual average premiums to Chandler drivers:
American Family: $1618.
Geico: $817.
Progressive: $1577.
State Farm: $1499.
USAA: $1289.
Best Chandler Auto Insurance Companies
Insurance website Quote Wizard surveyed their users and found that the most common insurers for Chandler residents include Allstate, Farmers Insurance, Geico, Liberty Mutual, Progressive, American Family, Esurance, Nationwide, State Farm, and USAA (available only to members of the military and their families).
Insurify developed a scoring system for auto insurance companies based on industry ratings, consumer reviews, financial strength, and other factors. These companies received the highest Insurify Composite Scores out of 100:
American Family: 89.
ClearCover: 97.
Liberty Mutual: 82.
Nationwide: 89.
Safeco: 89.
According to Money Geek, Geico is the best overall option for Chandler drivers. The website gives the insurance provider a score of 90 out of 100, including a perfect rating for affordability. State Farm received a rating of 85, while Liberty Mutual, CSAA, and Allstate each received a score of 83. Travelers and American Family both earned a score of 80 while Progressive, Farmers Insurance, and Safeco all scored 78.
Chandler Auto Insurance Rates by Age
Young drivers pay more for auto insurance than older drivers because they have a higher rate of accidents and claims. The Zebra reports these average annual insurance premiums in Chandler, Arizona, by age group:
Adolescents: $6400.
20s: $2062.
30s: $1509.
40s: $1465.
50s: $1367.
60s: $1426.
70s: $1824.
Chandler Auto Insurance After an Accident or Violation
The Zebra reports these average annual auto insurance rates for Chandler drivers after common violations and claims:
Speeding: $1956.
At-fault accident: $1958 to $2252 depending on the extent of damages.
Reckless driving: $2224.
Driving under the influence of alcohol or drugs: $2363.
Insurify reports average monthly rates of $232 per month for drivers who have no violations, $224 after a speeding ticket, $282 after an at-fault accident, and $209 after a ticket for failure to stop at a stop sign or red light.
Chandler Auto Insurance Rates by Credit Score
Many insurance companies associate low credit with a high risk of accidents and claims. According to the Zebra, these are the average annual premiums for Chandler drivers by credit tier:
Excellent: $1234.
Very Good: $1391.
Good: $1540.
Fair: $1883.
Poor: $3467.
Insurify found that drivers in Chandler who have poor credit pay an average of $226 a month for auto insurance, compared to $227 with average credit, $203 with good credit, and $264 with excellent credit.
Chandler Auto Insurance by ZIP Code
Even within the same city, drivers with similar characteristics often pay different rates for auto insurance in different neighborhoods, often because higher rates of theft, vandalism, accidents, and uninsured motorists result in higher premiums. The most expensive ZIP codes for auto insurance in Chandler include 85224, 85225, and 85249 according to data from the Zebra. Drivers pay lower premiums in 85226, 85286, and 85248.
Arizona Auto Insurance Requirements
Drivers in Arizona must have liability insurance of at least 25/50/25. That means you have $25,000 per person and $50,000 per accident for bodily injury and $25,000 for property damage. This type of policy takes effect if you cause an auto accident. Arizona is one of the few states where you can waive auto insurance; however, you must place a security deposit of at least $40,000 with the state treasurer's office.
Driving without Arizona auto insurance or security deposit can result in serious legal penalties. You can receive a one-year license suspension if you are cited for driving without insurance. You will also be responsible for all costs if you have an accident. Driving without insurance also makes it difficult to purchase affordable insurance on the open marketplace since the state will issue a high-risk SR 22 certificate.
Strategies to Save on Arizona Auto Insurance
You can often access lower insurance rates by bundling more than one policy. For example, Quote Wizard says you can save up to 20 percent on car coverage by adding a renter's or homeowner's insurance policy with the same provider. Many insurance companies offer senior discounts, new car discounts, savings for safety and anti-theft features, and good student discounts. If you don't drive very often, you may even qualify for a low-cost low mileage insurance program. In addition, Money Geek estimates that Chandler drivers can save up to $463 annually by seeking insurance quotes from more than one provider.
Check this out if you need additional information, resources, or guidance on car insurance.
Sources:
Chandler, AZ Auto Insurance | thezebra.com
Cheap Auto Insurance Quotes in Chandler, AZ (2021) | insurify.com
2012 Honda Accord EX-L 4dr V6 Auto W/Navi Features And Specs | caranddriver.com
Best Auto Insurance Rates in Chandler, Arizona | quotewizard.com
Compare the Cheapest Car Insurance Quotes in Chandler, AZ | moneygeek.com
Car and Driver: Car Insurance | caranddriver.com
How to Lower Your Car Insurance Rates caranddriver.com
This content is created and maintained by a third party, and imported onto this page to help users provide their email addresses. You may be able to find more information about this and similar content at piano.io
Source link