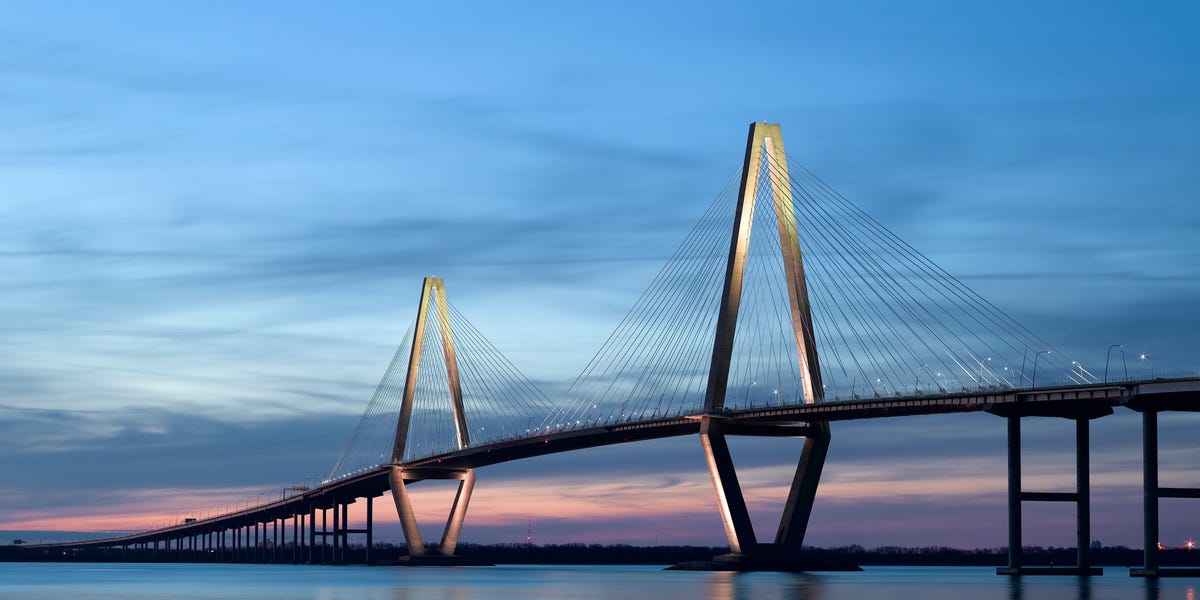 More than 130,000 residents of Charleston travel by motor vehicle. If you live in the city, car insurance protects your financial interests and allows you to drive legally. Review this guide to auto insurance in Charleston, South Carolina, before choosing coverage for your car.
Average Car Insurance Cost in Charleston
According to auto insurance website The Zebra, Charleston residents pay an annual average of $1470 for auto coverage. While that's less than the $1548 average annual rate for U.S. drivers, it's more than the overall average South Carolina auto insurance cost of $1414 a year.
Most Affordable Charleston, South Carolina, Auto Insurance
The website Insurify researched auto insurance rates in Charleston using the profile of a 30-year-old unmarried male driver with no accidents or tickets. This sample driver has minimum liability insurance on a 2012 Honda Accord. Insurify found the most affordable rates for this profile from Direct Auto with a cost of $85 per month on average. The monthly average rates from other Charleston auto insurance providers include:
Allstate: $117.
Nationwide: $138.
Progressive: $133.
State Farm: $109.
The Zebra reported the most affordable annual rates in Charleston from these providers:
Geico: $1262.
Progressive: $1602.
State Farm: $1351.
Travelers: $1436.
USAA: $1176.
Keep in mind that only members of the military and their families can purchase USAA insurance.
Nerd Wallet reported on the auto insurance companies with the lowest average rates across South Carolina. They found that American National offers the cheapest premiums overall for drivers in the state as well as the most affordable rates for young drivers, drivers who have poor credit, and drivers who want to purchase minimum coverage only.
Value Penguin found the lowest South Carolina rates at Geico for young drivers. The company also has some of the most affordable average premiums in the state for both minimum and full coverage.
Best Charleston, South Carolina, Auto Insurance Providers
Insurify developed a composite score to rate insurance companies based on financial health, reliability, and quality service. The researchers used industry sources such as Standard & Poor, Moody, A.M. Best, Consumer Reports, and J.D. Power and Associates as well as user reviews.
Based on this information, the website rated the top insurance companies in Charleston as follows:
American Family: 89 out of 100.
Safeco: 86 out of 100.
Liberty Mutual: 82 out of 100.
Travelers Insurance: 80 out of 100.
Car Insurance by Driver Age in Charleston
The Zebra lists these average annual auto insurance rates by age for Charleston drivers:
Teens: $5005.
20s: $1943.
30s: $1442.
40s: $1386.
50s: $1313.
60s: $1353.
70s: $1636.
Car Insurance for Drivers With Violations
If you have a history of at-fault accidents or traffic tickets, it will dramatically increase the rates you pay for auto insurance. According to The Zebra, rates increase by an average of $538 annually with a reckless driving ticket, $290 a year after a speeding ticket, and $597 a year after an arrest for DUI.
Insurify reports that Charleston drivers who have no history of violations pay an average of $312 per month for auto insurance. With a speeding ticket, the average rate increases to $404 per month. Drivers pay an average of $395 a month after an at-fault accident and $454 per month after a ticket for running a stop sign or red light.
Value Penguin reports that across South Carolina, State Farm offers the lowest average rates for drivers who have a history of accidents and violations.
Charleston Auto Insurance by Credit Score
According to The Zebra, drivers with good credit pay much less for auto insurance than drivers who have poor credit scores. The website reports the annual average premiums as follows:
$1236 with exceptional credit.
$1357 with very good credit.
$1470 with good credit.
$1740 with fair credit.
$2964 with poor credit.
Insurify reports the average monthly rates for Charleston drivers by credit tier as follows:
$292 with excellent credit.
$350 with good credit.
$371 with average credit.
$394 with poor credit.
As their research shows, credit tier can be a minor factor compared with other characteristics that influence auto insurance premiums.
Saving on South Carolina Auto Insurance
Value Penguin recommends strategies to save on auto insurance. As a young driver, you will pay much less for coverage if you can share a policy with your parents. Don't forget to ask about discounts when you seek insurance quotes. Some of the most common discounts include price breaks for vehicles that have antitheft devices, getting good grades, avoiding accidents, or having antitheft devices. Shopping around to get quotes from several companies can improve your chances of getting an affordable rate.
South Carolina Auto Insurance Requirements
South Carolina requires drivers to have at least $25,000 per person and $50,000 per accident in bodily injury liability insurance. They must also have $25,000 per accident in property damage liability insurance. These policies pay the costs for other injured individuals if the policyholder causes an accident.
Drivers also have to have the same limits for uninsured motorist coverage. This type of policy pays for your property damage and injuries if you have an accident with a driver who has insufficient insurance.
The state requires drivers to carry proof of insurance and show this document anytime they are involved in an auto accident, need to renew their vehicle registration, or are required to do so by a police officer. Failure to do so can result in vehicle registration suspension, driver's license suspension, license plate revocation, fines, and reinstatement fees. Some South Carolina drivers with insurance lapses may have to purchase costly SR-22 insurance.
Check this out if you need additional information, resources, or guidance on car insurance.
Sources:
Charleston, South Carolina, Car Insurance| thezebra.com
2012 Honda Accord LX-S 2dr I4 Auto Features And Specs| caranddriver.com
Cheap Auto Insurance Quotes in Charleston, SC (2021)| insurify.com
Best Cheap Car Insurance in South Carolina for 2021| nerdwallet.com
Cheapest Auto Insurance Quotes in South Carolina (2021) | valuepenguin.com
Best Car Insurance in South Carolina | caranddriver.com
Car Insurance | caranddriver.com
This content is created and maintained by a third party, and imported onto this page to help users provide their email addresses. You may be able to find more information about this and similar content at piano.io
Source link