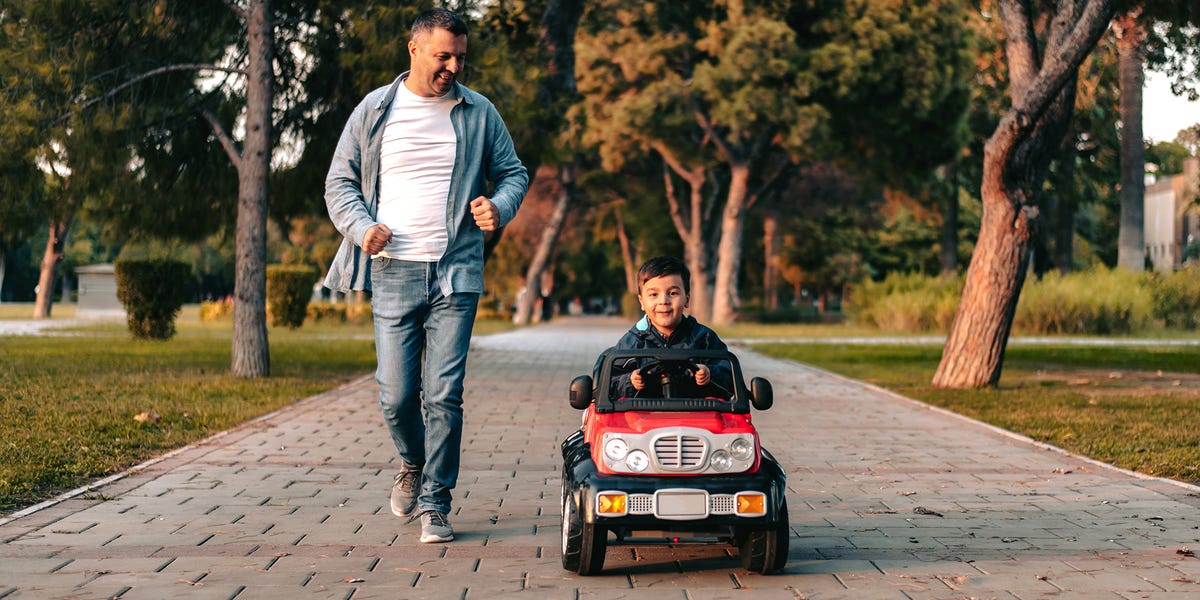 Growing up there was nothing I wanted more than a ride-on electric car. The neighbors behind us had the coolest Jeep, and I was ridiculously envious of that beast. It was such an elegant toy, in my humble childhood opinion. It had a horn and upholstered seating. It was the holy grail of toys. And while I never got to ride a pink Jeep past the the mean boys at the end of the cul-de-sac, my kids needn't worry about such jealousies.
Even though these toys have somehow managed to get even cooler through the years, they've also become much more affordable. Electric cars for kids now offer more options, variety, and choice than ever before. They've also become significantly safer with the addition of seatbelts, lower top speeds, and insulated battery areas. They're also a smoother ride now, thanks to suspensions designed for multiple surfaces. Back in the '90s, if you wanted to ride on cobblestone, good luck. Nowadays? Not a problem.
Fortunately, I got to see some of the latest and greatest kids' electric cars coming to the market at a recent toy fair, and there are several that stood out in the crowd. Plus, there are a few others I've reviewed or bought for my own kids that you'll see below. They're built to be tough, comfortable, and safer for your kids, while also still being just totally sick whips. Find the best electric car for your kids now and get ready to cruise.
Advertisement – Continue Reading Below
1
Tobbi 12V BMW i8 Kids' Ride-On Car
The two-motor BMW i8 has a top speed of 3.7 mph, although a parent-operated remote control lets adults take over control and slow it down if they choose to. A seatbelt, horn, LED lights, and an aux port and USB let the driver of this minuscule BMW blast the music of their choice while driving. It's almost as much of a status symbol as the full-size i8, which is priced starting at nearly $150,000.
2
Power Wheels BBQ Fun Jeep Wrangler
For future little off-roaders and mudders, this Jeep Wrangler by Power Wheels is basically a dream come true. It's rugged, it's durable, and it even has space for a few bumper stickers about #JeepLife.
This is a camping-themed Jeep with removable play grill, food pieces, and real grilling sounds. It goes 5 miles per hour in drive, half that in reverse, and seats two.
3
Best Choice Products Land Rover Ride-On Car Toy
She's bougie, and we love her for it. A sleek white Land Rover Discovery for your three-year-old who routinely gets jam on their shirt? A solid choice. (And you can just hose this one off.)
This two-seater is either driver or remote operated, has bright LED lights, aux player, horn, and startup sounds. The baby SUV travels at a lower speed of 1.8 mph or a max speed of 3.7 mph.
4
Black Audi TT RS Electric Sports Car Ride On Toy
This luxury EV for fans of the Audi TT RS seats one and goes a maximum of 3 miles per hour. The baby Audi features front and back lights, a built-in music player with USB and TF card slots, and a working seatbelt. For those who care about range, this Audi EV runs for one hour on a charge. 
5
Kidzone Kids Lamborghini Sián Roadster
We find car doors that go up instead of out a little impractical. But for kids? It's totally cool. A Lambo for your little one, this kids' electric car can be parent or driver controlled, has a maximum speed of 3 miles per hour, a faux-carbon-fiber body kit, working front and rear LED lights, a working gas pedal, real engine sounds, and a moderately loud horn. It also has a built-in radio, aux cord, USB port, and Bluetooth capability. It seats one with a three-point harness. Considering that the real Lamborghini Sián costs north of $3 million, it's a bargain.
6
Kid Trax Real Rigs Toddler Recycling Truck
There is no person more popular to a toddler than a sanitation worker. They have the big truck that eats recycling and garbage. What could be better for your kid than getting to drive their very own recycling rig? 
How about giving it fun googly eyes? A shape-sorting compartment? Because this truck has it. It's really for the younger kids and only seats one, but with its sound effects and easy one-button driving, they won't mind flying solo. 
7
Tesla Model S for Kids Red Metallic
Bring Tesla Fever to your block. This Tesla Model S, powered by lithium-ion batteries, boasts a top speed of 6 mph, but parents can limit that to 3 mph. There's an optional long-range battery, appropriately for a Tesla, that costs an extra $60 and promises 50 percent "more playtime per charge." Custom license plate, parking sign, and car cover are all sold separately.
8
Peg Perego John Deere Ground Force Tractor With Trailer
Get your kid some overalls, a pair of work boots, and a shovel, and get them out on the land with this electric tractor by Peg Perego. 
The John Deere tractor says "I'm here to work," but the kid riding it says, "I'm here to chase the pigeons on my fancy green tractor." With a maximum speed of just over 4 mph and two flip-up armrests, your future farmer is ready to bale some hay, or just listen to the radio and cruise.
 More: Great Car Toys for Kids
9
Power Wheels Barbie Jeep Wrangler
While this Jeep is similar in specs to the barbecue-themed Wrangler we included earlier, we'd be remiss if we didn't include the classic Barbie Jeep in this list.
It features fun Barbie graphics and a pretend radio with six pre-loaded tunes. Your kids will have a blast showing off their new toy to the whole neighborhood. 
This content is created and maintained by a third party, and imported onto this page to help users provide their email addresses. You may be able to find more information about this and similar content at piano.io
Advertisement – Continue Reading Below
Source link