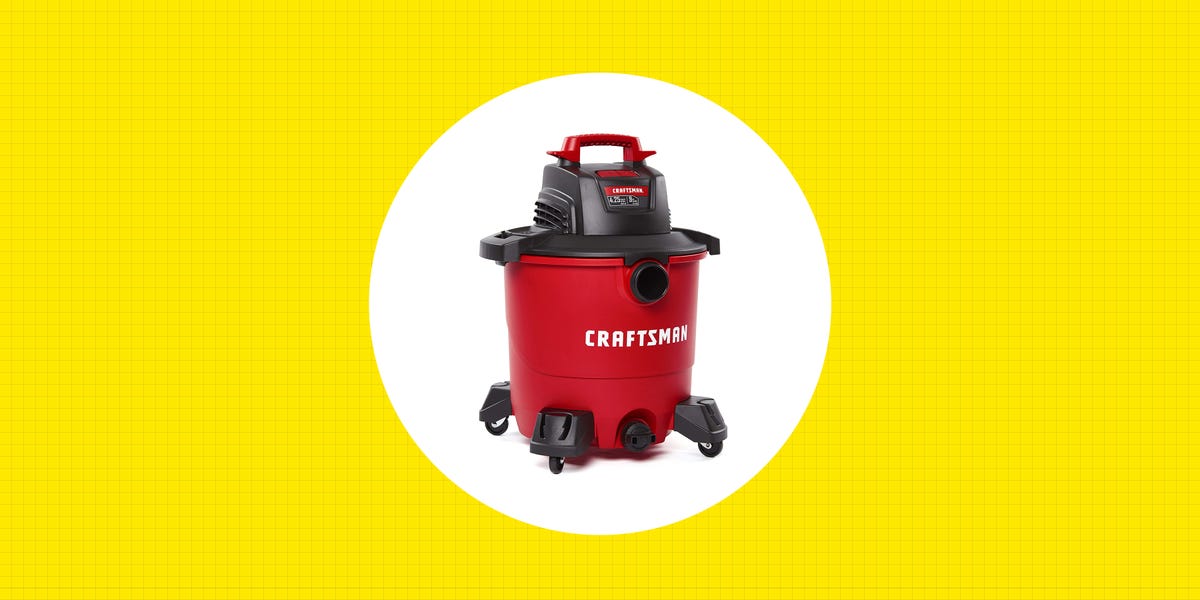 Garages are meant to get dirty—they're the royal stable for your motorized workhorses, after all. With that comes dirt, leaves, and all kinds of other yuckiness. Now, you could sweep it up with a broom like some medieval bumpkin, or jump into the 21st century with a wet/dry vacuum—affectionately known as a shop vac.
While there is a "Shop Vac" brand, many other companies have produced their spins on the concept. The best advantage of a shop vac over a conventional vacuum is its ability to suck up large amounts of liquids (specifically non-flammable), along with the usual dry contaminants.
So if your garage doesn't boast a shop vac, here are eight choices to buy that have top ratings on Amazon.com. Any of these can help you get everything tidied up in an easy, suction-powered sweep.
Vehicle Lifts for the Home Garage or Shop
---
Advertisement – Continue Reading Below
12-Gallon Wet/Dry Shop Vacuum
This cool blue shop vac does everything well. The 12-gallon tank comes with a handy drain at the bottom to easily empty any liquids you've sucked up. The detachable blower can deliver 210-mph blowing power to clear out any light debris back outside to its natural habitat. 
6-Gallon Wet/Dry Vacuum
This rugged shop vac features a 6-gallon tank and a motor with 4 horsepower to help you easily clean most garage messes. With the 6-foot hose and the 10-foot power cord, you get over 16 feet of reach. The swivel casters make for easy maneuverability. 
9-Gallon 4.3 HP Wet/Dry Vac
Craftsman's shop vac features a 9-gallon tank with an oversize drain at the bottom for easy liquid disposal. The 4.3-horsepower motor provides plenty of oomph for vacuuming or for use as a blower, and the included attachments come with pieces to clean all kinds of nooks and crannies. 
12-Gallon Poly Wet/Dry Vac
This beast of a shop vac features a 12-gallon tank and a powerful 5.5-horsepower motor, providing plenty of suction. The power cord reaches 20 feet, which is a bonus for a large garage. It also features a drain port for liquids and a strong blower to clear out organic debris. 
5-Gallon Stainless Steel Wet/Dry Vac
This Shop Vac–brand shop vac is known for its toughness thanks to a strong stainless steel barrel. The brand has been making quality wet/dry vacuums since the '60s, and this one keeps to that reputation. It's a bit smaller, with a 5-gallon tank, but is still excellent for garage spills.
5-Gallon 5.5 HP Wet/Dry Vac
While this shop vac lacks wheels, it makes up for it with its compact shape. Don't be fooled—it still boasts a 5.5-horsepower motor and a 5-gallon tank. It's a great choice for someone with limited space in the garage. 
Portable 4-Gallon Wet/Dry Vacuum
If you want something super portable, look no further. This Dewalt option features a 4-gallon tank and a 20-foot power cord. Everything stores up nicely on the side, and at just over 13 pounds, the portability is unmatched.  
14-Gallon 6-Horsepower Wet/Dry Vac
Want a portable hurricane? This bad boy is the most powerful shop vac on our list. With a large 14-gallon tank and a 6-horsepower motor, it'll make any mess cry for Mommy. The dual-flex hose allows for use in any direction without collapsing, and the 360-degree casters are excellent for maneuverability. 
This content is created and maintained by a third party, and imported onto this page to help users provide their email addresses. You may be able to find more information about this and similar content at piano.io
Advertisement – Continue Reading Below
Source link