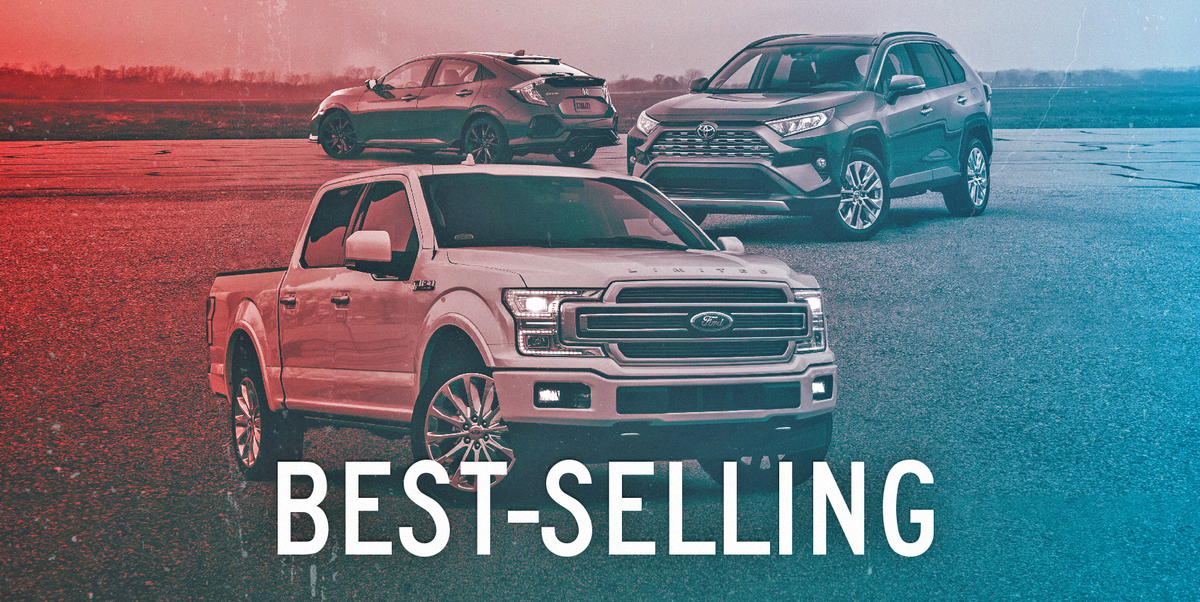 U.S. auto sales were looking good for the first few months of 2020—until the COVID-19 pandemic interrupted many aspects of daily life in our country. Automakers have now reported sales numbers for the entire year, and they were a mixed bag. Due to a stoppage in sales during the second half of March, the numbers were rocky throughout April, May, and June but then then began to show signs of improvement later, in the third and fourth quarters. We've now tallied up the 25 best-selling cars, trucks, and SUVs through all of 2020, which—predictably—is a list full of SUVs and trucks, along with a smattering of cars.
25. Toyota 4Runner (129,052 units sold)
Rugged is in, and the Toyota 4Runner sold well in 2020 despite being an old-school, body-on-frame SUV that has been around in its current form for nearly a decade. Sales were down just 2 percent compared with 2019.
4Runner Specs and Info
24. Ford Transit (131,556 units sold)
Ford is doing well in the van business with the Transit, which comes in passenger and cargo forms. Still, numbers were down 15 percent compared to 2019.
Read More about the Transit
23. Jeep Cherokee (135,855 units sold)
Despite declining 29 percent compared with 2019, the Jeep Cherokee maintained midpack status in the compact-crossover sales race. It's far from leaders such as the Honda CR-V and Toyota RAV4 but in the mix with secondary players such as the CX-5 and Tucson.
More about the Cherokee
22. Nissan Altima (137,988 units sold)
The Altima sold more units than the Honda Accord in the first quarter, but a weak second quarter saw it drop further down the chart. Nissan's mid-size sedan ended up being down 34 percent compared with 2019.
All about the Altima
21. Mazda CX-5 (146,420 units sold)
Mazda's top seller (and one of our 10Best winners) is now firmly embedded the top 25 overall. Its sales declined just 5.3 percent in 2020, a smaller dip than many competitors.
CX-5 Specs and Info
20. Subaru Outback (153,294 units sold)
The Outback is the only station wagon that sells in significant numbers in the U.S. Despite a 15 percent decline compared with 2019, it made its way into the top 25.
More on the Outback
19. Subaru Forester (176,996 units sold)
The Forester is the best-selling Subaru model, and its numbers were were only down by 2 percent in 2020. That's an impressive result given that many competitors declined by double digits.
More on the Forester
18. Ford Escape (178,496 units sold)
17. Honda Accord (199,458 units sold)
Sales of the Accord haven't been at their best for some time now, and it declined by 26 percent in 2020. Regardless, we still love this 10Best-winning sedan and recommend it without hesitation.
More on the Accord
16. Jeep Wrangler (201,311 units sold)
Coming off a strong 2019, Jeep Wrangler were somewhat soft in 2020, with a 12 percent decrease overall.
See More of the Wrangler
15. Jeep Grand Cherokee (209,786 units sold)
The Grand Cherokee remains the best-selling Jeep, but its numbers have fallen along with other Jeep models (and most models in the industry, to be fair). Sales were down 14 percent compared with 2019.
Get Info on the Grand Cherokee
14. Toyota Highlander (212,276 units sold)
The Highlander went up several spots in this year's ranking, but it did not quite catch the Ford Explorer to become the best-selling three-row SUV. Sales were down 11 percent overall.
2020 Highlander Specs and Info
13. Ford Explorer (226,217 units sold)
The Explorer is once again the best-selling three-row SUV in America. It was one of the few models to be up this year, as sales rose 21 percent compared with 2019, when Ford was struggling with the initial sales launch of this new model.
Get 2020 Explorer Info
12. Nissan Rogue (227,935 units sold)
There was a time when the Nissan Rogue sat atop the sales chart for non-pickups. But no longer, as it's been far surpassed by competitors such as the Toyota RAV4 and Honda CR-V despite a successful redesign for 2021. Sales were down 35 percent.
Read about the Rogue
11. Toyota Corolla (237,178 units sold)
The Corolla compact sedan and hatchback saw a 22 percent decrease in sales compared with 2019.
All the Corolla Info
10. Toyota Tacoma (238,806 units sold)
The smaller of Toyota's two pickups is more popular by far than its Tundra big sibling. The Tacoma dropped only 4 percent compared with 2019.
Take a Look at the Tacoma
9. GMC Sierra (253,016 units sold)
The Sierra had a relatively strong year, even more so than its Chevy Silverado stablemate. It was one of the few bright spots in the industry, with sales going up 9 percent compared with 2019.
More on the Sierra 1500
8. Honda Civic (261,225 units sold)
The Civic was down 20 percent through 2020, which is less of a decrease than its competitor the Toyota Corolla, which was down 20 percent.
More on the Civic
7. Chevrolet Equinox (270,994 units sold)
Sales of the Equinox were down 22 percent in 2020, and GM also announced that the recently revealed 2021 update for this crossover will now be delayed until the 2022 model year.
More on the Equinox
6. Toyota Camry (294,348 units sold)
The Camry retained its best-selling passenger-car title this year, despite a 13 percent drop in 2020. That's less of a decline than its arch-rival the Honda Accord experienced.
What You Need to Know about the Camry
5. Honda CR-V (333,502 units sold)
The recently updated CR-V experienced a 13 percent drop in sales in 2020. A new hybrid model went on sale in March.
CR-V Specs and Info
4. Toyota RAV4 (430,387 units sold)
The RAV4 somehow managed to pull off an increase through the first three months of 2020, but ended up with a slight decrease of 4 percent once all the numbers were tallied. It was still the best-selling non-pickup in the country by a wide margin.
See More RAV4 Stuff
3. Ram Pickup (563,676 units sold)
Pickup trucks were among the few models to increase in sales in the first quarter, but the later quarters were not as strong for Ram's full-size lineup, which decreased 11 percent compared with 2019. After beating out the Chevy Silverado in 2019 sales, the Ram went back to its typical third-place spot in 2020.
Read More on the Ram 1500
2. Chevrolet Silverado (586,675 units sold)
Chevy somehow managed to move more Silverados in 2020 than it did in 2019. By the end of the year, the light-duty model was down just 0.5 percent while the heavy-duty trucks increased by 14 percent.
Closer Look at the Silverado 1500
1. Ford F-150 (787,422 units sold)
Ford's perennially best-selling pickups did not increase its sales in 2020. But they managed to hang on to the top spot despite an 12 percent decrease compared with 2019.
What You Need to Know about the F-150
Best-Selling Vehicles In 2019
This content is created and maintained by a third party, and imported onto this page to help users provide their email addresses. You may be able to find more information about this and similar content at piano.io
Source link