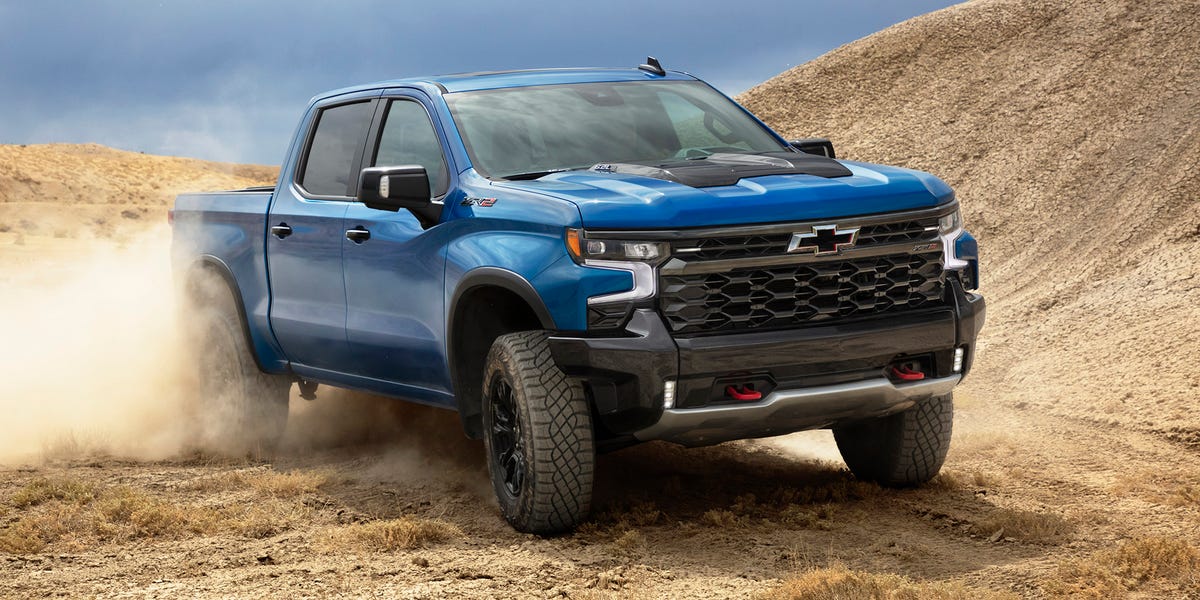 New front fascias, animated headlights, and a 13.4-inch touchscreen are a few of the new features coming to the Chevrolet Silverado 1500 lineup for 2022. The most exciting of these changes, though, isn't hands-free driving tech or an updated electronic shifter—quite the opposite. It's the addition of an off-road-ready, lifted from the factory, mud-qualified Silverado 1500 ZR2 model.
Until now, the list of high-flying pickups included the Ford F-150 Raptor, Ram 1500 TRX, and further down the off-road Scoville scale, just above the dusty Jalapeño, sat the capable but not very spicy Silverado 1500 Trail Boss. The new Silverado 1500 ZR2's most obvious competitors are the Ram 1500 Rebel and the Ford F-150 Tremor. But Chevy's thrown more than just a lifted suspension under the ZR2. Here are the most interesting features on Chevy's wildest full-size truck.
Advertisement – Continue Reading Below
Resting Ditch Face
Taking some obvious design cues from the Chevrolet Suburban and Tahoe Z71, the Silverado ZR2 not only has a better approach angle than the Colorado ZR2, it also beats the approach of new Ford F-150 Raptors with 35-inch tires. If you do end up trading paint with Mother Nature, the large plastic end caps of the front bumper are designed for easy replacement. Bright red recovery hooks above steel-plated off-road armor are synonymous with Chevy's trail stuff like the mid-size Colorado ZR2. This is certainly a more aggressive appearance than what Chevy used on its ZR2 Protoype.
Multimatic Dampers
The secret sauce of the Chevy Colorado ZR2's comfortable paved-road and capable off-road performance lies mostly in the shocks. The Silverado ZR2's Multimatic shocks not only give it more suspension travel than the Silverado 1500 Trail Boss model, the shocks use three separate spool valves to keep up with changes in terrain. To keep up with the shocks, Chevy also installed ZR2-specific coil springs up front and leaf springs in the rear. We can't forecast the Silverado ZR2's ride quality until we've driven it, but this setup shines bright for the Colorado ZR2.
Welcome Lights
Included in the ZR2-specific front fascia are these wing-shaped daytime running lights that have been updated with an animated lighting sequence on approach and exit. This feature is available on 2022 Chevrolet Silverado 1500 LT trims and above, but the ZR2 is the only model that gets the extra LED light crumbs on the grille.
Respect the Flowtie
The Silverado ZR2 has a little 505-hp Camaro Z/28 on its face. The Flowtie was introduced on the 2014 track car to help cool engine and oil temperatures. The ZR2 comes with a 420-hp 6.2-liter V-8 with 460 pound-feet of torque, with a maximum towing capacity of 8900 pounds. Also, if the puddle water is high enough to fill the Flowtie, that's not a puddle. That's a lake.
Must Be 33 Inches to Ride
The Silverado 1500 Trail Boss comes with 32-inch tires, although a quick forum check confirmed big Boss-daddies have gone as high as 34-inches on a stock suspension after removing the mud flaps. Thanks to these larger 33-inchers, the ZR2 is a half-inch taller than the Trail Boss, with more ground clearance. Chevy told us these ZR2-specific Goodyear Wrangler Territory MTs are built for traction and durability, without creating major howling down the highway.
Locking Diffs
Talking yourself into something really stupid (and fun) is only made easier with big tires and lots of ground clearance. The front and rear e-locker differentials on ZR2 models will help you get out. Chevy's Terrain mode also makes it easier to climb over rocks and stumps, with one pedal driving, similar to what will be on the GMC Hummer EV.
Safe Departure
Hidden safely under the rear bumper are the ZR2's dual mufflers. These are specifically designed to help with departure angle and prevent damage to exhaust components, especially when trying to climb out of a rocky situation.
New Guts
The biggest updates to the 2022 Silverado are on the inside. On a truck that's all about big tires, lots of suspension travel, and a large engine, the new 13.4-inch touchscreen infotainment system seems like an obvious improvement. Yes, that's more than an inch larger than what's offered on any current Ford F-series or Ram pickup. The new 12.3-inch digital gauge cluster has added more configurability. You can now shout "Okay Google!" at your Silverado, as Chevy has added Google's voice assistance and maps to their new infotainment system. Wi-Fi and wireless Apple CarPlay and Android Auto are also onboard.
This content is created and maintained by a third party, and imported onto this page to help users provide their email addresses. You may be able to find more information about this and similar content at piano.io
Advertisement – Continue Reading Below
Source link