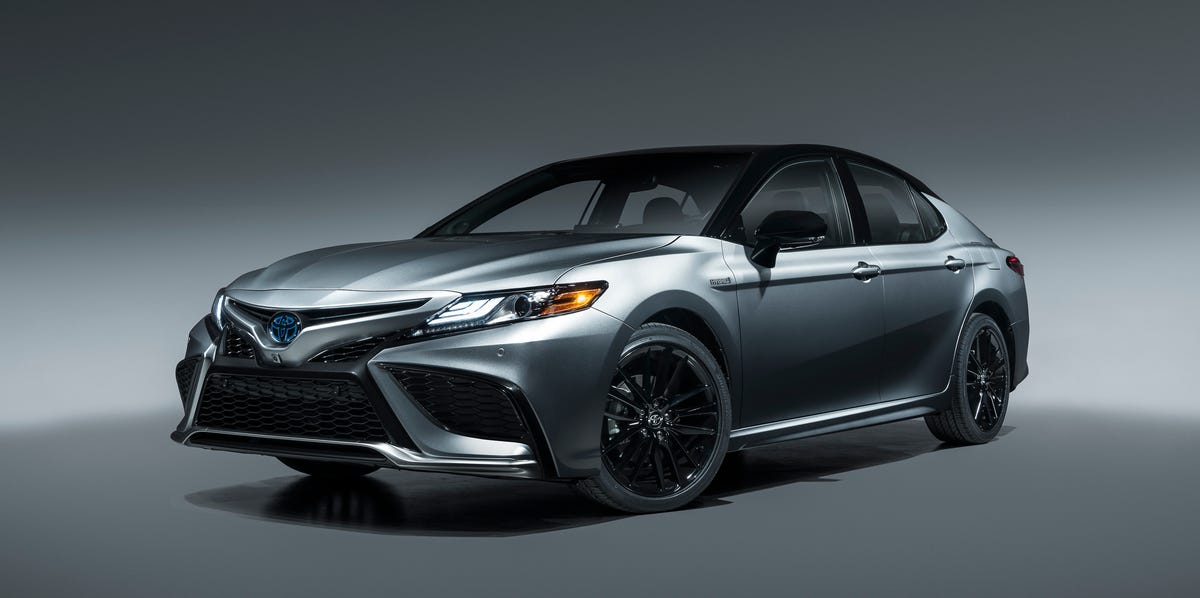 💡
Overview
The Toyota Camry has gone from a fantastic family sedan to anonymous four-door and now back to its former glory. That's right. The Toyota is once again a truly desirable option in a segment that's slumping but still highly competitive. If it weren't for the 10Best dynasty that is the Honda Accord, the Camry would be even more desirable. Still, credit its diverse powertrain platter for its mass appeal. There's a thrifty four-cylinder, an even more frugal hybrid option, and a strong V-6. The best way to experience the latter is with the sport-tuned TRD model, which showcases the Toyota's rediscovered fun factor. Those who simply prefer a stylish and comfy family sedan, with driver assists and popular features galore, will also adore the 2021 Camry.
What's New for 2021?
Toyota only makes small changes to the 2021 Camry lineup. The base L model is now gone, making the LE the cheapest Camry. The sedan's front end also gets revised styling and there's new paint colors as well as wheel designs. Inside, there's new tablet-like touchscreens that measure either 7.0 or 9.0 inches. The sporty XSE model is now available with the hybrid powertrain, and the luxurious XLE gets new leather upholstery. Finally, every Camry receives enhanced driver assists, including technology that better recognizes bicyclists and pedestrians.
Pricing and Which One to Buy
LE: $26,000 (est.)
SE: $27,000 (est.)
XLE: $30,500 (est.)
XSE: $31,000 (est.)
TRD: $32,000 (est.)
We'd select the spiciest Camry of the bunch, which is the tuned-up TRD model. It's only available with the 301-hp V-6 and eight-speed automatic. In addition to its racier body kit—complete with a discrete rear spoiler and a pair of prominent exhaust tips—the sedan sports a retuned suspension that's 0.6 inches lower than on the regular models. Other performance-enhancing features include larger front brake rotors and black 18-inch rims that can be had with all-season or summer tires. The upgrades make the Camry TRD more engaging to drive than the rest of the lineup, even if its cat-back exhaust system doesn't sound as thrilling as its many aerodynamic add-on suggests. While Supersonic Red and a black-painted roof is the most flamboyant paint scheme among the four choices, we'd take ours in White Chill Pearl.
Engine, Transmission, and Performance
The standard four-cylinder engine pairs with a silky eight-speed automatic, but its acceleration numbers are disappointing. A less powerful version of that engine works with a battery and two electric motors to power the Camry hybrid, which is no more exciting to drive than the base powertrain. The real gem of this lineup is the velvety 301-hp V-6 that's available on the XLE and XSE models as well as the TRD variant. We're also happy to say that we no longer hate driving the Camry. It has a controlled ride and surprisingly responsive handling. The steering is pleasantly weighted and feels substantial when cornering and light when maneuvering in parking lots. We found the Camry's brake pedal responsive and not too soft, even in the hybrid, in which it must meld friction with regenerative braking (where the energy from braking is used to recharge the hybrid's battery pack). At lower speeds, however, the hybrid's brake pedal is hypersensitive, making parking maneuvers a bit of a herky-jerky affair.
Fuel Economy and Real-World MPG
The whole Camry lineup performed extremely well in the EPA's tests, and a four-cylinder model did brilliantly in our real-world highway testing. The hybrid's upper trims sacrifice some efficiency at the altar of luxury, however. A four-cylinder Camry SE returned 45 mpg in our highway test, beating its own EPA rating by 6 mpg—and making it the most economical nonhybrid car we've ever tested. It even beat the Camry XLE hybrid we tested by 1 mpg.
Interior, Comfort, and Cargo
We've driven the Camry in both top-level XLE guise and in its more plebeian SE trim. Both are spacious and comfortable, and the XLE is downright luxurious. However, there's a serious gap in material quality between the entry-level models and the more expensive versions, and the center part of the dashboard left some of us cold with its uninspired design. The Camry is a large sedan, and there's plenty of cargo space and interior storage in both its trunk and in its cabin with the rear seat folded. It's not the best in every storage category, but overall, it's thoroughly competitive. Toyota relocated the Camry hybrid's battery from the trunk to beneath the rear seats, so hybrid owners don't have to sacrifice carrying capacity for the extra mpg.
Infotainment and Connectivity
Toyota's touchscreen infotainment system—called Entune 3.0—is standard across the Camry lineup, with an enhanced version available as an option. Entune has loads of features and responded reasonably well to user inputs in our tests, and Apple CarPlay and Android Auto compatibility are standard.
Safety and Driver-Assistance Features
While the 2021 Camry hasn't been crash tested by the National Highway Traffic Safety Administration (NHTSA) or the Insurance Institute for Highway Safety (IIHS). However, the 2020 Camry earned a five-star NHTSA rating, and it was named an IIHS Top Safety Pick+. We continue to applaud Toyota's decision to make driver-assistance technology standard across its lineup. Key safety features include:
Standard forward-collision warning and automated emergency braking
Standard lane-departure warning and lane-keeping assist
Standard adaptive cruise control
Warranty and Maintenance Coverage
While rivals such as the Hyundai Sonata and the Kia Optima have longer warranty periods in this class, Toyota holds its own with two years of complimentary scheduled maintenance.
Limited warranty covers three years or 36,000 miles
Powertrain warranty covers five years or 60,000 miles
Complimentary maintenance is covered for two years or 25,000 miles
More Features and Specs
This commenting section is created and maintained by a third party, and imported onto this page. You may be able to find more information on their web site.
Source link