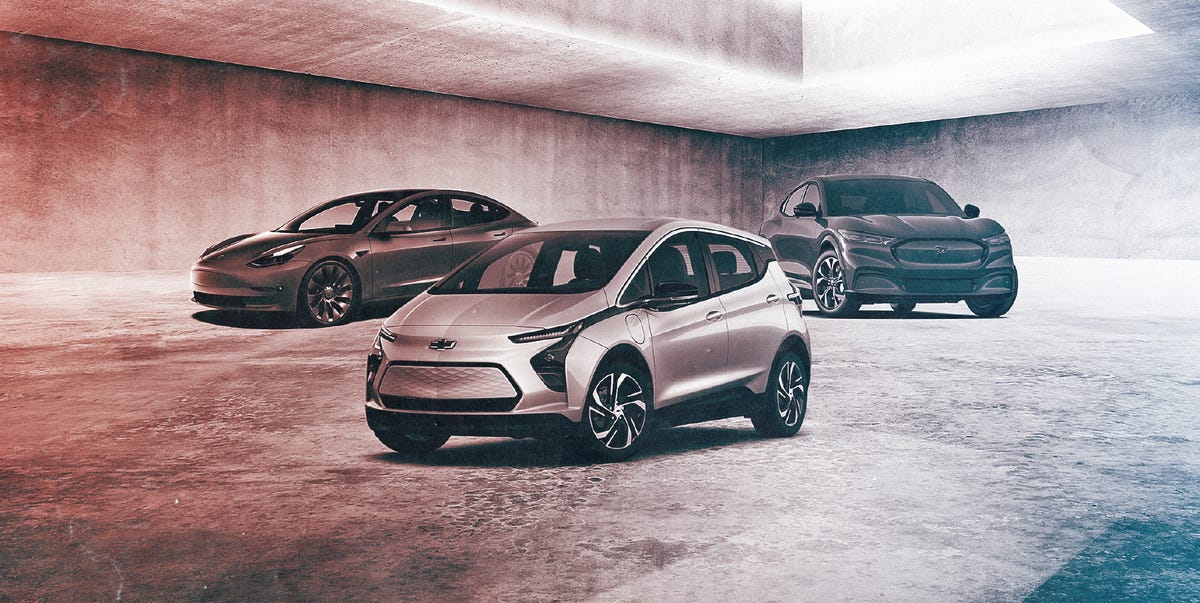 After almost a decade of hype, there are some signs that the electric-vehicle revolution is finally coming to pass. There were 19 EVs for sale in the United States in the first quarter of 2021, plus many more hybrids and plug-in hybrids. Almost every concept that graces a showroom floor (or, lately, an over-produced livestream) has an electric angle. Automakers are promising to launch dozens of EVs over the next decade. Governors are promising to ban the sale of gas-powered vehicles. And improvements in charging infrastructure and battery technology mean that the vision of an electrified future is clearer than ever.
But there's still one problem: in order for EVs to change the world, people are going to have to start driving them. To track the progress on that score, we've created this list of the 12 best-selling EVs on the market for the first quarter of 2021. Not all carmakers provide sales data for their EVs, especially in cases where the electric models share a nameplate with a gas or hybrid model. It's possible that one or more of the vehicles in that category (which includes the BMW i3, the Kia Soul Electric, and the Polestar 2) would appear on this list if we knew the numbers, but our guess is that if the numbers were big we would hear about them.
EVERY EV SOLD TODAY | FUTURE EVS | MODEL S VERSUS TAYCAN TURBO S
12. Hyundai Ioniq Electric (1022 units sold)
Hyundai's Ioniq lineup includes a hybrid and plug-in hybrid in addition to the EV fêted here. The 1022 new Ioniq Electrics sold in the first half of 2021 represent a 251 percent increase compared to the blighted first half of 2020. The Ioniq EV has a relatively small 38.3 kWh battery pack, and its estimated range of 170 miles is on the small side, too. Shoppers who like the Ioniq's looks but need more range are in luck: The plug-in hybrid has 29 miles of EV range and earns 52 mpg even after its battery pack has been depleted.
Base price: $34,250
EPA Fuel Economy combined/city/highway: 133/145/121 MPGe
EPA Maximum EV range: 170 miles
11. Hyundai Kona Electric (4346 units sold)
The Kona Electric had more than four times as many customers in the first half than its stablemate, the Ioniq. The Kona has a larger battery pack than the Ioniq, providing an estimated 258 miles of range compared to the Ioniq's 170 miles. And it's based on the popular Kona crossover, making it more attractive to the growing portion of the buying public that's hungry for utility vehicles. Word to the wise: the driver may sit higher in the Kona than the Ioniq, but the hatchback has more cargo space than the crossover, with 23 cubic feet of space in the back compared to the Kona's 19 cubic feet.
Base price: $38,575
EPA Fuel Economy Combined/city/highway: 120/132/108 MPGe
EPA Range: 258 miles
10. Tesla Model S (5155 units sold)
The Model S has fallen several places on this list since the first quarter of this year, when 4155 brought Tesla's large sedan into their homes. This quarter, the S had just 1000 takers. The Model S was the first mainstream ambassador for Tesla's groundbreaking electric vehicle and automated driving technologies, but interest in the Model S cooled as buyers awaited the S's first major redesign, and may have waned even further when CEO Elon Musk announced that the longest-range Model S would have 412 miles of range per charge compared to a previously promised 520 miles. Mixed-to-poor reviews of the S's yoke (not a round) steering wheel may also be playing a role in the car's lackluster sales
Base price: $81,190
EPA Fuel Economy combined/city/highway: 117/121/112 MPGe (Long Range Plus)
EPA Range: 402 miles (Long Range Plus)
9. Porsche Taycan (5367 units sold)
Porsche builds some of our very favorite cars, so we weren't surprised it built an exceptional EV. But we were pleased. And we're also pleased that other people seem to be excited about Porsche's first electric offering, too. The Taycan Turbo S can get to 60 mph in 2.4 seconds, and all Taycans have 800-volt charging infrastructure that should allow them to suck in electrons faster than any other EV on the road (though charging speeds will depend upon the availability of charging stations with architecture as hefty as the Taycan's). Before you start window-shopping a Taycan, be prepared: the upper trim levels approach $200,000.
Base price: $81,250
EPA Fuel Economy combined/city/highway: 79/76/84 MPGe (RWD)
EPA Range: 200 (RWD) 227 (4S Perf Battery Plus) miles
8. Tesla Model X (6206 units sold)
Sales of the Model X, like those of its platform-mate, the Model S, have slowed somewhat in the lead-up to the release of a redesigned version of the car. The X will get the same interior treatment as the S, which includes a yoked steering wheel and does not include a traditional gear shift (Tesla's Elon Musk says the X and S will "guess" at drive direction based on input from the outward-facing cameras and the navigation system). The new Model X was expected to start rolling off the line sometime in the first quarter of 2021, but it's now delayed until at least this fall.
Base price: $91,190
EPA Fuel Economy combined/city/highway: 105/109/101 MPGe (Long Range Plus)
EPA Range: 371 miles (Long Range Plus)
7. Volkswagen ID.4 (6230 units sold)
The ID.4 isn't technically Volkswagen's first U.S.-market EV (remember the e-Golf?), but it seems poised to make a bigger impact than its forerunners. The ID.4 had only been on sale in the U.S. for a few days when first quarter sales were tallied and it eked onto our best-sellers list in 11th place. With a few more months under its belt VW's electric crossover has leapfrogged several more-established entrants on this list. Volkswagen says owners can expect up to 260 miles of range from the ID.4, which has rear-wheel drive and 201 horsepower in its launch edition. The crossover will eventually be available with all-wheel drive and 302 horsepower.
Base price: $41,190
EPA Fuel Economy combined/city/highway: 91/104/89 MPGe
EPA Range: 250 miles
6. Audi e-tron and e-tron Sportback (6884 units sold)
Audi's e-tron electric crossover and its flashy-looking twin, the e-tron Sportback found 6884 homes in the first half of the year. The e-tron channels Audi luxury into an electric package with a two-motor all-wheel drive system with 355 horsepower (and, in short bursts, up to 402 hp). The e-tron can travel an estimated 222 miles on a full charge; the e-tron Sportback can go 218 miles. The price is high, but while many EV interiors are swathed in cheap plastic, the e-tron's interior can feature leather and real wood.
Base price: $66,995
EPA Fuel Economy combined/city/highway: 78/78/77 MPGe
EPA Range: 222 miles
5. Nissan Leaf (7729 units sold)
On paper, the Nissan Leaf is not one of the most desirable EVs on the market. It's priced in the same ballpark as a Chevrolet Bolt but offers only an estimated 149 miles of driving range with the standard battery pack—the Bolt has 259 miles of estimated range as standard. The Leaf isn't as attractive as many of the other EVs on this list and suffers from a purposefully weird interior layout. But the Leaf is also something of an institution in the EV world. When it first entered the U.S. market as a 2011 model, it was one of only a few EVs on the market. It has improved since then, but its competitors have improved faster.
Base price: $32,620
EPA Fuel Economy combined/city/highway: 111/123/99 MPGe (40 kWh)
EPA Range: 149 (40-kWh) 226 (62-kWh S) miles
4. Ford Mustang Mach-E (12,975 units sold)
The Mach-E isn't Ford's first EV, but it is the first Ford EV to inspire an excited following, or to feature on any list of best-sellers. The Mach-E is available in a handful of configurations, including with rear- or all-wheel drive and with up to an estimated 305 miles of driving range. The Mach-E is designed in the style of the Mustang and drives like it was engineered by people who care. An extra-sporty version, the Mach-E GT, is on its way. The GT will have 480 horsepower and Ford says it will hit 60 mph in 3.8 seconds. We named the Mach-E as our EV of the Year in 2021.
Base price: $43,995
EPA Fuel Economy combined/city/highway: 100/105/93 MPGe (RWD)
EPA Range: 230 (RWD) 305 (California Route 1 RWD) miles
3. Chevrolet Bolt EV and EUV (20,288 units sold)
The Chevrolet Bolt is newly redesigned and has just welcomed a new member to its family in the form of the Bolt EUV, a crossover. It looks like customers are excited about the changes; sales of the Bolt are up 142 percent in the first six months of this year compared to the first half of last year (though that period included the worst sales months of the pandemic). The Bolt has 200 horsepower and an estimated 259 miles of range. DC fast-charging capability, which allows the Bolt to gain 100 miles of range every 30 minutes at Level 3 charging stations, is optional.
Base price: $37,495
EPA Fuel Economy combined/city/highway: 118/127/108 MPGe
EPA Range: 259 miles
2. Tesla Model 3 (51,510 units sold)
It's been almost four years since the Model 3 first hit the road, but it's still remarkable for its combination of class-leading range and a relatively low price. The Model 3's minimalist design and massive touchscreen control center set trends for the rest of the EV market, and customers have flocked to the car. But the Model 3's massive popularity has taken a hit in the last year. The 51,510 sales that Tesla notched in the first half of 2021 represented a 12 percent decline compared to the first half of last year. What's to blame for the big change in interest? Keep reading to find out.
Base price: $38,690
EPA Fuel Economy combined/city/highway: 142/150/133 MPGe (Standard Range Plus RWD)
EPA Range: 263 (Standard Range Plus RWD) 353 (Long Range AWD) miles
1. Tesla Model Y (76,429 units sold)
The Tesla Model Y went on sale last summer and quickly eclipsed demand for all of Tesla's other offerings. In fact, more people bought Model Ys in the first half of the year than bought all other non-Tesla EVs combined (that doesn't include the EVs sold by companies that do not provide public sales data on their EVs, such as Kia and Polestar). And the Y was incredibly close to unseating the Honda Pilot as the 25th-best-selling vehicle on the market as a whole The Model Y drives and looks like a bloated Model 3. It can come with a two-seat third row but beware that the seats are cramped, and you'll sacrifice cargo space. The good news: The Model Y Long Range has an estimated 326 miles of range, and even the entry-level model can go an estimated 244 miles between charges.
Base price: $41,190
EPA Fuel Economy combined/city/highway: 129/140/119 MPGe (Standard Range RWD)
EPA Range: 244 (Standard Range Plus RWD) 326 (Long Range AWD) miles
Every New Electric Vehicle Model for Sale in the U.S.
This content is created and maintained by a third party, and imported onto this page to help users provide their email addresses. You may be able to find more information about this and similar content at piano.io
Source link