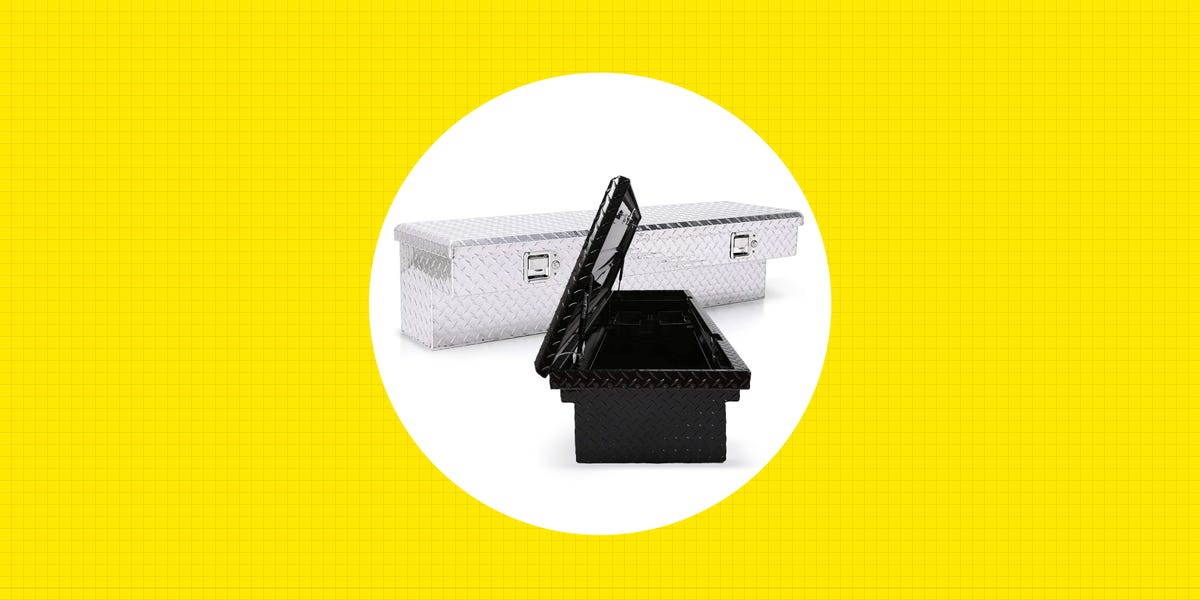 If you're working out of your pickup—or you just like schlepping your tools wherever you go—a locking truck toolbox is a must-have. It keeps your tools dry, secure, and within arm's reach when you need them. They come in all different sizes and shapes for different cargo areas, including tie-down/mount kits. These are the most popular examples on Amazon, and they start at less than $100.
Top-Rated Trailer Hitch Accessories to Buy
---
Arksen Aluminum Diamond Plate Toolbox
This diamond-plate box measures 30 inches in width (though the company does sell smaller ones) and is made from lightweight aluminum. It comes with a lock and keys and features two flip-out handles for easy transportation.
Black Aluminum Heavy Duty Toolbox
This toolbox measures 39 inches across and weighs about 22 pounds. The door features an overhanging lip that stops water from getting inside, and a built-in lock ensures all items are kept safe.
SwingCase Truck Bed Storage Box
This particular toolbox is made for 2002–2018 Ram trucks, but the company makes them for every model. This box sits over the wheel wells in the bed—utilizing a rarely used space—and swings out when you need to use it.
Weather Guard Black Aluminum Saddle Box
$988.60
$840.00 (15% off)
This big box will span the width of your truck bed at 72 inches across. It weighs 50 pounds—to be fair, you probably won't be moving it often—and is lockable and waterproof.
TruXedo TonneauMate Toolbox
This toolbox sits under a tonneau cover while still leaving some space under the box, which allows you to use the full length of the truck bed. The box itself can also support heavy loads, but certain applications require extra clamps.
24-Inch Aluminum Plate Toolbox
YAHEETECH
This lockable aluminum box measures 26 by 20 by 19 inches and has a T-handle drop-down front cover. Rubber seals keep out dust and moisture, and it weighs about 21 pounds.
Low-Profile Truck Toolbox
This black aluminum box is 74 inches wide and weighs 55 pounds. It features stainless-steel latches with locks and a closed-cell foam gasket to keep rain out.
Pickup Truck Storage System
These "boxes" from Decked are for the more serious contractor. It's a system that takes up about half of your bed depth for a full, sliding toolbox tray that will fit even long or oddly shaped tools. This example is for a Ford, but Decked makes a system for all truck brands.
Black Steel Underbody Truck Box
This toolbox can be mounted on a flat surface or under the bed to save space. It's 18 by 18 by 36 inches and is powder coated in black to protect against moisture. It's also lockable and sealed with rubber gaskets.
JGR Pickup Truck Toolbox Tie-Downs
These small aluminum blocks eliminate the need for drilling holes when installing a truck-bed toolbox. No one wants to drill holes in their truck. 
ABN Truck Bed Toolbox Clamps
These clamps also let you mount your toolbox without drilling holes. Just slip the J-clamp anchor around the truck-bed lip, allowing the grooved face plate to press against the bed rail's flat underside, then tighten the toolbox bolt.
This content is created and maintained by a third party, and imported onto this page to help users provide their email addresses. You may be able to find more information about this and similar content at piano.io
Source link