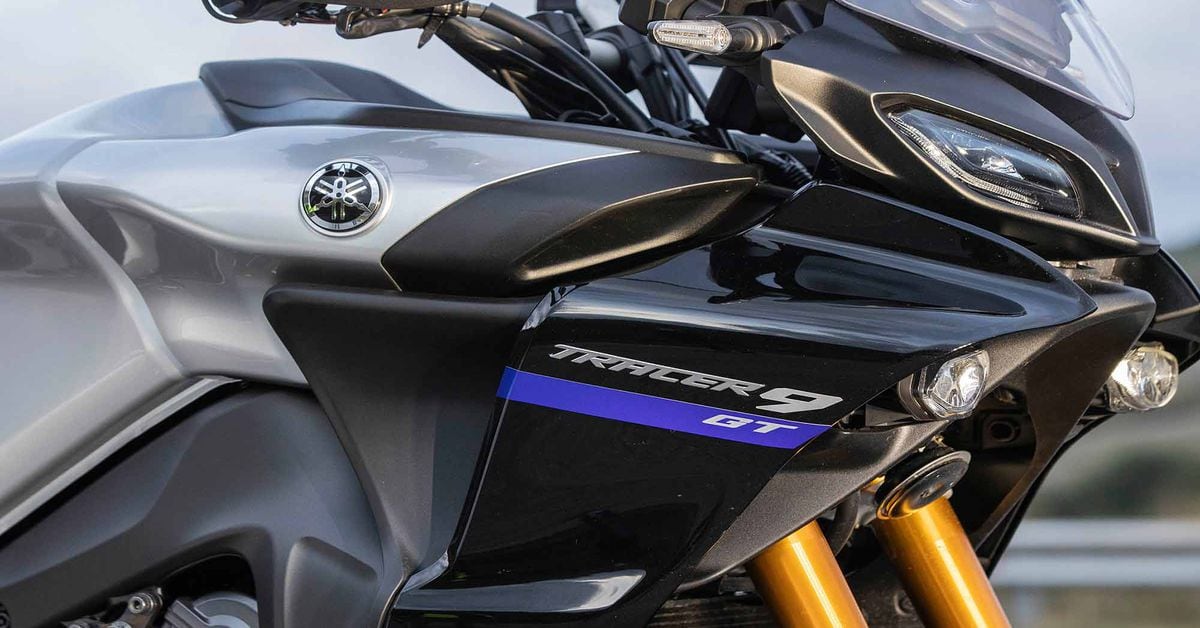 The 2021 Yamaha Tracer 9 GT. There's no room for zeros here. (Yamaha /)
After announcing the MT-09′s massive redesign, we figured it would be a model year or so before Yamaha's three-cylinder Tracer 900 sport-tourer received associated updates. But the Iwata factory left us little time to speculate or daydream—sort of the opposite approach it took with the Ténéré 700 (zing!). For 2021, Yamaha is introducing the all-new Tracer 9 GT, featuring new bodywork, engine, chassis, adjustable ergonomics, hard luggage, and up-to-date features like semi-active suspension and a six-axis IMU.
While the outgoing Tracer 900 GT had an MSRP of $12,999, the new model, with all its bells and whistles, has an MSRP of $14,899. This still makes it considerably less expensive than bikes like the Kawasaki Versys 1000 LT and the Ducati Multistrada 950 S. If that price tag seems steep, read on. The new 9 has a ton of up-spec features.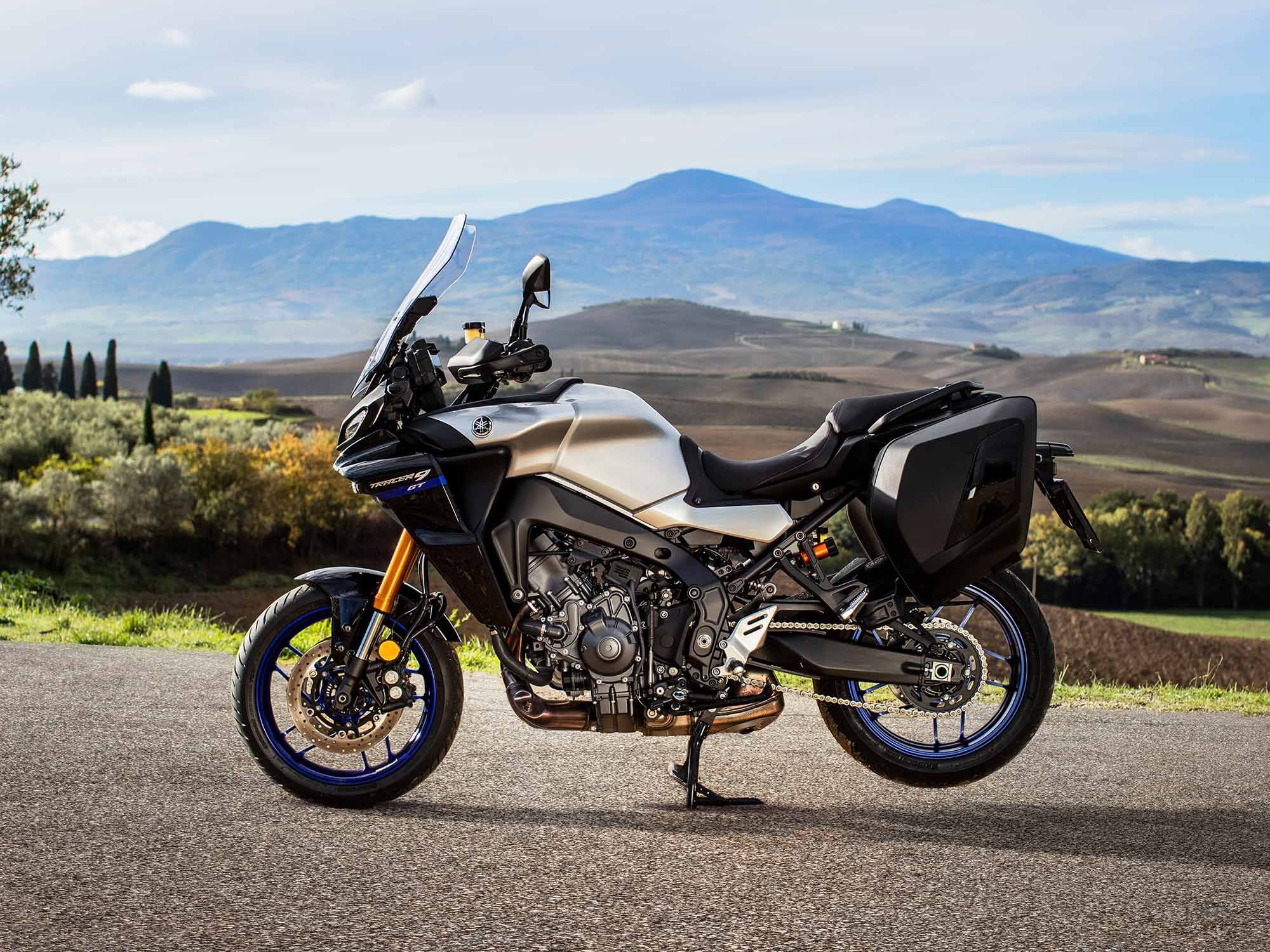 Yamaha claims the Tracer 9 GT achieves 49 mpg. (Yamaha /)
The Tracer 9 GT does away with the zeroes in its name (might we expect a Tracer 7 to make its way stateside in the future, Yamaha?) and inherits the new 890cc three-cylinder engine from the brand-new MT-09 and MT-09 SP. The engine has new pistons, crankshaft, camshafts, con-rods, and crankcase. It also has a new fuel delivery system for improved combustion efficiency, a new intake system, a slip-assist clutch, and revised transmission gear ratios.
Yamaha says the all-new cast aluminum frame has thin-section casting of only 1.7mm, compared to the 3.5mm (at the thinnest section) of the outgoing model. It also has a new aluminum swingarm and spin-forged aluminum wheels. Like the MT-09, the Tracer gets a Nissin radial master cylinder and cornering ABS offering two levels of intervention. Up front there are twin 298mm discs; a 245mm disc brings up the rear. The claimed wet weight of 485 pounds is 11 pounds heavier than the outgoing model, but includes 0.2 gallon additional fuel capacity (total 5 gallons, up from 4.8). Given the added tech, a bit of extra heft is excusable.
Cornering lights activate when speed is above 3 mph and lean angle is greater than seven degrees. Brightness increases with additional lean angle. (Yamaha /)
Chief among the new technology suite is a six-axis IMU managing traction control, slide control, wheelie control, cornering ABS, and the KYB semi-active suspension. The system, dubbed KYB Actimatic Damper System (KADS), optimizes suspension setting in next-to-real time. The suspension can be set in two modes, A-1 (sport) and A-2 (comfort), to accommodate rider preferences and road conditions. The system controls rebound and compression damping in the front fork and rebound damping in the rear.
The Tracer features the same YZF-R1-derived ride-by-wire system as the new MT-09, using a magnetic throttle position sensor. Yamaha's drive modes (or "D-modes") vary throttle response to suit rider needs. For 2021, Yamaha increased the number of modes from three to four for greater flexibility. Heated grips, full LED lighting, cruise control, and an up/down quickshifter are standard.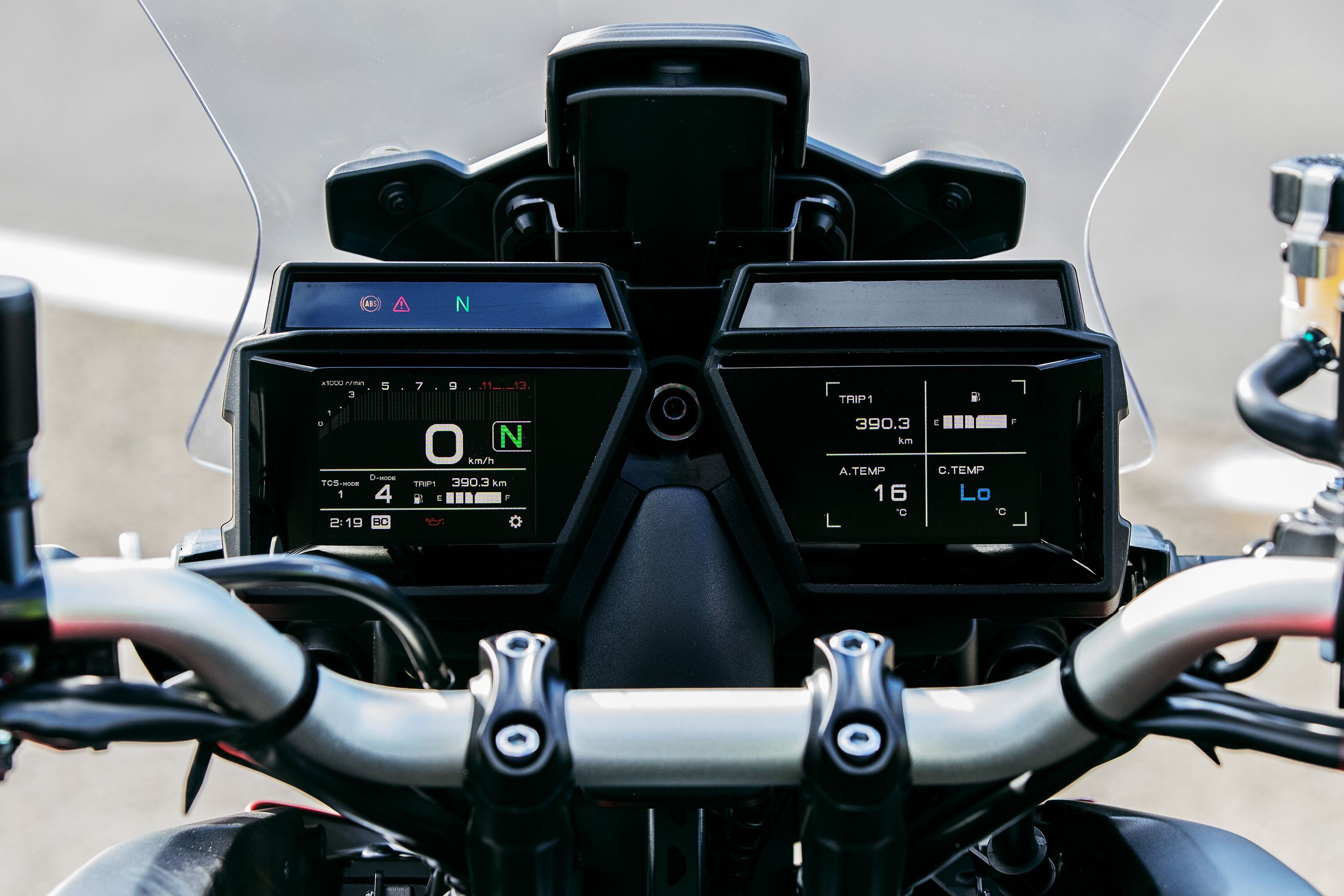 New dual TFT dash. (Yamaha/)
While other manufacturers tie rider-aid settings to preset ride modes, Yamaha continues to offer adjustability in a slightly different manner. There are no ride modes, but as previously outlined, riders can choose between four throttle response settings (those D-modes), two levels of ABS intervention, and two suspension settings. Traction control, slide control, and wheelie control can also be adjusted and/or disabled.
Curiously, the Tracer 9 has two 3.5-inch TFT displays. We found some information displayed on the outgoing model's unit to be a little difficult to read at a glance, so it will be interesting to see if the dual screens address the problem.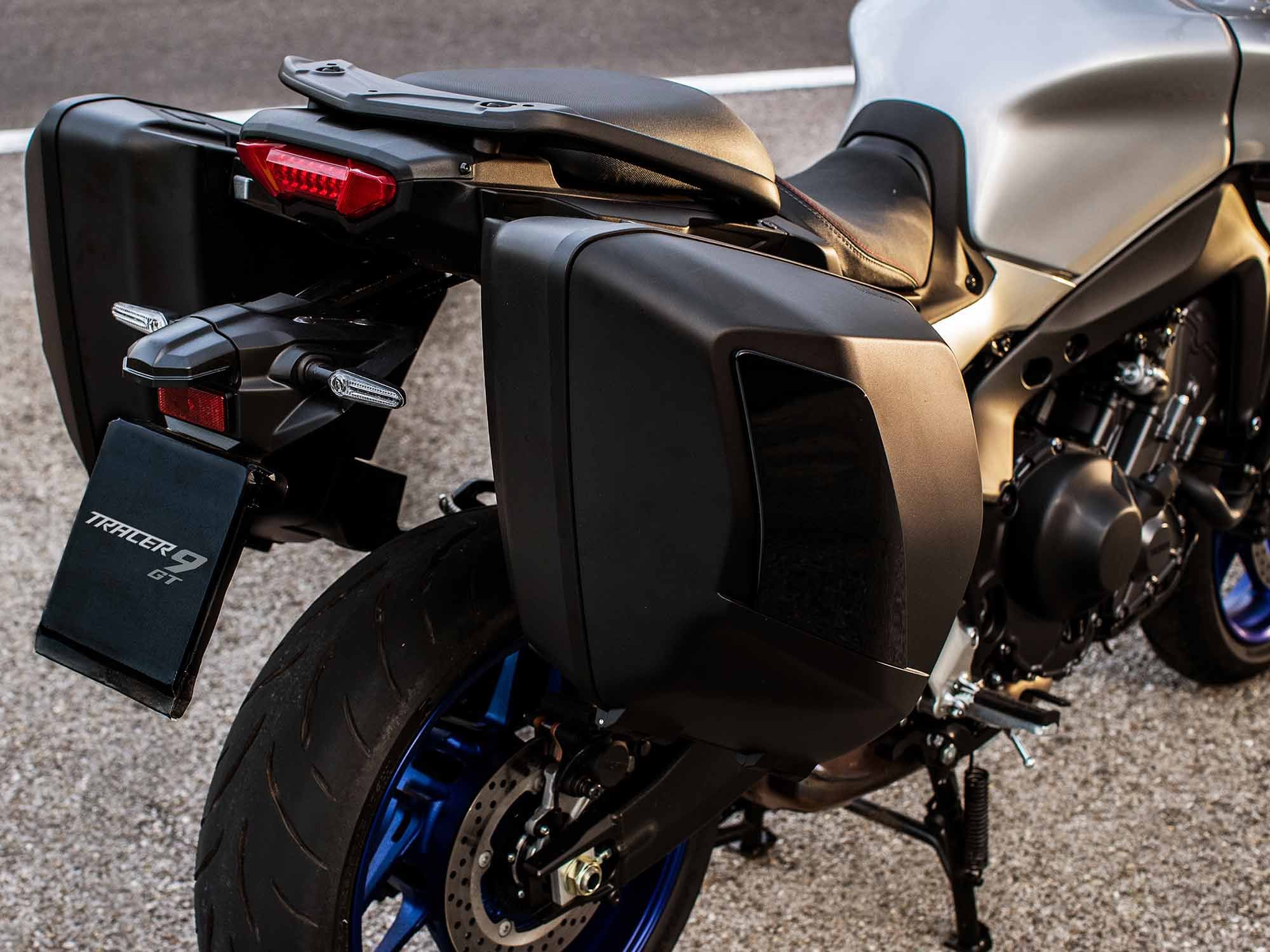 The side cases on the Tracer 900 GT were on the small side, but Yamaha claims the new bags will each hold a full-face helmet. (Yamaha /)
Yamaha has also baked in some nice ergonomic adjustability. The large windscreen can be adjusted across ten 5mm increments. The handlebar clamps can be adjusted to move the bars 9mm forward and 4mm higher. Footpeg mounts can be raised 14mm higher as well as 4mm rearward. The two-position seat can be raised from 31.9 inches to 32.5 inches.
The Tracer 9 GT comes equipped with hard luggage. Yamaha claims that each side case can fit a full-face helmet, which will make owners of the current Tracer 900 GT envious.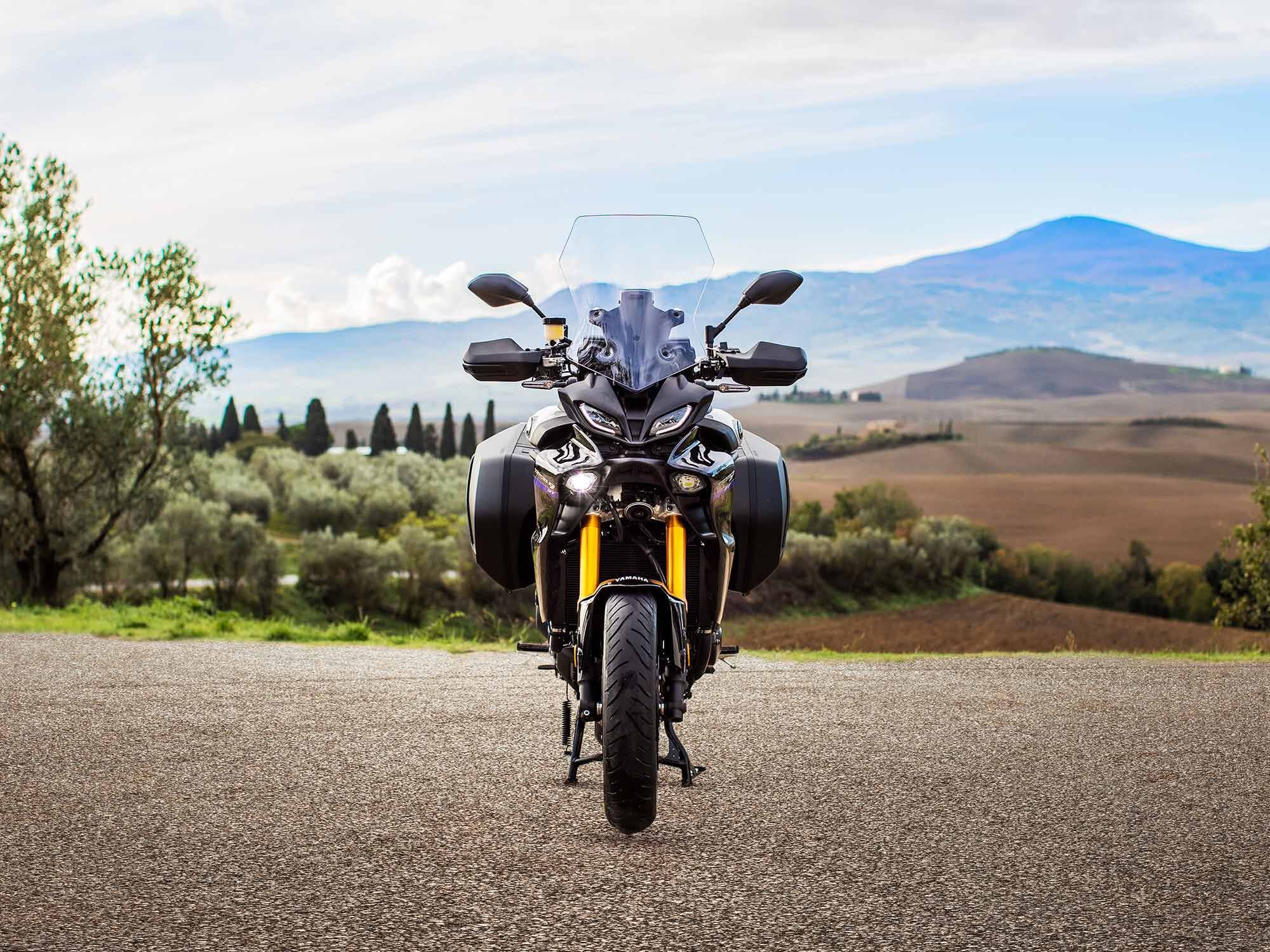 New design definitely reads Yamaha. And check out that tall windscreen. (Yamaha /)
The Tracer 9 GT occupies an important niche for riders who like the sit-up ergos of ADV bikes, but want a pure streetbike with 17-inch wheels. One doesn't have to go all-in on the ADV life of dual sport lids, Klim gear, and skid plates to enjoy the ergonomic benefits popularized by the off-road set.
There will be no base-model Tracer 9 for 2021. Expect the Tracer 9 GT to make its way to US dealerships in March.
We Thank To Our Readers For Your All Contributes. We Still Seek Your Support In Pandemic CoronaVirus.
Donate Bellow For Better Future
[charitable_donation_form campaign_id=57167]