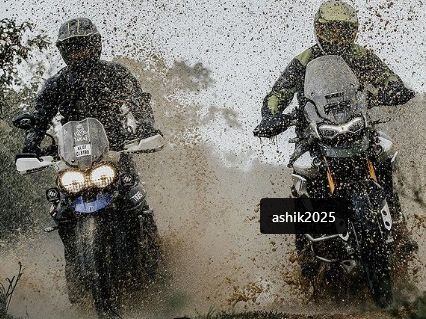 Triumph has announced it's making a move into the off-road market with a range of motocross and enduro machines. (Triumph Motorcycles/)
Triumph has embarked on perhaps its biggest new endeavor since John Bloor revived the firm more than 30 years ago—it's diving into a completely new market by entering the motocross and enduro arena with a whole range of entirely new machines.
The firm has taken the lid off the project by revealing it's signed two of the biggest names in off-road riding, Ricky Carmichael and Iván Cervantes, to help develop the prototype bikes and prepare the firm for its entry into off-road racing.
At the moment, details of the bikes themselves are scant. Triumph has confirmed that "development is well underway on a comprehensive range of all-new motocross and enduro motorcycles" but said nothing about their capacities or technical makeup. Those details are planned to be revealed over the next few months as the firm builds up to the launch of the first machines.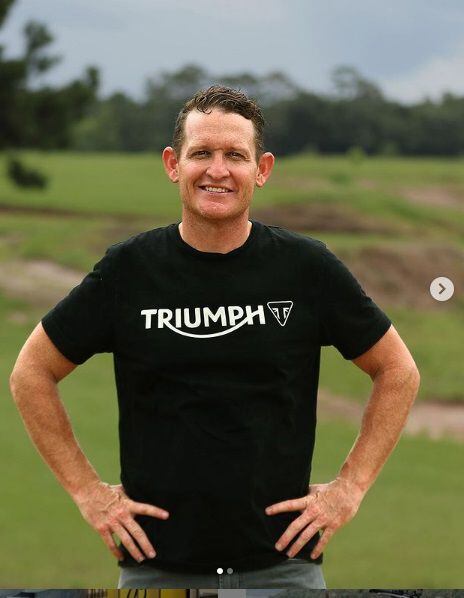 The company has tapped motocross great Ricky Carmichael to help with development of the all-new machines. (Triumph Motorcycles/)
The move into motocross and enduro bikes clearly targets the US market, where sales of off-highway models have been soaring over the last 18 months. Motorcycle Industry Council figures show that in 2020, despite—or perhaps due to—the coronavirus pandemic, off-highway motorcycle sales rose 46.5 percent compared to 2019, and the trajectory has continued into 2021 with first quarter off-highway sales up a further 45.4 percent.
It makes for a tempting prospect for bike manufacturers. As well as the booming sales, off-road machines have fewer legislative hurdles to jump on their way to production and there's usually a reduced expectation from customers in terms of warranty coverage.
But Triumph's interest in the North American powersports market isn't a new thing; the firm has explored the idea of off-road bikes in the past and came close to launching its own line of side-by-sides and ATVs a few years ago. Back in 2014 the company came within months of officially launching a side project, Trident Powersports, that was intended to focus on US-market leisure and off-road vehicles. The initial offering was intended to be a side-by-side, complete with a 4WD transmission and powered by a three-cylinder engine. Development was nearly complete, Triumph had created and trademarked the "Trident Powersports" badge and logo, and even launched a website for the project before calling the whole thing off.
The latest move, with the announcement of "all-new" models, suggests Triumph is developing the upcoming motocross and enduro machines from the ground up rather than buying in technology from elsewhere. The firm does have a deal with Indian company Bajaj to cooperate on the development of a new range of mid-capacity road models, and Bajaj is a major shareholder in KTM, but there's no indication at the moment that Triumph will source engines or other components from a rival.
The new motocross and enduro project clearly has closer ties with Triumph's core road bike offerings and the company's heritage, so there's no need for a separate sub-brand. On announcing the project, Triumph CEO Nick Bloor said: "Today's announcement marks the beginning of a new chapter for the Triumph brand, which everyone at Triumph is incredibly excited to be part of. We are 100 percent committed to making a long-lasting impact in this highly competitive and demanding world, with a single-minded ambition to deliver a winning motorcycle lineup for a whole new generation of Triumph riders."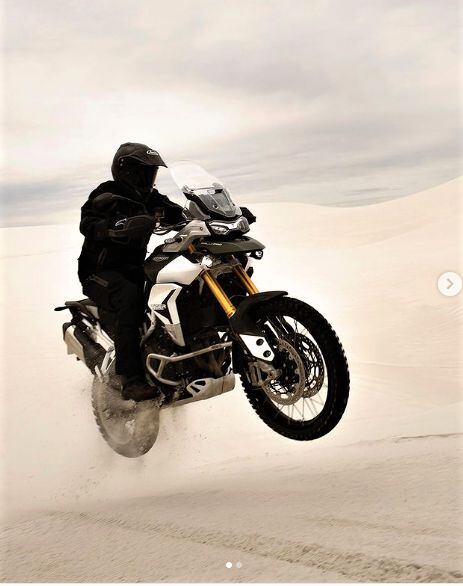 Details on the new bikes themselves are sketchy but there's no questioning the wealth of experience behind the scenes. (Triumph Motorcycles/)
"I am thrilled to announce that I am joining the Triumph family and even more excited to be a part of their new endeavor into the off-road product category" said Ricky Carmichael, who won 10 motocross championships and five supercross titles during his pro career. Carmichael might have retired from two-wheeled competition, but clearly brings a wealth of experience to the project with his 150 career wins. He said: "This is an incredible opportunity for me to join this historic brand, and I am honored and humbled to be a part of the development and release of their off-road motorcycles. Building something from the ground up is something that really is intriguing to me at this stage of my career. What is impressive to me is Triumph's dedication, and passion to develop a top-of-the-class product. Everyone that I have been involved with this project, from the engineers, design groups, R&D department, etc., have shown extreme passion for what they are doing and that is a recipe for success and something that I love being a part of. We all share that same passion, and that's to be the best.
"Not only are these exciting times for me, but it's an exciting time for the off-road industry to be adding another brand to the mix…  I can't wait to see the reactions when these models hit the dealer's showroom floors."
Spanish motocross, enduro, and rally rider Iván Cervantes will also complement the development process with his areas of expertise. (Triumph Motorcycles/)
Iván Cervantes, who took five national Spanish motocross titles before moving to enduro and the world stage, earning multiple titles before turning his focus to the Dakar Rally, added: "I have loved Triumph motorcycles right from being a small kid, seeing them in films and on television. So to be working with Triumph from the beginning of this project is an amazing opportunity for me, not just because it is working with one of the world's greatest motorcycle brands but also for being part of building something from zero. It is a dream come true for any racer!
"Like me, everyone I am working with at Triumph is focused on making the bikes the best they can be. I cannot wait to see the bikes competing at a world level, but I also look forward to when I can stand in a Triumph dealer and know I was part of this very special project."
Given Triumph's ties to past off-road machines, Cervantes should have an ample platform from which to build. (@25IvanCervantes25/)
Source link