Riders on air-cooled Harley-Davidson motorcycles line up for practice at Chuckwalla Valley Raceway. (Justin George/)
Following the successful King of the Baggers Race last October, a new race series has just been announced: the Bagger Racing League. This past Monday, more than 100 Harley-Davidson and V-twin riders met at SoCal's Chuckwalla Valley Raceway for a trackday, but this day at the races would prove to be only the beginning. Formed by many of the same teams that were behind the first race of its kind at Laguna Seca last fall, the Bagger Racing League will be a V-twin-centered series of events outside of the continued MotoAmerica King of the Baggers series.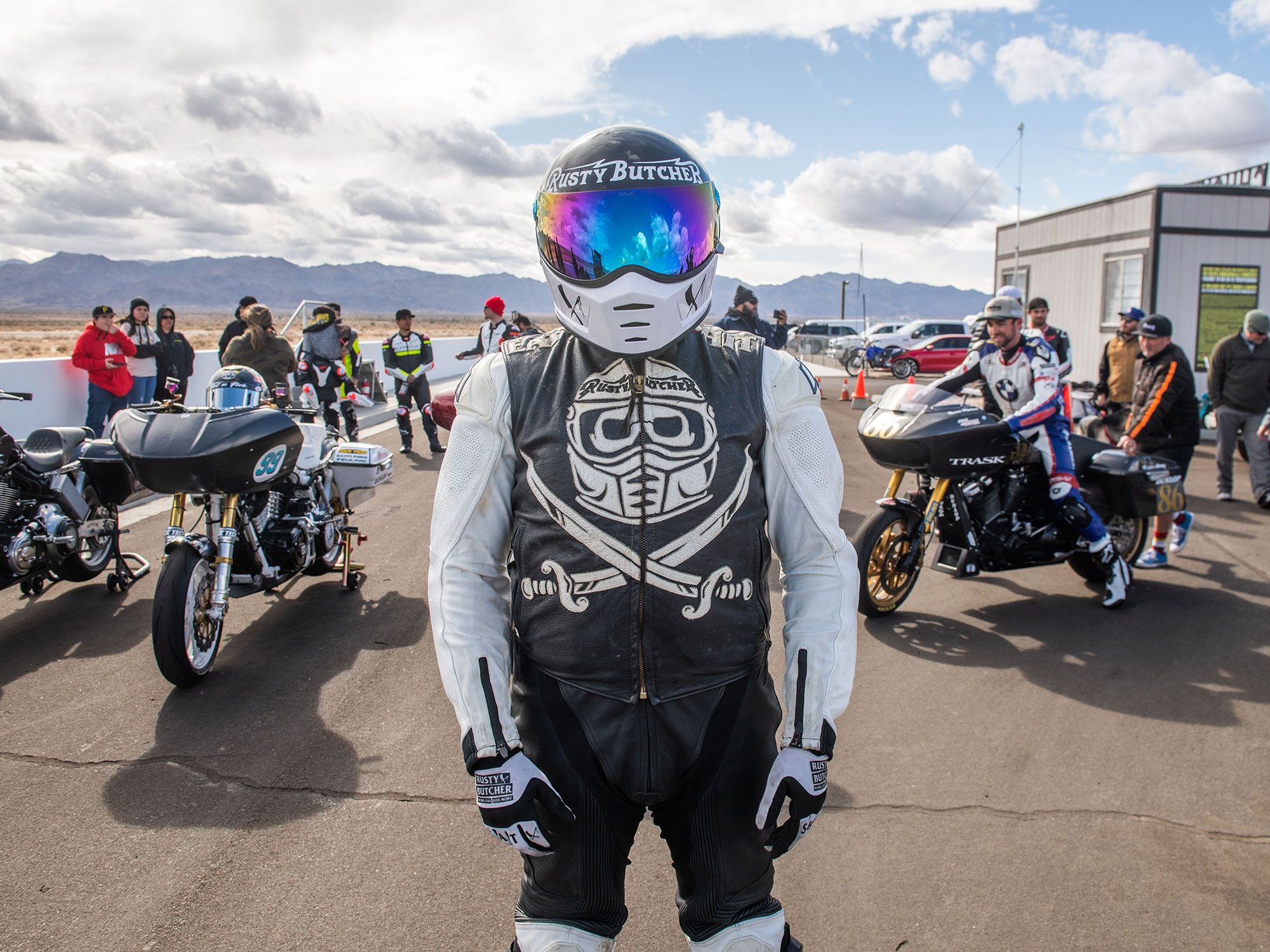 Mark Atkins of the Rusty Butcher ready to race his modified Road Glide. (Justin George/)
The Bagger Racing League is a nationwide race series consisting of four race classes: Hooligan, Big Twin, Stunt, and Bagger. Hooligan is the Sportster, FTR, Scout, Buell, even LiveWire class. Up next is the Big Twin class, where we'll see pushrod Indians, Dynas, FXRs, Softails, and the like. Then there's a new, slightly perplexing but guaranteed to be entertaining class, the Stunters, where riders will qualify the night before the race by putting on a stunt show to determine their starting positions. Lastly, the main event is the Baggers, where we will see many of the teams from King of the Baggers, as well as new additions, line up to send their (formerly) heavyweight touring bikes around the track.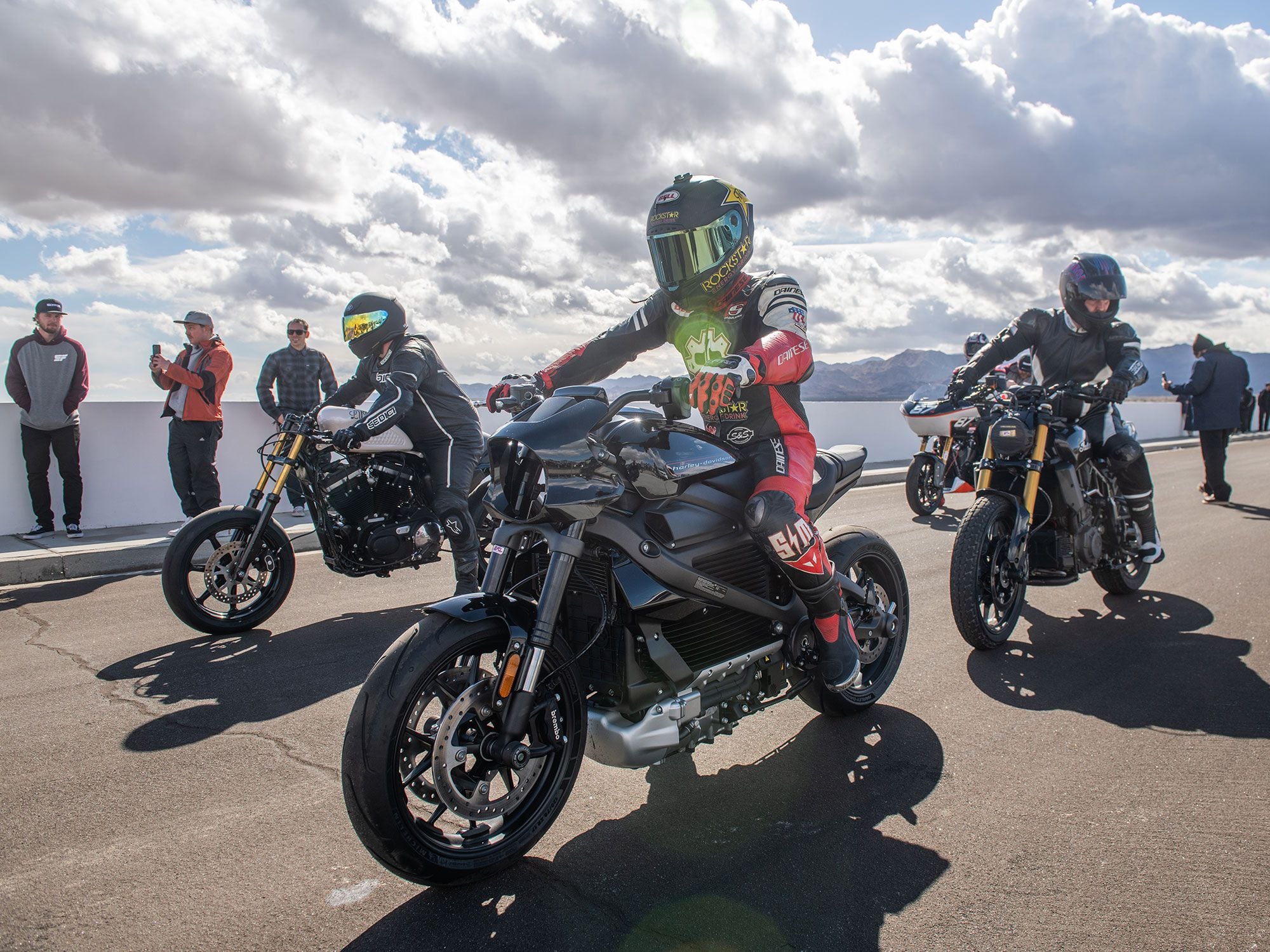 While all other classes are V-twin specific, the Hooligan class will include the H-D LiveWire, seen here piloted by Shaun Guadardo. (Justin George/)
And while the Bagger Racing League is going to be entirely centered around racing, attending the events promises to feel more like a motorcycle rally than a typical sanctioned race. "It's going to be the fastest bike show in the world!" founder Rob Buydos said. "We'll have an Arlen Ness custom bike show, stunt show, live music, and a vendor village full of high-performance Harley-Davidson and V-twin-specific parts."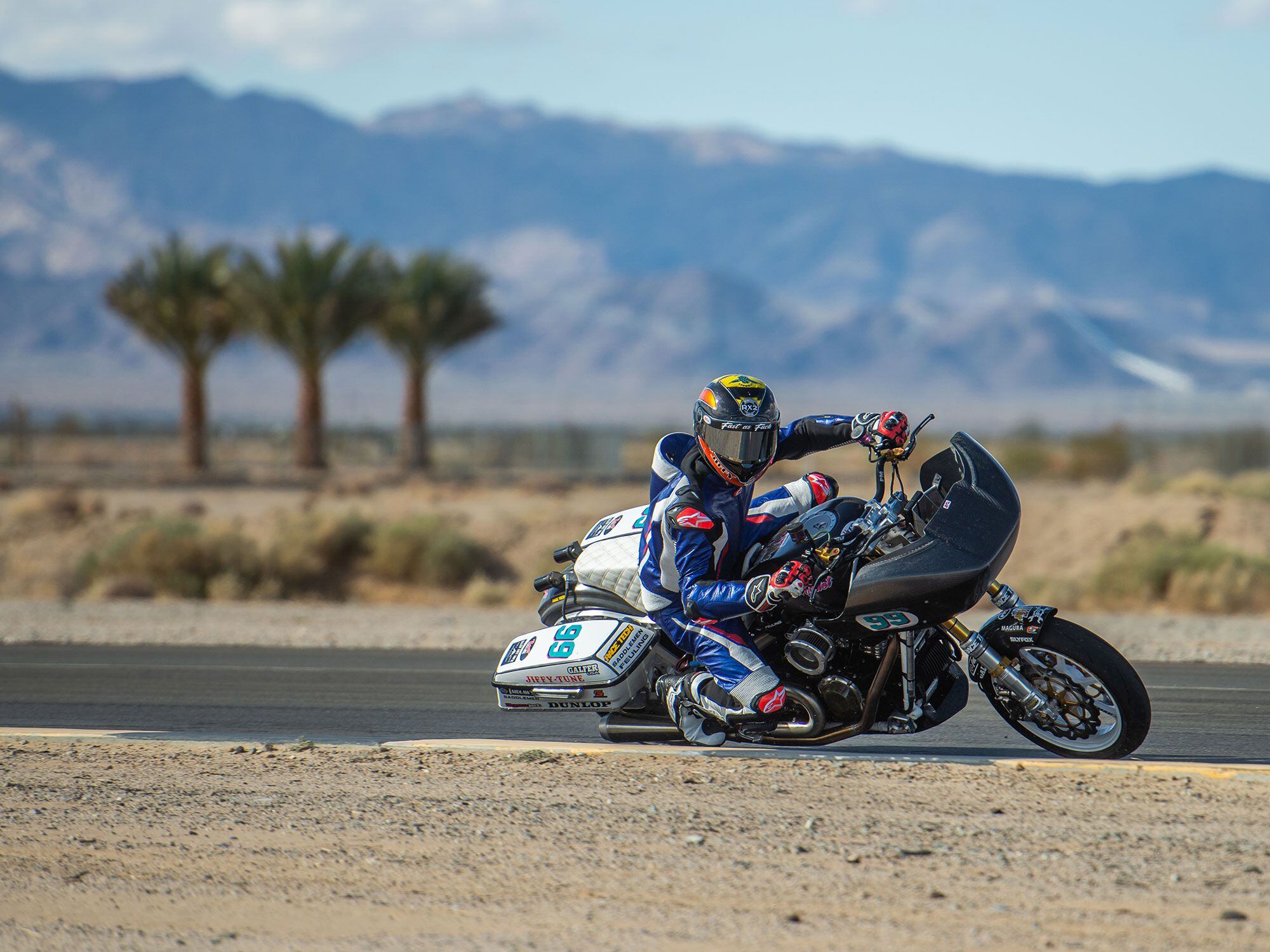 Eric Stahl of Jiffy Tune guiding his carbon fiber-adorned Road Glide around the track at Chuckwalla Raceway. (Justin George/)
RELATED: Indian Motorcycle Teams With S&S For King Of The Baggers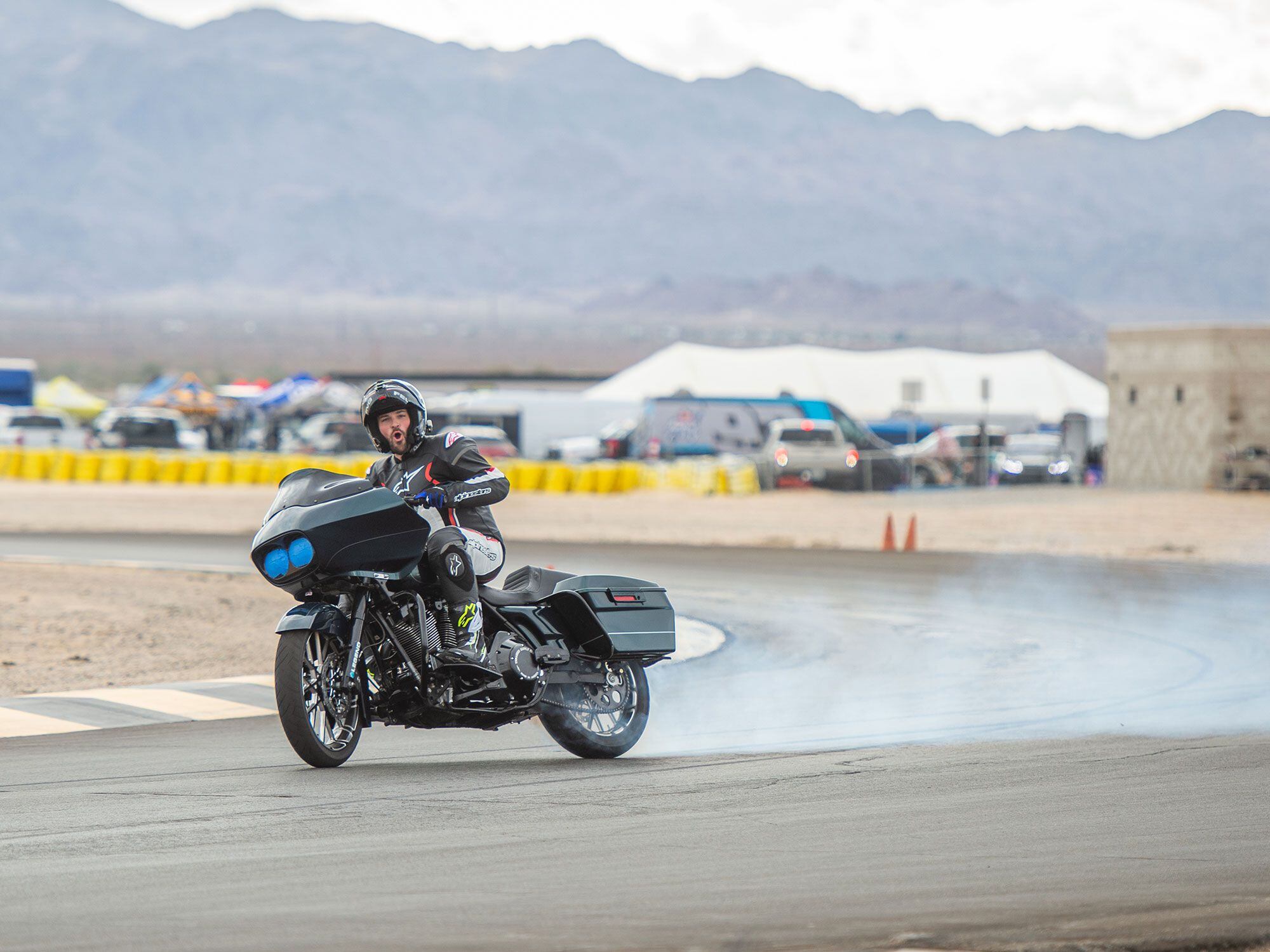 Jeff Flaherty, better known as @CBearsStunts, taking the guesswork out of figuring out which class he'll be racing in. (Justin George/)
"The goal for us is to take the energy and excitement that any person throwing their leg over a motorcycle has, and bring that into a competitive and safe environment, to the racetrack," said John Oakes, cofounder and operations officer of the new Bagger Race League. "There are elements of what we do that will attract non-motorcyclists. But our goal is to entertain motorcyclists, whether you ride a couple weekends out of the year, or you put down a million miles. Watching guys on Street Glides and Road Glides clock a buck-25 on the straightaway and stuff it into the corner on a roadrace track is just awesome entertainment!"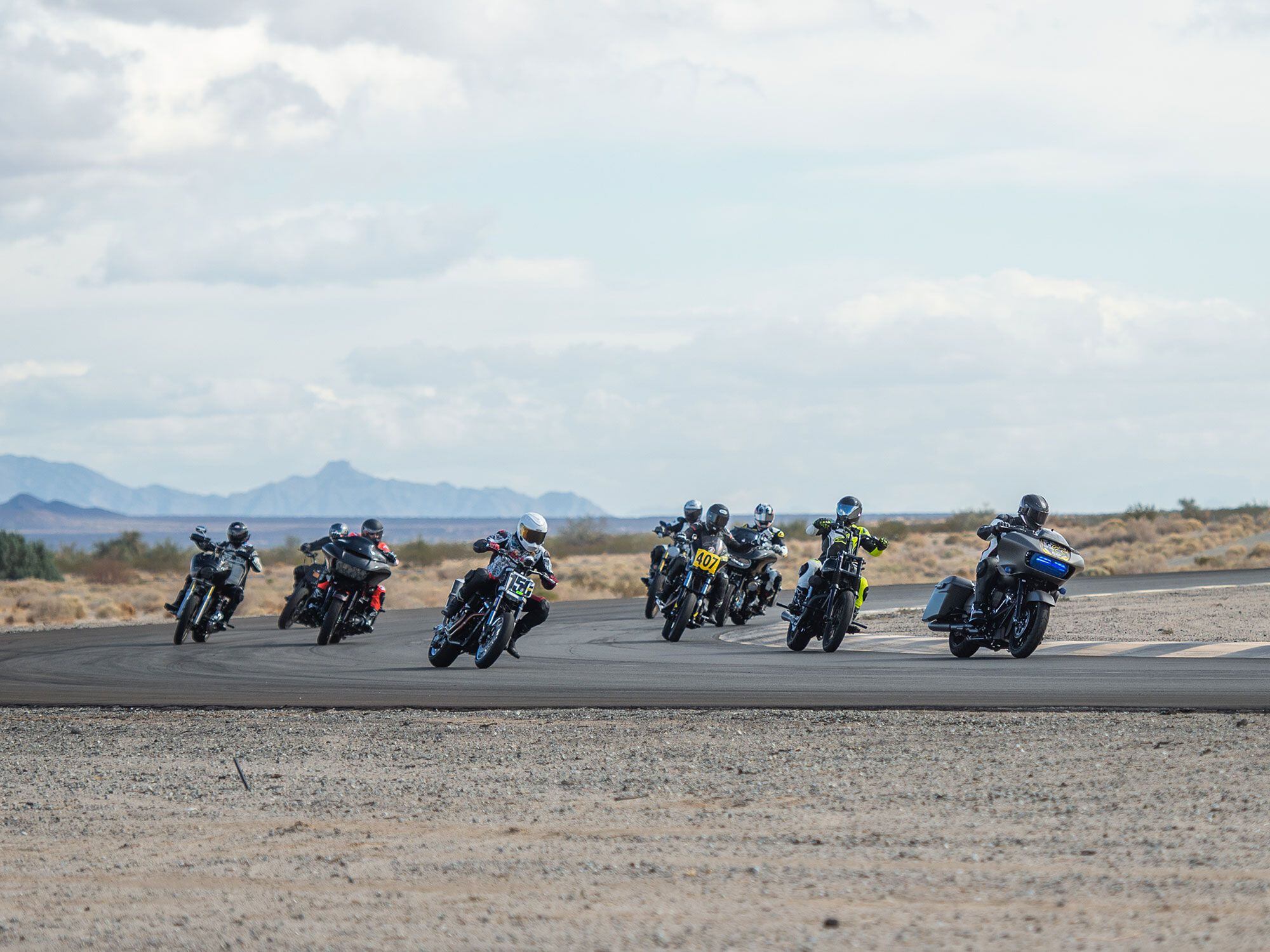 Baggers and Big Twins overlapping on an exhibition lap. (Justin George/)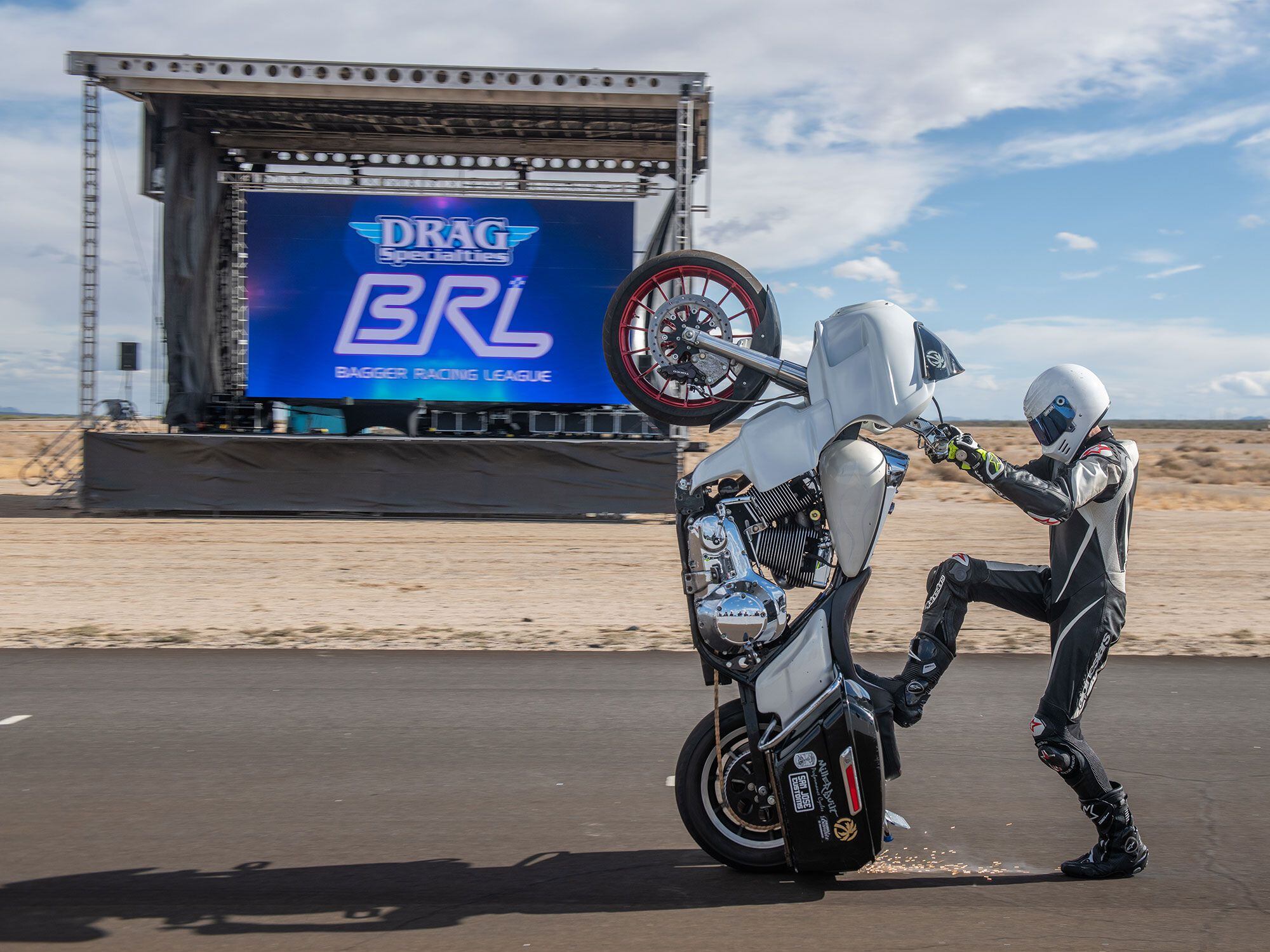 Peanut, also known as @BagDraggin_37, will be performing stunts at night and racing the next day in the Bagger Race League Stunt class. ( Justin George/)
Performance-minded motorcycle customization has been a real movement in the last few years, with many of the brands that sponsor this race series helping to drive that movement forward. By focusing this event on the V-twin community specifically, those behind this event hope to reach the relevant market more directly than they would at a MotoAmerica race.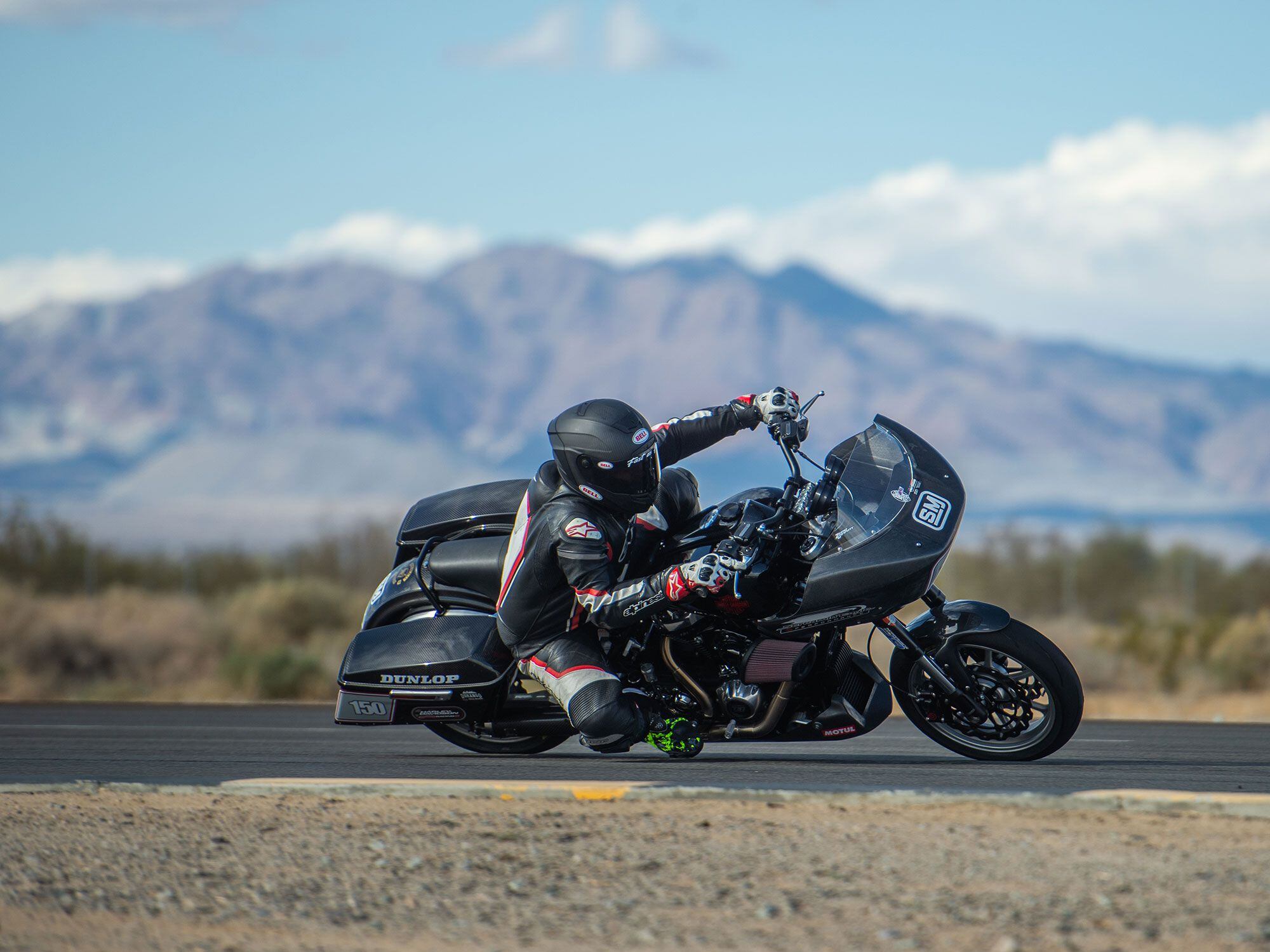 Tony Sollima of Shred Moto Co. finding the limits of his bagger's lean angle. (Justin George/)
The first event kicking off the Bagger Racing League series will be in Salt Lake City at the Utah Motorsports Campus on June 25, 26, and 27. More info will be coming to baggerracingleague.com shortly, but details are currently very limited.
Source link